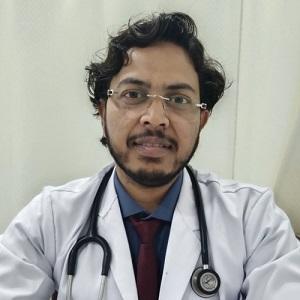 Dr. Ashok Kumar Rajoreya
MBBS, MD
| | | |
| --- | --- | --- |
| Experience | : | 6 Years Experience |
| Speciality | : | Hematology |
| Timings | : | Mon - Sat : 10:00 AM to 02:00 PM |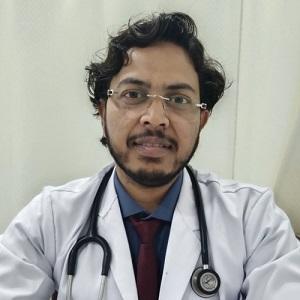 Book an Appointment
Dr. Ashok Kumar Rajoreya
| | | |
| --- | --- | --- |
| Experience | : | 6 Years |
| Speciality | : | Hematology |
| Timings | : | Mon - Sat : 10:00 AM to 02:00 PM |

Doctor Info
Educational Qualification:
MBBS - Jiwaji University Gwalior, 2007
MD - Mpmsu Jabalpur, 2014
Fellowship In Hemato-Oncology And Bone Marrow Transplant, Dharamshila Narayana Superspeciality Hospital Delhi, 2018
Treatment & Services Expertise
Blood Cancer- All
Aml
Myeloma
Lymphoma
Hodhkins Lymphoma
Aplastic Anaemia Benign Hematology- Thalassemia
Sickle Cell Anemia
Heamophillia
Cloting Disorder
Bleding Disorder Bone Marrow Tranplant
Awards and Recognitions:
Got 1st prize on Paper Presented at MP PATHOCON 2016 : 4th -5th June 2016.
Professional Memberships:
Registered in Madhya Pradesh Medical Council, Reg. No. 9813.
Registered in Delhi Medical Council, Reg. No. 39640.
Registered in British society of Hematology, Reg. No. 43309
Professional Area of Interest:
Hemato-Oncology And Bone Marrow Tranplant
Research & Publications:
Bandi Prasann K, Malukani Kamal, Yeshwante Prashant S, Nandedkar Shirish S, Rajoreya Ashok, Khare Gaurav. Clinicopathological profile of gastrointestinal tuberculosis patients at a tertiary care hospital. Journal of evolution of medical and dental sciences December 2015;4(102):16730-5. Indexed with Index Copernicus.
Amit Varma, Ashok K Rajoreya, Priyanka Kiyawat3 Kamal Malukani, Shilpi Dosi, Sudarsha Gupta. Utility of Bone Marrow Aspiration and Bone Marrow Biopsy in Haematological Disorders IJPRP_7373_2018.
Jaiswal SR1, Bhakuni P2, Joy A2, Murli N2, Rajoreya A2, Chakrabarti A3, Chakrabarti S4Higher CD45RA+ Regulatory T Cells in The Graft Improves Outcome in Younger Patients Undergoing T Cell Replete Haploidentical Transplantation: Where Donor Age Matters. Biol Blood Marrow Transplant. 2018 Jun 13. pii: S1083-8791(18)30315-X. doi: 10.1016/j.bbmt.2018.06.003. [Epub ahead of print]
Sarita Rani Jaiswal,1,2 Satyanker Gupta,2 Rekha Saji Kumar,3 Amit Sherawat,2 Ashok Rajoreya, Saroj K Dash,3 Gitali Bhagwati,3 and Suparno Chakrabarti
Gut Colonization with Carbapenem Resistant Enterobacteriaceae Adversely Impacts the Outcome in Patients with Hematological Malignancies: Results of A Prospective Surveillance Study. Mediterr J Hematol Infect Dis. 2018; 10(1): e2018025.
Dr. Uttam kumar nath, Dr. Debranjani Chattopadhya Dr. Ashok kumar Rajoreya, dr. Sudeep vaniyath, dr. Anamika, dr. Ritu, - Encouraging Results with ALL IC-BFM 2009 Protocol Therapy in Pediatric Acute Lymphoblastic Leukemia/Lymphoma in Resource-Limited Setting: A Single-Center Study from India November 2019 Blood 134(Supplement_1):5118-5118
Trainings and Conferences
CLINICAL WORKSHOP & CONFERENCES/CME'S :
60th Annual conference of Indian Society of Hematology and Blood Transfusion (HAEMATOCON 2019) Delhi 2019
European Society for Blood and Marrow Transplantation Highlights APAC 2019 Delhi
2nd annual conference of Indian myeloma academic groupe- The Indian Myeloma Congress – 2019
Workshop on Advanced Neonatal Ventilation , FORTIS HOSPITAL Shalimar Bagh , DELHI , 2012
Participation in Neonatal Resuscitation Program, department of neonatology, National Neonatal Forum DELHI at FORTIS HOSPITAL Shalimar bagh, 2010.
Workshop on Allergic Rhinitis and Comorbidities, INDIAN ACADEMY OF PEDIATRICS, DELHI 2012
3rd National Conference of Consortium Against Rabies, UCMS & GTB HOSPITAL DELHI 2013.
Workshop/CME on INFANT & YOUNG CHILD FEEDING COUNSELING, MVH HOSPITAL DELHI,2012.
Participation in HIV SENSITIZATION program, DELHI STATE AIDS CONTROL SOCIETY, DR. BSA HOSPITAL DELHI 2011.

Testimonials
Mr. Lokesh
Apollo Spectra Hospitals, Koramangala.
Mr. Lokesh
Apollo Spectra Hospitals, Koramangala.
Frequently Asked Questions
Where does Dr. Ashok Kumar Rajoreya practice?
Dr. Ashok Kumar Rajoreya practices at Apollo Spectra Hospital, Gwalior-Vikas Nagar
How can I take Dr. Ashok Kumar Rajoreya appointment?
You can take Dr. Ashok Kumar Rajoreya appointment by calling 1-860-500-2244 or by visiting website or walk-in to hospital.
Why do patients visit Dr. Ashok Kumar Rajoreya?
Patients visit Dr. Ashok Kumar Rajoreya for Hematology & more...

Book Appointment