Physiotherapy Treatment & Diagnostics in C Scheme, Jaipur
Physiotherapy
Physiotherapy is a treatment that helps maintain and rectify a patients mobility, function and well-being through exercises physical rehabilitation, injury prevention, health, and fitness. Physiotherapy is conducted by physiotherapists, who study the science of movement and can tell the root cause of a patients injury. Generally, physiotherapy is a speciality clinic, where your primary care physician or your surgeon will recommend physiotherapy. However, if you have an injury or chronic pain, you can visit a physiotherapist yourself.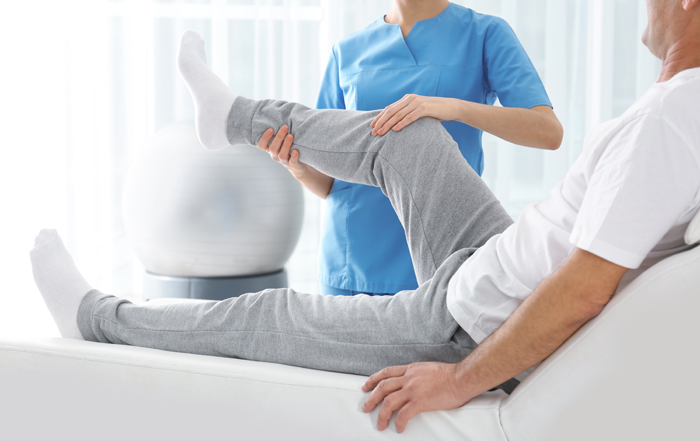 When Should I Go See Physiotherapist?
If you have been suffering from chronic pain, you can always visit a physiotherapist to understand the problem you are suffering from and cure the root cause of the same. Your doctor or a surgeon may also recommend a physiotherapist after your surgery if you have undergone a hip replacement, a stroke or more.
Some insurances cover physiotherapy, while other's don't. So, if your plan is to use your insurance for your physiotherapy, make sure you check your insurance company's website or call their customer care to know all the details to avoid any hassles in the future. One of the advantages of opting for physiotherapy is that the therapists cure the condition with exercises, massages, and more, and rely on medicines.
What Problems Do Physiotherapists Treat at Apollo Spectra, Jaipur?
Mainly, physiotherapists focus on prevention and rehabilitation. They help provide treatment for problems caused by disability, injury, or a disease. Some of the most common causes includes;
Neck and back problem due to the issues in your bones or muscles
Issues dealing with bones, joints, muscles, and ligaments
Lung problems
Pelvic issues
Fatigue
Pain
Swelling
Loss of muscle strength
Loss of mobility due to trauma to the spine or the brain
Treating the after-effects of amputations
Arthritis issues
Bladder and bowel problems caused by childbirth
Palliative care
What Can I Expect When I Visit A Physiotherapist at Apollo Spectra, Jaipur?
Never compare your physio sessions and it differs from one person to another and is alwys unique. When you visit your physiotherapist at Apollo Spectra, Jaipur, your first session will mostly include;
Your therapist will want to know about your detailed medical history, which includes any injuries, surgeries and more
Once you have given the gist of all your symptoms to your physiotherapist, he will make sure to check and diagnose your condition
Next, your therapist will devise a treatment plan and walk you through it step by step
You will mostly be prescribed exercises and assistive devices
Request an appointment at Apollo Spectra Hospitals, Jaipur
Call 1860 500 2244 to book an appointment.
How Will I Manage My Pain At Home? If you are looking to manage your pain at home, you can talk to your physiotherapist for a few at-home remedies. Medications can also be taken, but talking to your therapist will help you resolve your pain with easy remedies. Some of the treatment plans to manage pain include;
If you have hot, swollen joints, then you can use an ice pack to soothe the pain
If your muscles are tense and tired, you can use heat packs
Your therapist can also provide temporary splints if you are suffering from rheumatoid arthritis
What are the Types of Physiotherapy?
Today, there are several types of therapies. According to your condition, your physiotherapist may recommend;
Manipulation
Exercise and movement
Energy therapy
Laser therapy
Ultrasound
Hydrotherapy
Physiotherapy can be extremely beneficial when you follow all the instructions provided by the therapist. Don't hesitate to ask them any question you may have.
How to choose the right physiotherapist?
The physiotherapist you choose must have experience in treating conditions such as yours. You can also check their qualifications and their reviews online to know more.
Is a physiotherapist a doctor?
No, physiotherapists are not doctors but they assist doctors in taking care of the patient. Physiotherapy is a degree program, which is completed in four years. Physiotherapists may also do their masters after the undergrad.
No. Physiotherapy isn't painful and is usually very safe as long as you visit a reputed physiotherapist. They usually work with deep tissues and it can cause some soreness after the completion of the treatment but nothing more.

Book Appointment