Arthroscopy
The word "Arthroscopy" is derived from two Greek words—arthro (joint) and skopein (to look). Thus, it means looking within the joint. During arthroscopy, a surgeon inserts a narrow instrument with a fiber-optic camera to see the inside view of the joint.
You must visit an arthroscopy surgeon if joint pains are troubling you. This article has all the necessary information you need to know about the arthroscopic procedure.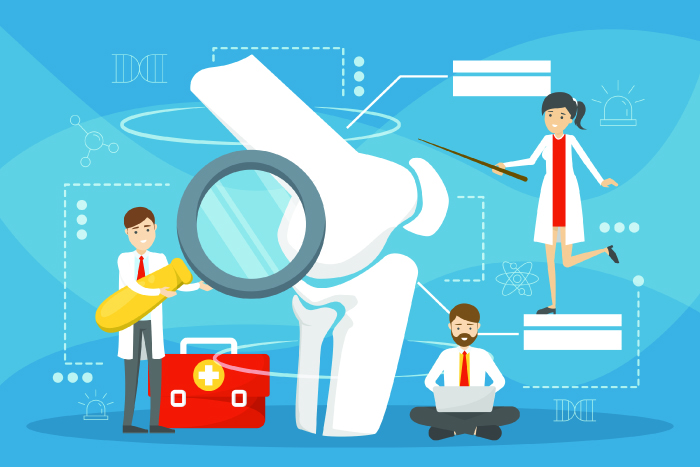 About Arthroscopy
Arthroscopy is a surgical procedure in which a surgeon makes a small cut to look within a joint using a camera rather than opening it completely.
A surgeon may inject local, regional, or general anesthesia into your body.
Next, the surgeon makes a small incision on your skin and inserts an arthroscope attached with a fiber-optic video camera to study the inside of your joints. The camera displays the image of the joint on a monitor.
After studying the images, the surgeon may make additional tiny cuts around the joint for inserting different surgical tools.
Finally, post-surgery, the surgeon closes the incisions with one or two stitches or using narrow strips of sterile adhesive tape.
Arthroscopic surgeons use this procedure to diagnose and treat numerous joint-related conditions.
Different Types of Arthroscopic Procedures
Depending on the type of joint problems, three major types of arthroscopic procedures are present.
Shoulder Arthroscopy
Your doctor may suggest shoulder arthroscopy if you have -
Rotator cuff tears
Impingement syndrome (restricted motion)
Tissue inflammation above the shoulder joint
Collarbone arthritis, and more
You should visit a shoulder arthroscopy surgeon near you if you observe any of the above symptoms.
Knee Arthroscopy
You may undergo a knee arthroscopy if you have -
Torn ACL or PCL (anterior or posterior cruciate ligaments)
Torn cartilage between the knee bones (meniscus)
Dislocated knee cap
Fractures
Inflamed knee joint
Visit a knee arthroscopy surgeon in case of any complications.
Ankle Arthroscopy
You may undergo this procedure if you are suffering from any one or more of the following:
End-stage arthritis
Ankle instability
Fracture
Osteochondral defects caused by sprains or fractures
Please consult an arthroscopy surgeon before undergoing surgery.
Request an appointment at Apollo Spectra Hospitals.
Call 1860-500-2244 to book an appointment
Who Qualifies for Arthroscopy?
Arthroscopy is a surgical procedure that requires precision. Orthopedic surgeons and joint replacement surgeons perform this surgery.
Why is Arthroscopy Conducted?
Certain diseases or injuries may damage your bones, cartilage, muscles, ligaments, and tendons. Usually, doctors use X-ray, magnetic resonance imaging (MRI), or other imaging techniques to diagnose the concerns.
However, in some cases, even advanced imaging tests may fail. Subsequently, arthroscopy comes into play. Doctors use this surgical method to diagnose and treat joint-related conditions that affect the knee, shoulder, elbow, ankle, hip, and waist.
If joint problems have been troublesome for you,
Request an appointment at Apollo Spectra Hospitals.
Call 1860-500-2244 to book an appointment
Benefits of Arthroscopy
Arthroscopy allows the treatment of joint-related issues that affect knees, shoulder, hip, ankle, waist. It is easier and safer for the patient than open surgery.
Conditions treated with an arthroscopic procedure include:
Rotator cuff repair
Inflammation in the joint linings
Torn cartilage
Torn ligaments
Loose bone fragments
Scarring within joints
Risks Involved in Arthroscopy
Though arthroscopy is a minimally invasive surgery, it comes with a few risks. Some risks associated with the procedure include -
Tissue or nerve damage: Joint structure may damage due to the movement of instruments inside the joints.
Infection: Like any other surgery, arthroscopy also carries the risk of infection.
Blood clots: Longer surgical procedures may lead to the development of blood clots in your legs or lungs. However, this is very rare.
However, the probability of risks is very low when an expert performs the surgery. Please visit an arthroscopic doctor near you to know in detail about the procedure.
How much time does it take to recover after arthroscopy?
Though arthroscopy involves small incisions, the recovery may take several weeks. The recovery period generally varies depending on the severity of the condition and the type of joint involved.
What are some postoperative measures after arthroscopy?
An arthroscopy surgeon will prescribe -
the appropriate medication for dressing
a few exercises
a few sessions with a physiotherapist.
A doctor may schedule a follow-up session to remove sutures and check the recovery rate.
Will I be fully recovered?
Your recovery depends on your general health and the joint involved.

Book Appointment