Gastric Bypass Surgery Treatment & Diagnostics in Nehru Enclave, Delhi
Gastric Bypass Surgery
Overview of the procedure
Gastric bypass surgery, also known as Roux-en-Y gastric bypass, is a medical procedure that involves removing most parts of your stomach and small intestine to help with weight loss. This surgical procedure is one of the most common types of bariatric surgery. Usually, the doctor recommends this procedure when other treatment options for weight loss fail to work.
What is gastric bypass surgery?
Gastric bypass surgery involves removing most of your stomach and the first section of the small intestine. Then, the remaining part of the stomach, called the stomach pouch, is reconnected with the remaining portion of your small intestine.
The surgeon attaches the removed or bypassed part of your stomach further down your small intestine. This is done to make sure the part of the stomach still provides the digestive enzymes and acid.
The removed part of the small intestine usually absorbs more calories and nutrients from the digested food. Therefore, once it is removed, the absorption of calories and nutrients reduces, thereby contributing to weight loss.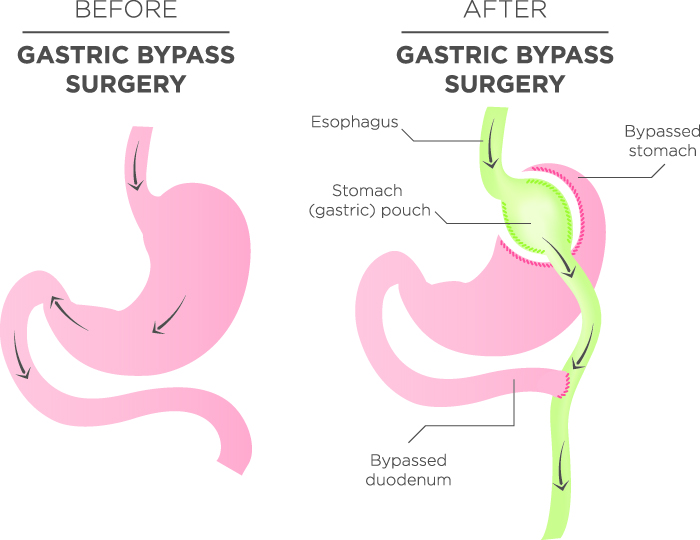 Who qualifies for gastric bypass surgery?
Generally, gastric bypass surgery is not for every individual who is severely obese. To qualify for this surgical procedure, you may have to meet specific guidelines. Your doctor may perform an extensive screening test as well.
Usually, people who qualify for gastric bypass surgery have:
BMI of 40 or more
BMI between 35 to 39.9, along with a severe weight-related health problem such as high blood pressure
BMI between 30 to 34, but with a life-threatening weight-related disorder
Before you decide to opt for gastric bypass surgery, your doctor may ask you to consider the permanent lifestyle and diet changes after the surgery.
Why is gastric bypass surgery done?
Gastric bypass surgery is performed to help you lose excess weight and avoid the risk of severe medical conditions such as:
High blood pressure
Heart disease
Obstructive sleep apnea
Gastroesophageal reflux disease
Type II diabetes
High cholesterol
Stroke
Infertility
If you experience weight loss problems and these medical conditions, consult with a gastric bypass specialist in Delhi.
Request an appointment at Apollo Spectra Hospitals, Nehru Enclave, Delhi
Call 1860 500 2244 to book an appointment
What are the benefits of gastric bypass surgery?
Gastric bypass surgery can help you provide long-term weight loss. However, the weight you lose depends on the type of surgery done and the lifestyle and diet changes you adapt to post-surgery. It may be possible to lose approximately 70 percent of your excess weight within two years of the surgery.
Additionally, gastric bypass surgery can also help resolve or improve medical conditions caused due to excess obesity; these include:
Obstructive sleep apnea
Heart diseases
High cholesterol
High blood pressure
Type II diabetes
Gastroesophageal reflux disease
Infertility
Furthermore, the surgery can help your ability to perform routine activities more efficiently, thereby improving the quality of your life.
What are the risks or complications associated with gastric bypass surgery?
Gastric bypass surgery comes with both risks in the short and long term. Some of these risks include:
Blood clots
Excessive bleeding
Lung problems
Breakdown of staple lines
Adverse reactions to anesthesia
Leaks in the gastrointestinal system
Some of the long term risks of gastric bypass surgery include:
Stomach perforation
Mineral, vitamin, and nutritional deficiencies
Low blood sugar
Dumping syndrome, which can cause diarrhea, vomiting, or nausea
Bowel obstruction
Hernia
Ulcers
References
https://www.mayoclinic.org/tests-procedures/gastric-bypass-surgery/about/pac-20385189
How long will I have to remain in the hospital after my gastric bypass surgery?
Your doctor may recommend at least a two-day stay in the hospital after your surgery. If you experience any complications after the surgery, you may have to spend a few more days in the hospital.
Will gastric bypass surgery shorten my life?
For severely obese patients, gastric bypass surgery increases life expectancy. However, in rare cases, the surgery may shorten their lives for patients with a BMI above 60. Since it is infrequent, it is advised that you consult with a gastric bypass specialist near you.
Can I eat regular food after gastric bypass surgery?
You can start eating your regular food three months after the surgery. After that, however, the gastric bypass specialist may put you on a special diet to make sure you achieve the desired weight loss.

Book Appointment