---
Low back pain due to long hours of sitting in front of your laptop can turn serious if you do not care to manage it in time. Don't let your pains worsen in the long run. Let us discuss who can help you manage your pains and where you will find the best Orthopedic doctors in Chennai.
What is Orthopedics?
Orthopaedics, also known as Orthopedic surgery, is the study of the musculoskeletal system. In simple words, it deals with the treatment and/or correction of any abnormality in bones, muscles, ligaments, soft tissues, joints, tendons, and nerves. A doctor specializing in Orthopedics is called an Orthopedist.
Some of the treatment procedures used by an Orthopedic doctor include:
Joint replacement

Internal or external fixation of bone fractures

Fusion of bones

Arthroscopy

Ligament repair or reconstruction

Muscle repair

Tendon repair

Osteotomy (cutting and repositioning of a bone segment)

Release surgery like Carpal Tunnel release is done for Carpal tunnel syndrome.
When should you consult an Orthopedic doctor?
You should consult an Orthopedic doctor in the following scenarios:
Bone fractures

Bone or muscle pain

Muscle tears

Tendon injuries

Chronic or long-standing pain

Back pain, neck pain

Sports injuries like ACL injuries, meniscal injuries, tendon tears, etc.

Arthritis

Birth abnormalities associated with bones

Bone cancer

Upper and lower limb conditions like frozen shoulder, Tennis elbow, wrist pain, hip pain, chondromalacia of knee, ankle sprains, etc.
Apollo Spectra Hospitals have the most experienced Orthopedic doctors in Chennai with an experience of 10 years and beyond. You can avail the best amenities and latest technology for the treatment of the rarest orthopedic conditions.
Book an appointment with the best Orthopedic doctors at Apollo Spectra Hospitals.
How to choose a good Orthopedic doctor in Chennai?
Chennai has a lot of Orthopedic doctors but how do you choose the best out of them? Here's a quick guide on evaluating an Orthopedic doctor before your consultation.
Look for the credentials of the Orthopedic doctor like recommendations, and reviews from patients and caregivers. Thoroughly research the hospitals your selected doctors work out of, and choose someone operating out of an esteemed hospital with excellent facilities.

The Orthopedic doctor should have completed a residency(degree) in Orthopedic surgery.

Next check for the number of years of experience the doctor has in orthopedic patient practice.

Experience also matters in case of a rare disease or procedure likely to be conducted on you.

An insurance or medical claim policy is available.

Other secondary points include bedside manners, hygiene practices, and the conversing style of the Orthopedic doctor.
Apollo Spectra Hospitals have the finest and the most experienced doctors in Chennai. Ranging from child care to elderly individuals, we cover all your needs under one roof. Our doctors have tremendous experience in all types of diseases and vouch to give you the best treatment and care.
Book an appointment with the best Orthopedic doctors at Apollo Spectra Hospitals.
The best Orthopedic doctors in Chennai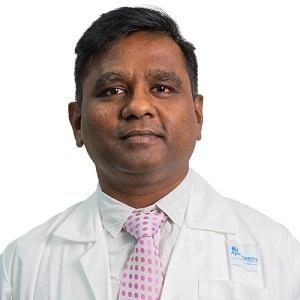 MBBS, MS (Orthopaedic Surgery), DNB (Ortho)...
| | | |
| --- | --- | --- |
| Experience | : | 9 Years |
| Speciality | : | Orthopaedics and Trauma |
| Location | : | Chennai-Alwarpet |
| Timings | : | Mon - Sat: 10:00 AM to 12:00 PM |
Arthroscopy is a diagnostic and treatment procedure used in soft tissue injuries like ligament and meniscal injuries. It utilizes a small scope (camera) to view the inside of the joint. Find the best arthroscopic facilities at Apollo Spectra Hospitals.
What are the types of Orthopedic surgeons? Where in Chennai can I find an expert Orthopedic surgeon?
Orthopedic surgeons are of two kinds: general orthopedic surgeons and specialized orthopedic surgeons, who treat one specific joint, like the knee joint or spine. Talk to expert orthopedic doctors at Apollo Spectra Hospitals to know whom to consult.
What are Orthopedic special tests?
Orthopedic special tests are certain positions or movements used by orthopedic doctors to diagnose a condition. Every joint in the body has a specific set of special tests that help your orthopedic doctor to diagnose your problem for further management.
Where can I find the best Orthopedic doctors in Chennai?
You can find some of the most experienced orthopedic doctors in Chennai at Apollo Spectra Hospitals. They have the best technologies to treat bone-related conditions and work under COVID-19 precautions. Book an appointment today to consult the best orthopedic surgeons.
Do Orthopedic doctors treat nerve pain? Where can I consult for the same in Chennai?
Yes, orthopedic doctors specialize in treating bone and soft tissue injuries — nerve pain, pinched nerve, nerve-related conditions, etc. If you have nerve pain or tingling in hands or legs, consult an orthopedic doctor in Chennai at Apollo Spectra Hospitals.
When should I worry about bone pain?
Bone pain can indicate a mild to serious condition and therefore definitely cannot be ignored. Visit an orthopedic doctor/surgeon early for early diagnosis and treatment. Consult the orthopedic doctors at Apollo Spectra Hospitals to clear your doubts regarding bone pain.

Book Appointment