Bone Deformity Correction Surgery in Chirag Enclave, Delhi
What is the procedure for Correction of Deformities?
Deformity correction or correction of deformities refers to the orthopedic procedures for straightening a bone to restore the natural shape and functions.
What should you know about deformity correction?
The deformity is usually an abnormal shape of the spine or bones. An orthopedic doctor in Delhi performs deformity correction procedures to normalize the structure of bones in legs, arms, or feet to improve the functionality and alignment of the bones. Surgeries for correction of deformities involve two different approaches, as follows:
For the gradual correction of deformities, an orthopedic specialist adopts a stepwise approach that may require several months for complete restoration.
Single procedure correction employs a different approach towards the correction of deformities.
In most cases, deformity correction surgery is a single-step procedure. Visit any reputable orthopedic hospital in Delhi to know your options.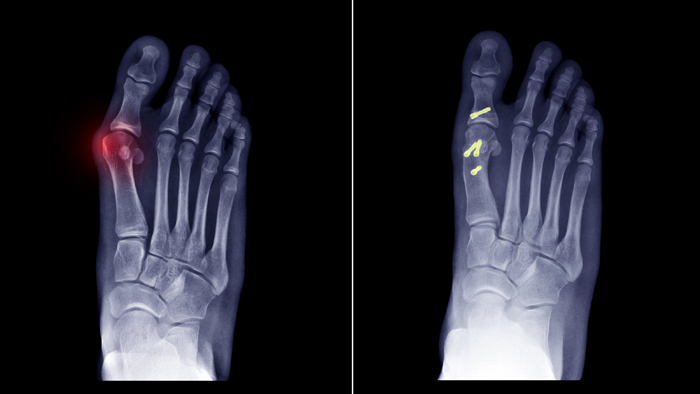 Who qualifies for deformity correction?
Any individual who has a deformity can consider a deformity correction procedure for restoration of shape. You will gain the functionality of the limb after correction of the deformity. The following reasons can qualify someone for deformity correction:
History of a traumatic injury resulting in deformity and loss of function
A fracture that may cause fragments and breaks
Bone infection
Arthritis
Nonunion or non-healing fracture
Birth-defects
Damage to the bone in childhood
Visit any of the best orthopedic hospitals in Delhi if you think you are a candidate for deformity correction surgery.
Request an appointment at Apollo Spectra Hospitals, Chirag Enclave, Delhi
Call tel:1860 500 22441860 500 2244 to book an appointment
Why is deformity correction performed?
A deformity correction procedure may be necessary if the deformity is hampering functions of the limb. Deformity correction helps individuals improve the quality of their life in the following conditions:
Knock Knees - The deformity of the knock-knees can severely affect the individual's activities. Deformity correction in early childhood can restore regular shape and improve functionality.
Bow Legs- The surgery for correction of bow legs offers hope to children.
Hammertoe deformity- Correction of upward curling of toe is possible with deformity correction procedure
Nonunion fractures- Correction surgeries can help the fracture heal in the condition of nonunion fractures.
Benefits of deformity correction surgery
Deformity correction is helpful for individuals who are struggling with the loss of functionality or abnormal appearance. Reputed orthopedic hospitals in Delhi can successfully restore shape and function by using the latest surgical procedures and fixation devices. In the following conditions, deformity correction can restore the normal functions and self-respect of the individuals.
Length correction - Limb length correction surgery can increase the length of the bone to correct the discrepancy of the lengths of legs.
Skeletal growth improvement- Dwarfism can cause a variety of deformities. Correction surgeries help individuals achieve results and also correct bow legs and other deformities.
What are the risks of deformity correction surgery?
Risks of deformity correction include infections, nerve damage, wound infections, and adverse effects of anesthesia. Correction surgery may fail if the bone straightens too fast or too slow during the gradual deformity correction.
Lack of adherence to instructions and physiotherapy may cause the failure of bone deformity correction procedures. Improper follow-up can also result in complications during the postoperative phase.
Visit an expert orthopedic specialist in Chirag Enclave for a consultation.
Request an appointment at Apollo Spectra Hospitals, Chirag Enclave, Delhi
Call 1860 500 2244 to book an appointment
Reference links:
https://mackie.net.au/procedures/bone-deformity-correction
https://www.limblength.org/treatments/deformity-correction-the-process/
What diet should I follow after the deformity correction surgery?
Nutrition plays a crucial role in bone development. Follow a diet rich in vitamins, minerals, and proteins. You should also use calcium supplements to boost the strength of new bones. A well-balanced diet is necessary for faster healing. Avoid consuming cola drinks and stay away from any form of nicotine.
What are the complications of spine surgery for deformity correction?
Like all surgeries, spine surgery also carries some complications. These include infections, cerebrospinal fluid leakage, blood clotting, injury to nerves, and vision loss.
What are common deformity correction surgeries?
Deformity correction surgeries treat many deformities. Routing correction surgeries include abnormalities of the foot, leg, ankle, and deformities because of traumatic injuries.
What changes should one adopt in daily life after the deformity correction?
You will have several limitations in performing your routine activities. The changes in clothing will be necessary to accommodate the fixator devices. You will also have to perform physiotherapy sessions to help the surgical wounds heal faster. Physiotherapy improves blood supply to the limbs. Ideally, choose a physiotherapy center in any reputed orthopedic hospital in Delhi for quick medical help.

Book Appointment