Rotator Cuff Repair Treatment & Diagnostics in Chirag Enclave, Delhi
Rotator Cuff Repair
Rotator cuff repair is a surgery performed to treat and repair cuffs on the shoulder joint that may get damaged due to sports. It is a common injury among athletes. An orthopedic specialist in Delhi can significantly improve your condition.
What is rotator cuff repair?
The rotator cuffs are tendons and muscles that are grouped together like cuffs over the shoulders. They help in the movement of shoulder joints. These muscles and tendons can easily get torn because of the overuse of the shoulders.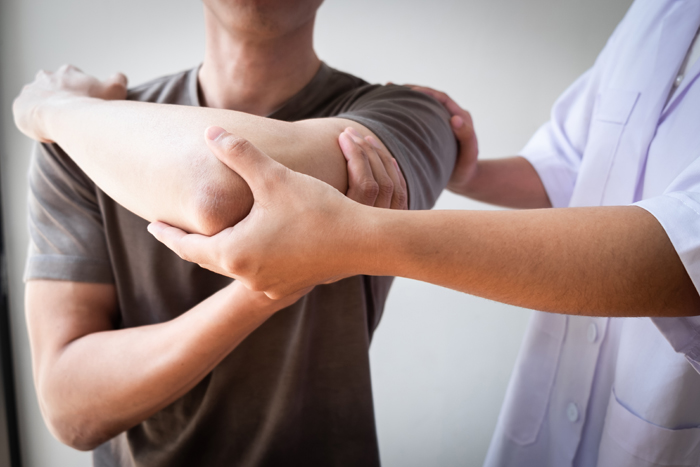 Who qualifies for rotator cuff repair?
Patients who have symptoms of rotator cuff repair injuries such as:
Pain in the shoulders
Inability to move shoulders
Difficulty in pulling, pushing and stretching
Why is rotator cuff repair needed?
A rotator cuff repair is required if you have injured the tendons and muscles on your shoulders. In a few cases, like constant pain in the shoulders, surgery becomes a necessity. Some signs that indicate you may need a surgery are:
Shoulder pain for months
Wear and tear near the shoulders
Loss of functioning of shoulders
When do you need to see a doctor?
If you have prolonged symptoms that are not getting cured by medicines or other forms of treatment, then you must see a specialist.
Request an appointment at Apollo Spectra Hospitals, Chirag Enclave, New Delhi.
Call 1860 500 2244 to book an appointment.
What are the different types of rotator cuff repair?
Arthroscopy - one to three incisions are made on the shoulders to allow an arthroscope and other surgical instruments to enter. The arthroscope has a camera at one end to monitor the condition of the shoulder.
Mini-open repair surgery - It is a minor surgery. During this procedure, a five to seven centimetres long cut is made to treat the affected shoulders. This technique requires arthroscopy to treat the injured joints.
Open repair surgery - it is used for major injuries. In this treatment, the deltoid in the shoulder is moved to get a clear view of the tear. Open repair surgery is a traditional form of surgery and it is also widely used for treating other shoulder complications along with the rotator cuff.
To repair the injuries in the rotator cuff, small suture anchors are used for attaching the tendons with the bones. These anchors are either made up of metal or any other material that dissolves in time.
What are the benefits?
The primary advantage of a rotator cuff repair is that it helps in relieving symptoms like severe shoulder pain, weakness in the shoulder and joints, etc.
Surgery is not always the first choice, the doctor starts with some medicines and if they are not effective, then he/she moves towards surgery. If you have a major tear in the shoulder, then opting for surgery is the best solution.
What are the risks?
Blood clots
Infection
Excessive bleeding
Damage in the blood vessels
Reaction to medicines
Failure of surgery
Nerve damage
Problem in breathing
How long does recovery after surgery take?
The initial phase requires the most care. A patient wears a sling most of the time. In the second stage, visit a physiotherapist. The final stage requires the patient to rebuild his or her strength. The entire recovery process takes around 2 to 3 months.
I have stiffness in the shoulders, should I opt for surgery?
Surgery is used in cases of long-term injury, but it is better to visit a doctor to get a clear idea about the procedures.
What happens when surgery fails?
If your surgery fails, you can again go for surgery. There are conditions when the damage is beyond repair but surgery can manage the pain.

Book Appointment