Shoulder Arthroscopy Surgery in Chirag Enclave, Delhi
Arthroscopy is a procedure wherein your surgeon will insert an arthroscope into your joints to visualize the problem and sometimes even rectify it. This procedure is minimally invasive and is done through a small incision of about 1 cm. An arthroscope is an endoscope that is inserted into the joints and transmits high-definition video to a monitor attached.
To know more, consult an orthopedic doctor near you or visit an orthopedic hospital near you.
What is shoulder arthroscopy?
In shoulder arthroscopy, a surgeon visualizes your shoulder joint to diagnose the problem and if the problem is rectifiable, then he/she can even perform the surgery through different minimally invasive incisions. This is made possible by an arthroscope and pencil-thin surgical instruments.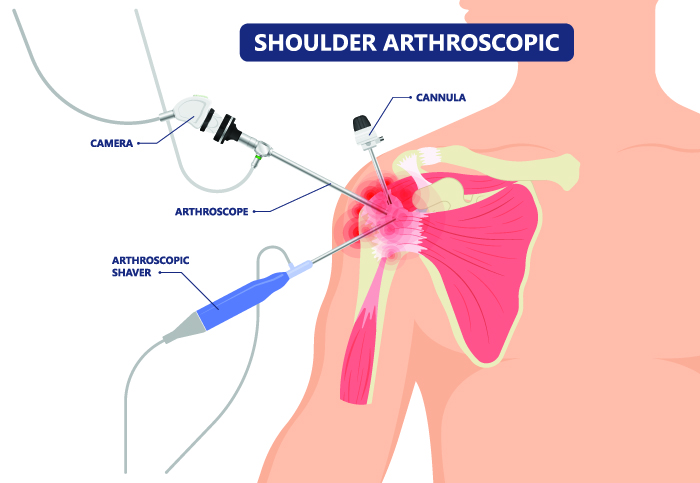 How is shoulder arthroscopy done?
Step 1: The anesthesia team will administer a local anesthetic which will numb your shoulder joint. Some surgeons feel that patients become uneasy sitting in the same position for long durations of time and can, hence, prefer to put patients under light general anesthesia.
Step 2: The position of your arm is fixed. The position is such that the surgeon gets maximum access to your shoulder joint and the arthroscope can transmit clear images to the monitor, where surgeon can observe the joint
Step 3: The team will then clear the area of any unwanted hair, use an antiseptic to make the area aseptic and the incision is made.
Step 4: The arthroscope is inserted into the joint. If the joint is not visible, then a fluid is inserted into the joint to swell it up, and hence, visibility becomes better. The surgeon then diagnoses the condition.
Step 5: Depending upon the condition, the surgeon can repair the ailment using fine surgical tools, inserted from other incisions.
Swelling might be present in the post-operative days, but it can be dealt with ice-rubs. Medicines prescribed by your doctor should take care of the pain and it should not bother you much.
Sometimes, physiotherapy may be recommended by your physician to ensure complete recovery of the joint.
For what conditions is a shoulder arthroscopy recommended?
When the cartilage or ligament is damaged
Instability of shoulder
Dislocation of shoulder
Biceps tendon damage
Biceps tendon tearing
Rotator cuff damage
Frozen shoulder
Arthritis
What are the general benefits of this procedure?
Shoulder arthroscopy is recommended when the shoulder pain is not subsiding even after medications and physiotherapy. Shoulder arthroscopy can also be used to repair common rotator cuff injuries and any injuries in the labrum (inside) of the shoulder joint and also, repair of the ligaments affected can be done using this procedure.
The recovery from any arthroscopy procedure is way less complicated and faster compared to an open surgery.
Who can conduct shoulder arthroscopy?
Any registered surgeon can do an arthroscopy but it is recommended that you visit an orthopedic specialist near you for the procedure.
Request an appointment at Apollo Spectra Hospitals, Chirag Enclave, New Delhi.
Call 1860 500 2244 to book an appointment.
What are some risks?
Shoulder arthroscopy is generally deemed a safe procedure, however it presents some risks such as Vascular injury
Neurological injury
Extravasation of fluid
Stiffening of shoulder joint
Tendon injury
Failure of equipment being used
Conclusion
Shoulder arthroscopy is a minimally invasive surgical procedure and is deployed for multiple conditions to diagnose and treat various problems related to the shoulder joint. If you have any apprehensions or questions regarding the procedure, then you must discuss these with your healthcare provider at the earliest.
Does shoulder arthroscopy cause pain?
Generally, some amount of pain and discomfort can be associated with this procedure, even several weeks after it has been performed. Your healthcare professional can ask you to take certain prescription-based medicines, if required.
What are some activities that you are not supposed to perform after a shoulder arthroscopy?
Some activities that should not be performed within the first six weeks after the surgical procedure are reaching out for things, stretching arms, lifting heavy objects, pushing, pulling and any other activity that involves strenuous efforts on part of the shoulder joint.
When will I be discharged after the procedure?
Depends on the complexity of your procedure. Some patients are discharged on the same day while some patients, who have had complicated procedures, are advised to stay a day or two more.

Book Appointment