Podiatric Services Treatment & Diagnostics in Chirag Enclave, Delhi
Podiatric Services
Podiatric services refer to those services that deal in the treatment of foot and ankle conditions. It can happen in all age groups, i.e., from children to senior people. Some common podiatry problems include muscles, skin, ligaments, bones, and nerves of the foot and ankle. The podiatric services treat ingrown toenails, fungal toenails, warts, bone deformities, general ache in ankle and knee, pain acquired through recreational activities.
About Podiatric Services
Podiatrists are the medical professionals that are engaged in providing various podiatric services for the problems that affect your feet, ankle, and lower part of your legs. They also specialize in the treatment of foot and ankle diseases that are caused due to ongoing health issues such as diabetes. Some specialized podiatric services include the diagnosis, treatment, and rehabilitation of foot, ankle, and other lower leg conditions.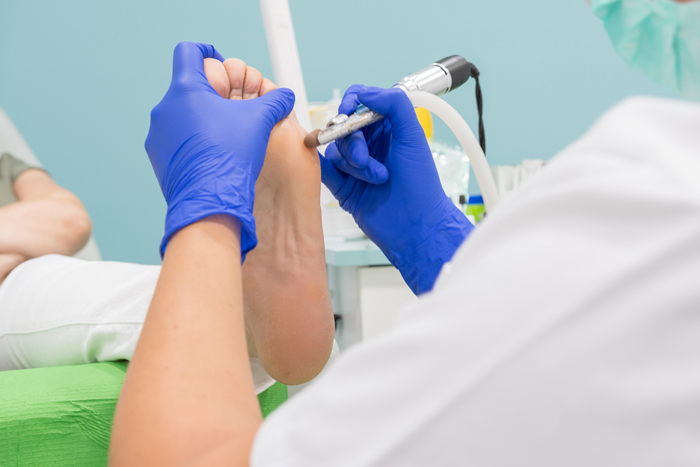 Who Qualifies for Podiatric Services?
People who are suffering from the below mentioned health conditions would require podiatric services:
Discolored toenails
Thick toenails
Foot pain
Crack on your foot skin
Cuts on your foot skin
Warts
Scaling on the Soles
Peeling on the soles
Why are Podiatric Services Required?
Podiatric services would help you to recover from the pain and any other foot and ankle diseases. These services are required if you have a fracture, sprain, nail disorders, diabetes, arthritis, swelling on the foot or lower part of the leg, heel pain, and Morton's neuroma. Podiatric services help to improve foot health by preventing and treatment of the following conditions:
Shin splints
Foot and leg injuries
Bunions
Ingrown nails
Heel pain
Blisters
Children foot issue
Thus, to overcome these conditions and get relief from the pain that affects your regular activities, podiatric services are required.
What are the Different Types of Podiatric Services?
A podiatrist treats patients of any age who are suffering from foot and ankle-related diseases. Some of the podiatric services offered by the podiatrist are:
Fractures and Sprain - The services help in the treatment of injuries that affect the foot or ankle. Additionally, it also helps in the treatment of sports injuries for athletes.
Diabetes - Diabetes can manage the nerves in your foot and ankle, which may cause less supply of blood. Thus, the podiatrist would help to prevent the complications.
Arthritis - A podiatrist would help you overcome the pain and swelling foot on your foot or ankle using inserts, special shoes, physical therapy, medications, and others.
Bunions - This is a condition that affects the bone in your feet. The podiatric services offered by the podiatrist would help to overcome this situation.
Heel pain - The treatment for heel pain would include over-the-counter drugs and orthotics (shoe inserts), according to the podiatrist.
What are the Benefits of Podiatric Services?
Prevention is better than cure. Some of the benefits of availing podiatric services at an early stage are:
It helps to prevent future foot problems.
The professionals have extensive knowledge about the internal and external make of the feet and lower limbs.
Individual advice by the healthcare professionals for long-term foot health
Specialized approach by the professionals for the diagnosis and treatment of various foot and ankle conditions
Request an appointment at Apollo Spectra Hospitals, Chirag Enclave, Delhi
Call 1860 500 2244 to book an appointment
What are the Risks Associated with Podiatric Conditions?
Suffering from few health conditions can lead to a rise in the risk of developing podiatric conditions. Some of the factors that would raise the risk of developing podiatric conditions are as follows:
Diabetes
Arthritis
Obesity
High Cholesterol
Poor Blood Circulation
Heart Disease
Stroke
What tests would a podiatrist prescribe for foot pain?
The tests and scans prescribed for foot pain would include:
Blood test
Ultrasound
Nail swab
X-ray
MRI scan
When should you consult your healthcare professional in foot and ankle pain?
You should see your podiatrist if you have pain or injury in your foot and you are not getting relief from the pain for more than two days. You should seek immediate medical care if you witness the following symptoms:

Severe pain
Swelling
Numbness or tingling
Open sore
Wound
Infection
Fever
Is surgery the best option for foot pain?
Surgery is one of the last options considered by the podiatrist for the treatment of foot pain. Conservative treatment options such as rest, elevation, and medications are preferred first by the professionals. If you do not get relief from these conventional treatment options, a podiatrist will opt for surgery.
Does the pain in the feet and legs lead to lower back pain?
Yes, your feet pain contributes to an increase in your lower back pain.

Book Appointment