Tonsillectomy Surgery in Chirag Enclave, Delhi
Tonsillectomy is the surgical excision of the tonsils, which are two oval-shaped stacks of tissue at the back of the throat, one on each side. A tonsillectomy was once a common procedure for treating tonsil infection and irritation (tonsillitis). Today, a tonsillectomy is typically performed to relieve obstructed breathing, although it can also be used as a therapy when tonsillitis occurs frequently or does not respond to other medications.
To know more, you can consult an ENT specialist near you or visit an ENT hospital in New Delhi.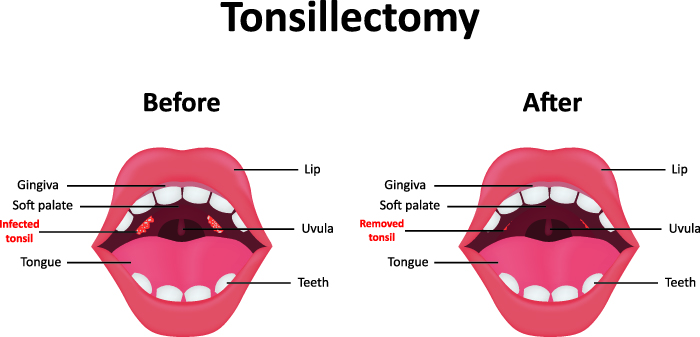 Who qualifies for tonsillectomy?
Even though only children may need their tonsils removed, adults may also benefit from having their tonsils removed. Tonsillectomy may be considered for intermittent throat disease with no less than 7 episodes in the previous year or possibly 5 episodes each year for a very long time or possibly 3 episodes each year for a very long time. There should be documentation in a clinical record for every episode of sore throat and at least one of the following:
-temperature >38.3°C
-cervical adenopathy
-tonsillar exudate
-positive test for bunch A beta-hemolytic streptococcus
Request an appointment at Apollo Spectra Hospitals, Chirag Enclave, New Delhi.
Call 1860 500 2244 to book an appointment.
Why is tonsillectomy conducted?
A tonsillectomy can be performed for a variety of reasons such as:
Your tonsils are interfering with your sleep breathing. This is sometimes referred to as successive wheezing.
You have recurring throat infections (at least twice a year) as well as contaminated and enlarged tonsils (tonsillitis).
What are the different types of tonsillectomy?
The following are the most common methods for removing tonsils:
Electrocautery: This method uses heat to remove the tonsils and stop any bleeding.
Cold blade analysis: This involves tonsil removal with a surgical instrument using a cold steel blade analysis. Drainage is then stopped by sutures or electrocautery (outrageous warmth).
Consonant surgical tool: This approach uses ultrasonic vibrations to cut and inhibit tonsil drainage at the same time.
Various techniques include the use of radiofrequency removal processes, carbon dioxide laser and microdebrider.
What are the benefits of tonsillectomy?
Tonsillitis can be excruciatingly painful. Tonsillectomy can offer permanent relief from it.
Less infection
Better sleep
What are the risks of tonsillectomy?
Tonsillectomy, like other surgical treatments, poses such risks as:
Anesthetic responses: Prescriptions to keep you sedated during a medical operation can result in mild, transitory problems such as brain discomfort, nausea, vomiting or muscular irritability.
Swelling: Expanding of the tongue and delicate top of the mouth (delicate perception of taste) might cause breathing problems, especially in the first few hours after a device is installed.
Excessive bleeding: During a medical operation, bleeding occurs. In rare situations, severe bleeding occurs.
Infection: Occasionally, the tonsillectomy technique might cause contamination that needs further treatment.
Why is my doctor suggesting that my child's tonsils be removed?
The most generally acknowledged reason for meticulous tonsil removal is that contaminations or persistent illnesses can interfere with breathing, relaxing or gulping. Tonsil problems can hurt a child's well-being, personal happiness, and, unexpectedly, academic performance.
When should you call your primary care physician after having a tonsillectomy?
Contact your primary care physician if any of the following occurs after a tonsillectomy:
Mouth starts bleeding
A fever higher than 101 degree F and does not improve with acetaminophen
Pain
Dehydration
How long will my child be in the clinic?
This is often an outpatient procedure and your child will most probably return home the same day.
What is the recovery process?
Typically, children may have to take pain medication for 7-14 days, with the first week being the most dreadful. Unlike in the past, when there were dietary restrictions that necessitated a careful food regimen, children can now transition to a regular eating regimen whenever they choose, as long as they are drinking enough water to remain hydrated.

Book Appointment