Oculoplasty Surgery in Kondapur, Hyderabad
Oculoplasty is a procedure done to correct the diseases of the eye and to correct the problems of the other important structures around the eyes. It is a surgical procedure to correct the structural defects of eyelids, eyebrows, orbit, and tear systems.
What Is Oculoplasty?
Oculoplasty is surgery including reconstruction of the eye and other parts such as eyelids, eyebrows, orbit, and tear ducts. It includes different procedures such as techniques used for correcting drooping eyelids, eye replacement, etc. Oculoplasty can be performed on people of all ages. The types of surgery required for a particular person depending on symptoms.
What Conditions Need Oculoplasty?
Oculoplasty may be done in the following situations:
It is done for eyelid lifting
It is done for drooping eyelid
It is done for entropion
It is required for Ectropion
Cancer of eyelid
Facial spasms
Surgery for watering from eyes
Surgery for orbits
Loss of an eye due to trauma and maxillofacial surgery
Bulging of one or both eyes due to thyroid dysfunctioning
Difficulty in closing eyelids
What Are The Different Types Of Oculoplastic Procedures?
Different types of oculoplastic procedures at Apollo Kondapur include the following:
Eyelid surgery (Blepharoplasty)
It is a type of surgery that can make your eyes look youthful. It is done to remove excess skin, bulging fat, and lax muscle from your eyelids. If a sagging upper eyelid is obstructing your vision, the surgery can help to remove the obstruction and improve your vision.
Upper blepharoplasty
It is done to remove excess skin and fat from the upper eyelids. The doctor will make an incision in the border of the eye and skin to remove muscle and fat.
Lower blepharoplasty
It is done to remove excess skin, muscle, and fat from the lower eyelids. An incision is made below the eyelid to remove muscle and extra fat.
Ptosis repair
Ptosis is a condition when upper eyelids droop. It reduces vision by obstructing the pupil partially or completely. People suffering from ptosis cannot keep their eyelids open. Ptosis occurs due to the loosening of the muscles. Surgery may be done to reattach or shorten the stretched muscles. The main aim of the surgery is to elevate the upper eyelid and restore normal vision.
Ectropion repair
It is a condition when the eyelid turns outward. It makes the eyes dry and can lead to irritation, redness, and pain.
Entropion repair
It is a condition when eyelids turn inward. It can cause redness, irritation, and pain in the eye. If not treated, it can lead to other eye problems.
Eyelid growth and cancers
Exposure to the sun can cause very common skin cancer of the eyelids. The surgeon can remove the tumour and perform reconstruction of the eyelid.
Tearing disorders
Excessive tearing or reduced tearing can occur due to dryness or obstruction of the outflow of tears. If a lacrimal gland does not produce enough tears, it can cause dryness of the eyes. Sometimes, obstruction to the outflow of tears can also cause problems. Therefore, the drainage system has to be corrected or the system has to be bypassed to make a new drainage path for the tears.
Orbital surgery
Orbital surgery may be required for managing eye disorders, tumours, and injuries due to trauma.
Most oculoplastic surgeries can be done in the outpatient department which means you can go back home the same day. Recovery is also very quick.
Request an appointment at Apollo Spectra Hospitals, Kondapur
Call 1860-500-2244 to book an appointment
Oculoplasty involves different types of surgical procedures performed to correct eye disorders and diseases of the other related structures. It is a simple surgery and can be done in the outpatient department. You need to consult with the doctor so that he can plan the right type of surgery depending on your symptoms.
1. How long will it take to recover from oculoplastic surgery?
The recovery time depends on the type of procedure done and recovery time can vary from person to person. It is a safe procedure and most patients do not complain of any symptoms after the procedure.
2. What can I expect after oculoplastic surgery?
Your doctor may ask you to apply cool compresses on your eyelids for a few days. You have to reduce activity to get you to heal quickly. Heavy exercise should be avoided.
3. Will surgery help to improve my vision?
Yes, if surgery is done to remove any obstruction, the surgery will improve your vision field.
Our Doctors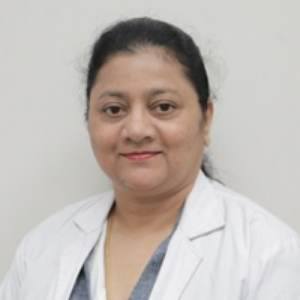 DR. ALPA ATUL POORABIA
M.S, FLVPEI, D.O, M....
| | | |
| --- | --- | --- |
| Experience | : | 24 Yeras Experience |
| Speciality | : | Ophthalmology... |
| Timings | : | Mon - Sat : 10:00 AM... |

Book Appointment