Tummy Tuck Surgery in Kondapur, Hyderabad
Workouts and diet might not be helpful to many when it comes to reducing excess skin and fat. It is during these times that tummy tuck comes as a saviour. However, it is not an alternative to weight loss.
What is the meaning of Tummy Tuck?
A tummy tuck is a cosmetic procedure at Apollo Kondapur that removes the excess fat and skin from the abdomen. This cosmetic surgery involves tightening the tissues of the abdomen (fascia) with sutures. A tummy tuck is also known as abdominoplasty.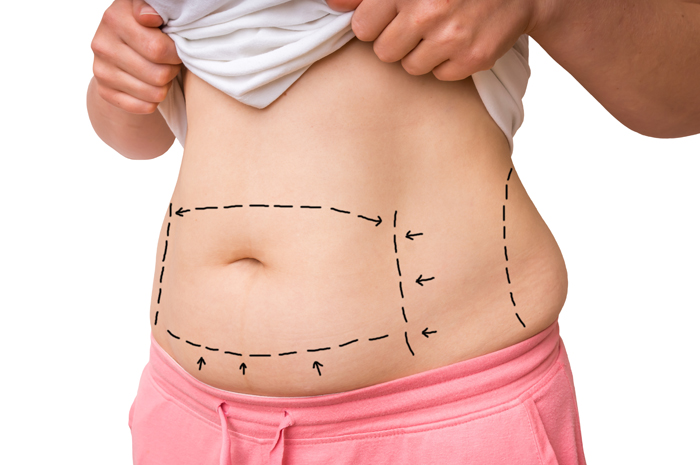 What is the Difference Between Liposuction and Tummy Tuck?
People tend to confuse liposuction with a tummy tuck. Yet, both are different but can be used together. The liposuction procedure is used to take out the fat that is deposited in small amounts around the thighs, belly, hips, and bottoms. So, it aims at removing only the fat from targeted places in the body. Whereas, tummy tuck narrows your waistline and tightens the muscles around your abs. If there is the presence of extra unwanted skin and fat around your abdomen, a tummy tuck will be a helpful option.
What are the different categories of Tummy Tuck?
Some of the options available if you want to get your tummy tuck done are as follows:
Full Abdominoplasty

Full abdominoplasty follows the conventional tummy tuck methods. The surgeon creates the first incision in the lower abdomen and the second incision across the navel. He then removes all the extra fat and skin from the navel to the pubic area. The surgeon even tightens the muscles in the region. Sometimes even liposuction is used to contour the areas of the abdomen.

Mini Abdominoplasty

Here, the surgeon performs only a single incision in the low pubic area and can stretch a bit till your abdomen. The surgeon will then take out the extra skin and also tighten the muscles. Liposuction can be used to contour the area again. This mini procedure is best for those who have a lot of skin underneath the navel but overall has a good physique.

High Lateral Tension Abdominoplasty

This procedure helps extend and make the incision longer to remove extra skin around the hips and the love handles. Surgeons recommend this procedure for after-pregnancy protrusions of the skin. The surgeon lifts the skin through the incision made in the abdomen to the hips and thighs for redefinition.
When to See a Doctor?
You must see a doctor if you feel the skin around your abdomen is loose and there are fat pockets only around this region, then you can opt for a tummy tuck. Talk to a board-certified aesthetic surgeon who will guide you through the process.
Request an appointment at Apollo Spectra Hospitals, Kondapur
Call 1860-500-2244 to book an appointment
Who should go for a tummy tuck?
If you are someone who has;
Post-pregnancy weight, genetic laxity, weight fluctuations and a lot of extra skin around your abdomen that you cannot get rid of
If you are in good health and have maintained a stable weight yet cannot get rid of the excess skin
How to Prepare yourself for a Tummy Tuck Surgery?
After you consult your doctor, he will ask you to get lab tests and medical evaluations done. Your doctor will ask you to stop smoking if you do. According to the medicines you take daily, the doctor will prescribe you some medications and ask you to stop some if needed.
The doctor will ask you to stop taking aspirin or blood-thinning medications as they might increase the bleeding during and after surgery. Consume food rich in vitamin C a few weeks before the surgery. Surgeons do this procedure in a licensed hospital or laboratory. Hence, you might require to stay there for a day after the surgery.
What are the Benefits of going for a Tummy tuck surgery?
You will reduce the excess skin around your abdomen
This cosmetic procedure will give your stomach and abdomen a toned and refined look.
It will also tighten the muscles around your six-packs making it look even and firm.
What are the Complications involved in Tummy Tuck?
The complications of getting a tummy tuck are similar to most cosmetic surgeries. It will leave scars and marks but the surgeon will prescribe ointments to you to make them fade away. Apart from that;
You can experience pain, numbness, bruising, and swelling after the surgery
The area will feel sore for some weeks or months
You might develop an infection or blood clots under the skin flap
If you are diabetic, have lung or heart issues then other complications might occur
It can cause loss of skin and scarring if healing is not proper. Poor recovery will require you to undergo a second surgery
What is the recovery treatment associated with Tummy Tuck?
Try keeping your diet light for the next few weeks. Try eating healthy and non-inflammatory food as much as possible.
The doctor will prescribe some medications to have after the surgery. You will also be given ointments to apply near the scar.
Your doctor will ask you to keep the area moisturized.
Also avoid your skin from sun-tanning.
Avoid tight-fitted garments for some time.
Keep an eye for infection, if noticed report to your doctor immediately.
Remember like all other surgeries, the area will need time to heal. Get some help at your home as you will not be able to bend for a few days spanning to a few weeks. If you face complications, book an appointment with your doctor.
Who is a bad candidate for a tummy tuck?
If you're someone who has not conceived yet and wants to have babies shortly, then a tummy tuck is not a good option for you. If you do not lead a healthy lifestyle and smoke often, you are not a good candidate for a tummy tuck. If you are obese you may not be eligible for a tummy tuck.
How long does tummy tuck last?
Cosmetic surgery is a permanent one. The fat tissues and cells removed by this technique will never grow back. If there are statures placed inside for making the muscles firm, even they remain there permanently.
How painful is the tummy tuck?
The pain might be experienced after the surgery and not during a tummy tuck. You will require approximately 3 to 4 months to heal fully. You might experience a bit of discomfort or pain in between. Severe pains do not occur until there are some complications in which case consultation with a doctor will help.

Book Appointment