Gallbladder Stones Treatment & Surgery in Kondapur, Hyderabad
Gallstones or cholelithiasis is a condition that affects the gallbladder, a small organ below the liver in the upper right abdomen.
People experiencing abdominal discomfort from gallstones usually require gallbladder removal surgery. However, gallstones can be asymptomatic and don't need treatment.
What are Gallstones?
Gallstones are stone-like objects or lumps that are formed mainly of the extra cholesterol from the bile juice stored in the gallbladder. These are mostly less than an inch in size but can turn bigger, and more harmful if not treated in time.
While stones made of cholesterol are more common, there are pigment stones that can form due to other waste products like calcium salts and bilirubin, also present in the bile juice.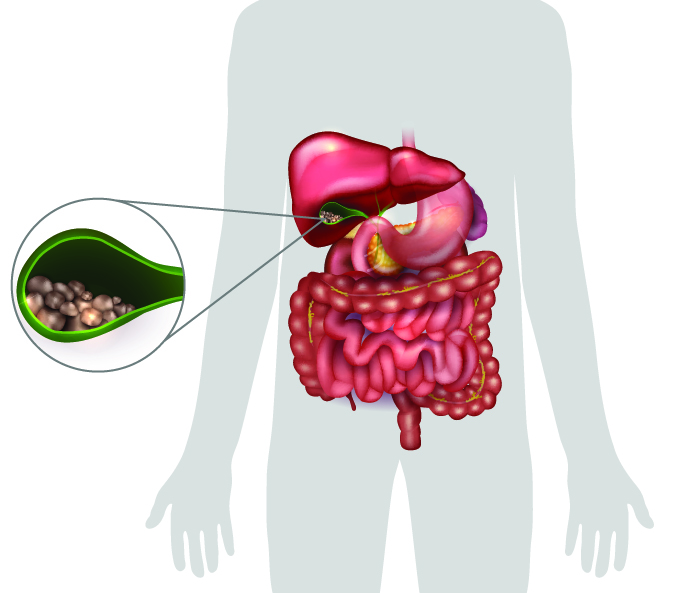 What are the symptoms of Gallstones?
Gallstones may show no symptoms unless they are triggered by food that contains high amounts of fat. If they grow in size and end up blocking the bile ducts, signs that one can experience include:
Chronic pain in the upper right abdomen
Intense pain in the upper back or right shoulder
Nausea
Vomiting
Stomach pain
Diarrhoea
High fever and chills
Yellowing of skin and eyes
Dark-coloured urine
Light-coloured stools
What are the Causes?
The exact reason for the development of gallstones is unknown, but the most probable causes can be:
Too high cholesterol levels in the bile

When too much cholesterol is consumed through fatty food, the bile juice is not able to fully dissolve it and the extra cholesterol ends up forming yellow-coloured stones.

Too high bilirubin levels in the bile

Bilirubin is a chemical produced when the red blood cells are being broken down by the liver. Certain blood disorders or liver infections can cause the liver to make too much bilirubin which forms dark-coloured pigment stones.

No proper emptying of the gallbladder

When the gallbladder does not empty all the way, the bile gets concentrated, forming gallstones.
When to see a doctor?
When experiencing discomfort and pain for a prolonged period, one should contact their doctor. Especially when facing serious symptoms like high fever, change in colour of urine and stool, yellowing of the skin(jaundice), immediately schedule an appointment.
Request an appointment at Apollo Spectra Hospitals, Kondapur
Call 1860-500-2244 to book an appointment
What are the Risk Factors?
Certain factors contribute to your chances of developing gallstones but cannot be controlled, these are:
Being a female
Being over the age of 40
Being pregnant
Being a Native American
Having a family history of gallstones
Have conditions like diabetes or liver diseases
Taking birth control or hormonal therapy pills
Factors that are increase risks due to unhealthy lifestyles and can be controlled are:
Having obesity or being overweight
Consuming a high amount of cholesterol & fat
Consuming a low amount of fibre
Losing excessive weight or fasting
Taking cholesterol-lowering medications
What are the Complications of Gallstones?
Gallstones can lead to certain serious problems, like:
Acute Cholecystitis
This is a condition that causes inflammation of the gallbladder since it is blocked and cannot be emptied properly. It can cause severe pain and fever or may end up rupturing the gallbladder.
Blocked Common Bile Duct
Gallstones can block ducts that help the juices reach the small intestine or the pancreas. This can also lead to severe fever, pain, jaundice, bile duct infection, inflammation of the pancreas.
Gallbladder Cancer
Although it is very rare that gallstones lead to cancer of the gallbladder, the chances are still increased, especially if one has a history of gallstones.
What are the Prevention Techniques?
Gallstones can be prevented by making simple changes in your lifestyle, like:
Not skipping meals
Regularly exercising
Avoid rapid loss of weight
Eat food rich in fibre
Maintain a healthy diet
How are Gallstones diagnosed?
A doctor at Apollo Kondapur may check for symptoms of jaundice through a physical exam and may order a few tests that would help in getting a look inside your body for a better diagnosis. These tests may include:
Ultrasound
Abdominal CT Scan
Blood tests
Endoscopic retrograde cholangiopancreatography (ERCP)
What is the Gallstone Treatment?
Most of the time, one does not need treatment for gallstones unless they cause pain. Sometimes gallstones can be passed without even noticing.
When experiencing chronic and intense pain, the doctor would recommend surgery. Most people undergo gallbladder removal surgeries since its removal does not obstruct other digestive processes.
Gallstones are a common digestive disorder with 10 million cases reported in India every year. It is much more dominant in the female population as compared to the males, with research showing 61% of patients being women.
But as medical advancements are made, surgeries for their removal have become easier and helpful to many.
1. Is it problematic to leave gallstones untreated?
If gallstones are neglected despite chronic symptoms, it may lead to more serious conditions like cholecystitis and potentially gallbladder cancer.
2. Can the gallbladder be treated without surgery?
If the gallstones are small and one does not wish to undergo surgery, wait for the stones to pass naturally or contact your doctor for other suitable ways of treatment.
3. How do gallstones get bigger?
If the stones do not pass naturally, begin to cause symptoms that are chronic and intense, and are still not treated, the stones are bound to get bigger.

Book Appointment