Bariatrics
Obesity is an adverse health condition symptomized by excess body fat and linked to conditions such as type 2 diabetes, high blood pressure, sleep apnea, osteoporosis, and stroke. People with severe obesity and related conditions may find it difficult to perform daily tasks and socialize and may even suffer from poor mental health. Thus, obesity may significantly reduce the quality of life. Bariatric doctors and surgeons can help you, as a bariatric patient, through your weight loss journey.
To know more, you can consult a bariatric surgeon near you or a bariatric surgeon in Kanpur.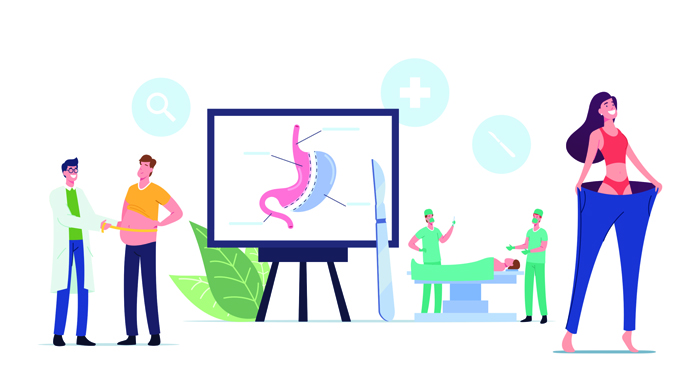 What is Bariatrics?
This branch of medicine deals with the causes, prevention and treatment of obesity. As obesity has several detrimental effects, ranging from illnesses like cancer, chronic musculoskeletal problems to heart diseases, it is essential to treat this condition in a timely manner. Bariatric surgery is known to result in greater weight loss, improved quality of life, and reduced obesity-related diseases compared to medical and diet therapy.
What are the Causes and Risk Factors for Obesity?
Obesity often results from a combination of factors, such as genetics, lifestyle, socioeconomic factors and medications. Consulting a bariatric doctor/bariatrician will help you understand what is causing your obesity and whether bariatric surgery or medical therapy is the best route for you.
How Can One Prevent Obesity?
The best ways to prevent obesity are eating healthy and exercising regularly. It might be a good idea to have a physician, a dietitian, and a physical trainer to guide you and keep you on track while you try to lose weight. Consulting a mental health professional may also be very helpful to keep you motivated and happy while you work hard towards recovery.
How do I Know That I Need Bariatric Surgery?
If you are an adult with a body mass index (BMI) over 35, at least one obesity-related medical condition, and at least six months of supervised weight-loss attempts, you should consider bariatric surgery. Adolescents with a BMI of 40 or higher and an obesity-related medical condition or with a BMI of 35 or higher and a severe obesity-related medical condition are also eligible for bariatric surgery. Consult your physician before deciding to undergo surgery. To book an appointment for bariatric consultation and/or surgery at Apollo Spectra Hospitals, Kanpur, Uttar Pradesh, you can call 18605002244.
What Are the Types of Bariatric Surgery?
Gastric bypass surgery
Endoscopic intragastric balloon treatment
Sleeve gastrectomy surgery
Ileum transposition surgery
Gastric band surgery, duodenal switch surgery
Laparoscopic duodenal switch surgery
Are there Complications Associated with Bariatric Surgery?
Short-term risks associated with bariatric surgery include excessive bleeding, infection, adverse reactions to anesthesia, blood clots, lung or breathing problems, leaks in the gastrointestinal system, and death (rare). Long-term risks include bowel obstruction, dumping syndrome (leading to diarrhea, flushing, lightheadedness, nausea, or vomiting), gallstones, hernias, low blood sugar, malnutrition, ulcers, vomiting, acid reflux, need for a second surgery or procedure, and death (rare) .
Conclusion
Your obesity may or may not have been preventable, but your treatment is your choice! With advancements in science and technology, there are now surgeries that address various levels and types of obesity. Around 95% of patients who undergo bariatric surgery report improved quality of life, according to studies.
You may even benefit from joining an obesity support group, where you can learn from the experiences of people on a similar journey to yours.
Is my inpatient stay shorter if I opt for a minimally invasive procedure?
Yes. The length of your inpatient stay will depend on the procedure you undergo. Most people stay in the hospital for 2 to 3 days and get back to normal activities in 3 to 5 weeks.
Do doctors help resolve complications resulting from bariatric surgery?
Yes. Your doctor will help you through any complications that may arise from your surgery.
What are the charges for additional support, such as support group membership?
There are no charges for joining support groups.
Our Doctors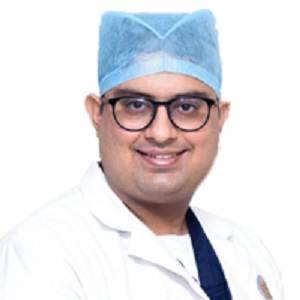 DR. SHIVANSHU MISRA
MBBS, MS, FNB,FAIS, ...
| | | |
| --- | --- | --- |
| Experience | : | 6 Yeras Experience |
| Speciality | : | Bariatric Surgery... |
| Timings | : | Mon - Sat : 3:00 PM ... |

Book Appointment