Best Bilio pancreatic diversion Treatment & Diagnostics in Chunni Ganj, Kanpur
Biliopancreatic diversion is a surgical procedure performed in Apollo Spectra, Kanpur, to reduce weight and limit or restrict absorption. In this procedure, the natural method of digestion is modified to shorten the duration of digestion.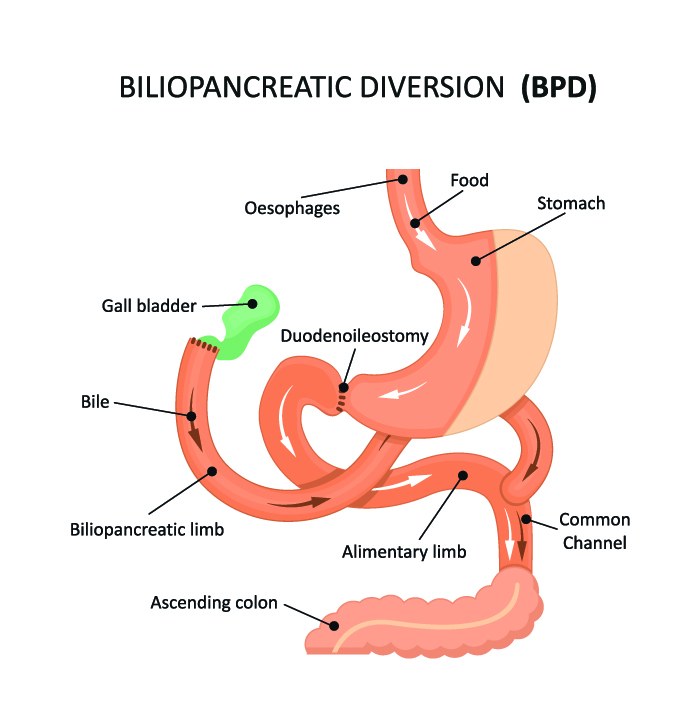 How Is Biliopancreatic Diversion Performed?
At Apollo Spectra, Kanpur, your surgeon will start biliopancreatic diversion surgery by administering anaesthesia to put the patient to sleep, after which they will make small incisions in the abdomen throughout the surgical procedure and use a few specialized pieces of equipment for the surgery. During the surgery, the surgeon removes a small portion of the stomach, allowing the patient to consume much less while still feeling full, resulting in weight loss.
Typically, when we eat food, it passes from the stomach to the small intestine after being digested. It is where the body combines the contents of the stomach with the juices of the liver and pancreas.
During biliopancreatic diversion surgery, the doctor rearranges the intestine such that meals take much less time to mix. As a result of this, meal blending takes less time, which results in less fat absorption in the intestine and clean weight loss.
What are the Benefits of Biliopancreatic Diversion?
There are several benefits of biliopancreatic diversion surgery, including -
The results of this surgery are immediate and rapid.
This surgery may also aid in the treatment of diabetes; it is thought to be up to 98 percent effective.
The risk of gaining weight again is very low.
This procedure also helps in removing ulcers.
What are the Side effects or Risks of Biliopancreatic Diversion?
The following are some of the most common risks of biliopancreatic diversion surgery:
The procedure is irreversible.
Mineral and vitamin deficiency can occur.
Consuming less food can result in malnutrition; therefore, it is essential to consume adequate vitamins and minerals after this surgery.
Gallstones may develop.
The patient may experience diarrhoea or frequent bowel movements in some cases.
There are some minor risks of bleeding or infection.
Who Is The Right Candidate For Biliopancreatic Diversion?
It is essential to review the eligibility criteria before the surgery to avoid risks and complications. Ideal candidates for biliopancreatic diversion surgery in Kanpur are:
People who are moderately or severely obese
People with a BMI of 60 or more
People with diseases like diabetes
People with a healthy lifestyle
People who have a strong will
People who are not able to lose weight through non-surgical methods
Request an appointment at Apollo Spectra Hospitals, Kanpur
Call 1860-500-2244 to book an appointment
What Happens After Biliopancreatic Diversion Surgery?
Following surgery, the patient may feel pain or redness at the site of the incisions. It is necessary to take proper medications for the first few weeks after the surgery to prevent pain.
Because the stomach has less storage capacity after surgery, the patient may feel full sooner. In some cases, eating less food may result in malnutrition; therefore, it is essential to eat vitamin and mineral-rich foods to maintain good health.
There is also a risk of diarrhoea and the patient may feel shaky or nauseated after the surgery. This can be avoided by eating nutrient-rich foods.
1.How much time does it take to recover after the biliopancreatic diversion surgery?
It may take several weeks to recover after biliopancreatic diversion surgery. It may take some time for patients to return to their daily activities. However, it also depends on the individual's care and lifestyle.
2.How much food can one consume after biliopancreatic diversion surgery?
The patient will be able to eat only soft foods and liquids for the first few months after surgery. It is critical to drink plenty of water to avoid dehydration. After some time, the patient will be able to eat solid food weighing four to five ounces.
3. Is biliopancreatic diversion surgery a laparoscopic procedure?
Biliopancreatic surgery can be laparoscopic or open. It depends on the patient's condition, the surgeon's opinion on the type of surgery, and several other factors.

Book Appointment