Gastric Bypass Treatment & Diagnostics in Chunni Ganj, Kanpur
Gastric Bypass
Gastric bypass is a surgical procedure. It is done to help a person lose weight. During the surgery, changes are made to some parts of the digestive system.
What Is Gastric Bypass?
Gastric bypass is a procedure in which changes are made to the digestive organs to assist the patient in losing weight. This surgery is recommended when a person fails to lose weight by other methods.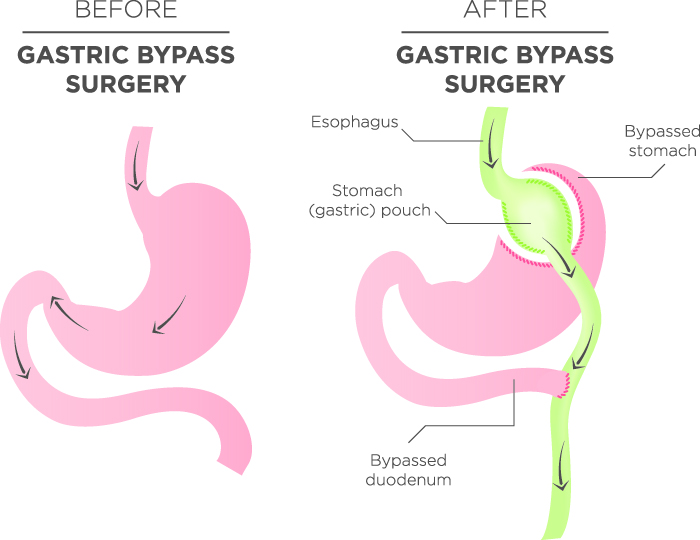 Who Is The Right Candidate For Gastric Bypass?
Gastric bypass surgery is suitable for people in Kanpur who:
Have a body mass index of 40 or more.
Suffer from other weight-related health conditions.
Your doctor will perform many tests to ensure that you are the right candidate for gastric bypass surgery. This surgery is not appropriate for everyone who is overweight.
How To Prepare For Gastric Bypass?
Before the procedure, your doctor at Apollo Spectra, Kanpur will recommend you get certain additional tests done, to check your overall health. They will also conduct a physical examination. If you take any prescription medications, you should tell your doctor because they may ask you to stop taking medications that might interfere with the surgery. You should also stop smoking a few days before your surgery.
Your doctor will also tell you to stop eating and drinking a few hours before surgery. After the procedure, you may be required to stay in the hospital for a few days.
How is Gastric Bypass Done?
At Apollo Spectra, Kanpur, gastric bypass is performed under general anaesthesia. The surgery is done in steps. First, the doctor will reduce the size of your stomach. They will divide it into two parts. The upper part is small, while the bottom part is large. The food that you eat will get deposited in the upper, i.e, the smaller part. Hence, you'll start eating less automatically.
The doctor will then connect a section of your small intestine to a hole in the upper part of your stomach. Food will move from this part to the small intestine, preventing you from absorbing too many nutrients.
This surgery can be done in two ways -
By making a large cut into your abdomen, or,
By placing a laparoscope, an instrument fitted with a camera, in your abdomen to see inside. This procedure is called laparoscopy, which is comparatively safer than open surgery and carries less risk.
Request an appointment at Apollo Spectra Hospitals, Kanpur
Call 1860-500-2244 to book an appointment
What Are The Benefits Of Gastric Bypass?
Gastric bypass has several benefits, which are listed below:
You can lose weight quickly.
You will see long-term results.
It can help reduce the risks associated with obesity.
Your quality of life will improve.
What Are The Risks Of Gastric Bypass?
Some risks associated with gastric bypass include:
Bleeding from the surgical site
Infection at the surgical site
Blood clots
Difficulty breathing
Leakage from gastric organs
Prolonged complications may occur in some cases, such as:
Obstruction of the gastric system
Excessive gastric problems such as diarrhoea, nausea, or vomiting
Stones in the gallbladder
Perforation of the stomach
Formation of ulcers
Low levels of sugar in the blood
Conclusion
Gastric bypass is a difficult procedure. To get the best results from the surgery, you must make dietary changes. Most patients lose a significant amount of weight.
1. Do I have to take vitamins and other supplements after the gastric bypass?
You may need to take vitamin and mineral supplements after gastric bypass surgery because some nutrients are not absorbed properly by the body. To ensure that you meet your body's requirements, you must take these supplements.
2. Is there hair loss after gastric bypass?
Some hair loss is common after gastric bypass. However, it is not permanent and usually resolves after a few months. When you start eating right, your hair will grow thicker and longer.
3. How much weight can be lost after gastric bypass?
You may be able to lose a certain percentage of your excess body weight. Only a few people can get 100% results when it comes to losing excess body weight. You can lose 60-70% of weight gradually for up to a year after surgery.

Book Appointment