Rheumatoid arthritis Treatment & Diagnostics in Chunni Ganj, Kanpur
Rheumatoid arthritis is an autoimmune condition that can result in joint inflammation and pain. In most cases, it occurs on both sides of your body. This means that if one of your legs or arms is affected with RA, the same joint in your other leg or arm will be affected as well. To ensure that this is treated in the best way, early diagnosis in Kanpur is a must.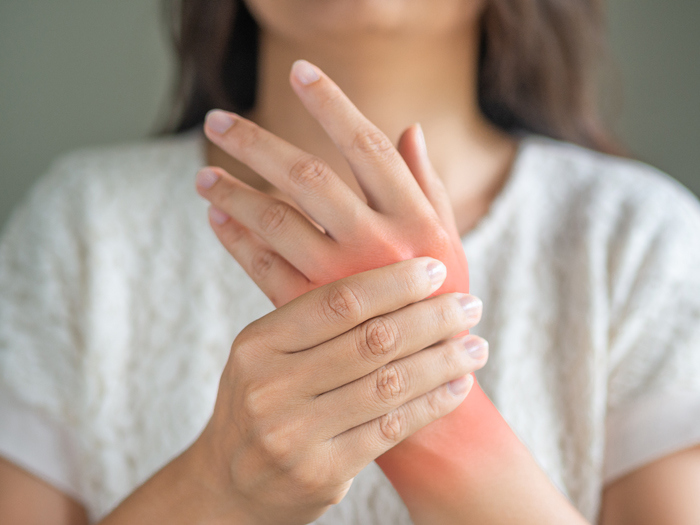 Symptoms
Rheumatoid arthritis is a chronic disease that is marked by symptoms like pain and inflammation of the joints. These occur during periods known as exacerbations or flares. During other periods known as remission, the symptoms completely disappear. Here are a few symptoms of this condition:
Pain
Swelling
Stiffness
Deformities
Loss of function
Depending on your condition, the symptoms can be mild or severe.
Cause
Since rheumatoid arthritis is an autoimmune condition, it means that it is caused when the immune system attacks the healthy body tissues. However, why this is triggered is still not known.
Risk factors
Certain factors can increase the risk of developing this condition including:
Genes - There is some evidence showing that rheumatoid arthritis is hereditary.
Hormones - This condition is more common in women than men because of the effects of estrogen.
Smoking - People who smoke are at a higher risk of developing this condition.
Treatment
Rheumatoid arthritis cannot be cured. But, some treatments at Apollo Spectra, Kanpur can help in managing it. Thanks to the advancements in treatment strategies, the quality of life and outcomes for people with rheumatoid arthritis has significantly improved. This includes the Treat to Target Rheumatoid Arthritis philosophy. It results in higher remission rates and fewer symptoms. Here is what it involves:
Setting a testing goal signaling either a low disease state or remission.
Testing acute phase reactants and monitoring them monthly to assess the treatment and management plan.
If there is no progress, promptly switch the medication regimen.
Through these treatments, you can control the inflammatory response and manage the pain. By decreasing the inflammation, you can prevent further organ and joint damage. Here is what the treatment can include:
Medications
Exercising
Dietary changes
Home remedies or alternative
There are several types of medications available for rheumatoid arthritis. Some of these help in reducing inflammation and pain while others limit the damage this condition does to your joints and reduce flares.
Here are some over-the-counter medications that can help reduce inflammation and pain during flares:
Acetaminophen
Corticosteroids
Nonsteroidal anti-inflammatory drugs (NSAIDs)
The following drugs can slow down the damage rheumatoid arthritis causes to the body:
Disease-modifying antirheumatic drugs (DMARDs) - These block the immune system response of your body and slow down the progression of rheumatoid arthritis.
Biologics - These are new-generation biologic DMARDs that provide a targeted response to inflammation instead of blocking the entire immune system response of your body.
Janus kinase (JAK) inhibitors - These are a subcategory of DMARDs that can block specific immune responses to stop damage to your joints and prevent inflammation.
Request an appointment at Apollo Spectra Hospitals, Kanpur
Call 1860-500-2244 to book an appointment
1. What exercises should I perform for rheumatoid arthritis?
You need to work on low-impact exercises that improve the range of motion in the joint and increase your mobility. These exercises can strengthen your muscles and relieve the pressure from your joints. You can also try yoga to regain your flexibility and strength.
2. What assistive devices can I use?
There are certain devices like braces and splints that can hold your joints in a resting position to reduce inflammation. You can also use crutches or canes for maintaining mobility.

Book Appointment