Management of open fractures Treatment & Diagnostics in Chunni Ganj, Kanpur
Management of open fractures
A fracture occurs when your bone is partially or completely broken. It is caused when there is high stress or force in your bone. You may have a fracture while playing sports or other strenuous activities.
Open fractures are fracture which occurs when your broken bones come out through your skin. Your bones will be directly exposed to the environment. Thus, there is a high chance of your bones and wound getting infected. Open fractures are usually caused due to violent accidents on the road. Open fractures need prompt medical attention. You should rush to the nearest hospital to treat your fracture because delay may lead to further complications.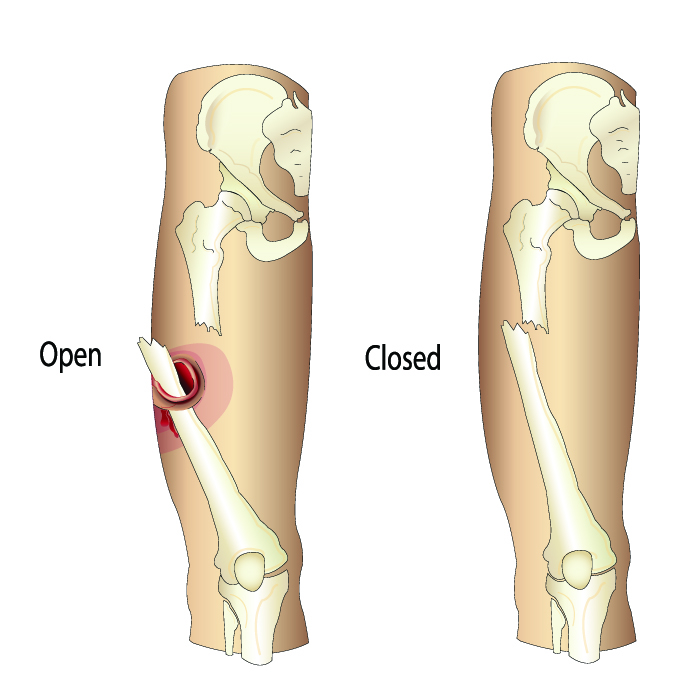 How is open fracture surgery performed?
Before open fracture surgery, your doctor at Apollo Spectra will give you antibiotics and pain killers to ease the pain. This will also reduce the chance of infection in your wound.
Your surgeon will first do the dressing of the wound. He or she will clean the wound with sterile saltwater to protect the wound before the surgery. During the first stage of the treatment, your doctor will remove the damaged tissues from your wound. This process of removing damaged tissues is known as debridement. The damaged tissues should be removed within 24 hours of injury.
Your surgeon may use wires, screws, external frames, rods, or plates to fix the broken bones. He or she will also repair your wound to avoid infection. This whole procedure should be done within one single operation. It is important to complete the surgery within 72 hours.
Sometimes your arm or leg may be damaged beyond repair. In that case, your leg or arm has to be removed. Keeping the damaged arm or leg will be a potential threat to your life. It will put your life at risk. This is called amputation. Amputation will be done to avoid further complications. This surgery has to be done within 72 hours of your injury.
Request an appointment at Apollo Spectra Hospitals, Kanpur
Call 1860-500-2244 to book an appointment
What are the benefits of open fracture management surgery?
The benefits of open fracture management surgery include:
It will help to prevent the infection on the wound
Surgery will help you to resume your regular activities
It will help to repair the damaged tissues around the wound
It will help to reduce further complications in your life
It will stop the bleeding from the wound.
What are the side effects of open fracture management surgery?
The side effects of open fracture management surgery include:
Infection: There is a high chance of infection around the wound. If your tissues and bones are severely damaged,there is a greater risk of infection.
Bleeding: There may be bleeding from the wound due to the damaged tissues.
Compartment syndrome: This is a condition when your injured leg or arm will swell. Pressure will be built within the muscles. This requires immediate surgery to reduce the pressure within the muscles.
Nonunion: It is caused because the blood supply around the bone is damaged. If your bone does not repair, you will need surgery like bone grafting and internal fixation.
Pain: Pain is a common side effect of any surgery. You may feel mild or severe pain around the wound after the surgery.
Complications from anesthesia: You may face complications due to anesthesia.
How to prepare for the surgery?
Before the surgery, you should inform your doctor about the medications you are taking.
Avoid blood thinner medicines before the surgery.
If you are pregnant, inform your doctor immediately.
If you are a diabetic or high blood pressure patient, inform your doctor.
Avoid alcohol or smoking before the surgery.
Your doctor may recommend you a liquid diet before the surgery.
1. Is open fracture management surgery painful?
Open fracture surgery will be done under general anesthesia. You may feel mild or severe pain after the surgery.
2. Are open fractures life-threatening?
Open fractures are not life-threatening but if it is left untreated, it will put your life at risk.
3. Can an open fracture be treated easily?
Yes, open fractures can be treated by surgery and proper medications.

Book Appointment