Deviated Septum Surgery in Chunni-ganj, Kanpur
A deviated septum is when the wall (nasal septum) between your nasal passages is moved to one side.
What is a Deviated Septum?
The septum is the cartilage that sits at the center and separates the nostrils. Many people have one nostril bigger than the other. This is known as a deviated septum. Having a deviated septum can cause breathing issues.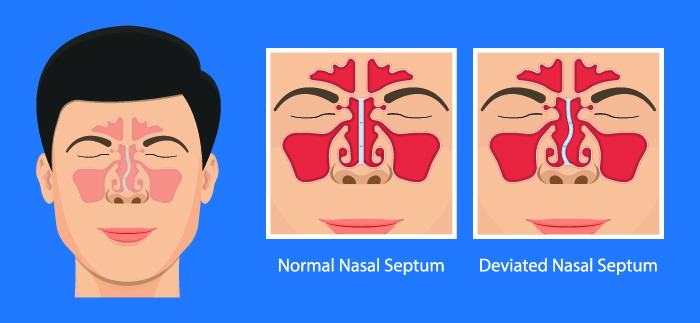 What are the Symptoms of Deviated Septum?
Possible symptoms of deviated septum include:
difficulty breathing through the nose
nosebleeds
sinus infections
dryness in one nostril
snoring or loud breathing
nasal congestion
What are the Causes of Deviated Septum?
Some people are born with a deviated symptom, whereas others develop it after an injury or strain to the nose. Contact sports, such as fighting and wrestling, are one of the most common reasons due to which deviated septum may occur.
When to See a Doctor?
See your doctor if you experience:
A blocked nostril
Difficulty in breathing
Frequent nosebleeds
Recurring sinus infections
Request an appointment at Apollo Spectra Hospitals, Kanpur
Call1860-500-2244 to book an appointment
What are the Complications of Deviated Septum?
If left untreated, a deviated septum can cause complications such as obstruction of one or both nostrils. This can cause:
sinus problems
loud breathing during sleep
disrupted sleep
only being able to sleep on one side
dry mouth
How is Deviated Septum Diagnosed?
At Apollo Spectra, Kanpur, your doctor will discuss your symptoms and check the septum's placement by using apparatus and light. This will help them detect the issue.
How can we Treat Deviated Septum?
Sometimes, symptoms of a deviated septum can be treated with medications. In other cases, your doctor at Apollo Spectra, Kanpur may prescribe other treatment options such as:
Deviated Septum Surgery - During this surgery, the surgeon will straighten your nasal septum and reposition it in the center of your nose. The surgeon will cut the septum and take out excess cartilage or bone. You'll be monitored immediately after the surgery to check for complications.
Nasal steroid sprays - Prescription nasal corticosteroid sprays can reduce swelling in your nose. It is important to follow your doctor's instructions while using these.
Antihistamines - Antihistamines are medications that help prevent allergy symptoms. They can also occasionally help non-allergic conditions such as a cold.
Decongestants - Available as a nasal spray or a pill, decongestants enable the opening of airways on both sides and reduce nasal tissue swelling.
If your symptoms persist despite these treatments, your doctor may suggest a surgery called septoplasty.
How can we Prevent Deviated Septum?
You can avoid a deviated septum by taking these precautions:
Wearing a seat belt when riding in any vehicle
Wearing a helmet when playing contact sports
What are the Risk Factors for Developing a Deviated Septum?
Risk factors include:
Not wearing your seatbelt or helmet while riding in a vehicle
Playing contact sports
Conclusion
A deviated septum may not cause any problems. But in some cases, it can lead to several issues. If you have a deviated septum that may need treatment, discuss your options with your doctor.
1. What is the duration of septoplasty?
This surgery takes around 45 to 60 minutes.
2. What are the benefits of septoplasty?
Septoplasty cures sleep apnea. It will also allow you to breathe without any problems.
3. What are the risks of septoplasty?
There may be extreme bleeding during and after the surgery.
Your nose might slightly change in shape after this surgery.
4. How should I prepare for the septoplasty?
You must discuss all the aspects of your condition and the surgery with your surgeon before the procedure.
Our Doctors
DR. SANJEEV KUMAR
MBBS,MS...
| | | |
| --- | --- | --- |
| Experience | : | 34 Yeras Experience |
| Speciality | : | ENT, Head and Neck S... |
| Timings | : | Mon - Sat : 10:00 AM... |
DR A P SINGH
MBBS,DLO...
| | | |
| --- | --- | --- |
| Experience | : | 14 Yeras Experience |
| Speciality | : | ENT, Head and Neck S... |
| Timings | : | Mon - Sat : 1:30 PM ... |
DR. ANKUR GUPTA
MBBS, MS...
| | | |
| --- | --- | --- |
| Experience | : | 18 Yeras Experience |
| Speciality | : | Spine Management... |
| Timings | : | Mon - Sat : 10:00 A... |

Book Appointment