Best ADENOIDECTOMY Treatment & Diagnostics in Chunni Ganj, Kanpur
The adenoid gland is positioned behind the nose and above the roof of the mouth. Being a part of the immune system in children, it protects them from external viruses and bacteria for up to 5 or 7 years of age. These glands shrink on their own and become a vestigial organ after the child's growth. If there is a chronic infection associated with the gland, then a surgery called adenoidectomy becomes necessary.
What is Adenoidectomy?
Adenoidectomy is a surgical procedure performed at Apollo Spectra, Kanpur, wherein surgeons remove the adenoid gland in children because it has become swollen or enlarged due to infections or allergies, in most cases. Some children might have large adenoids right from birth.
When the adenoids get enlarged due to infection, it creates an obstacle in the air passage, causing breathing issues, snoring during sleep, sinus infections, and ear infections.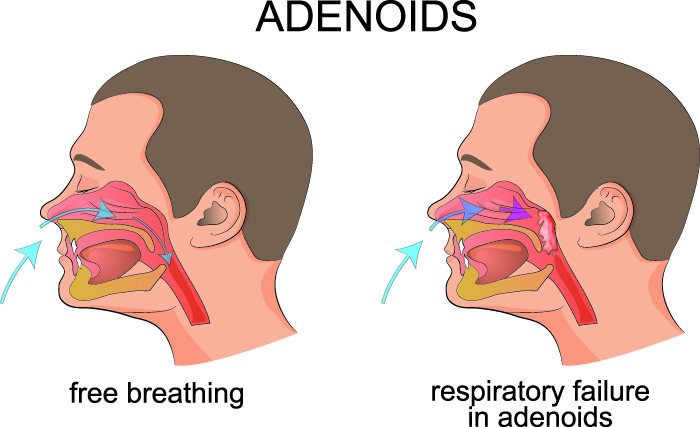 When to See a Doctor for an Adenoidectomy?
When you see your child facing recurring snoring issues while sleeping, nasal drainage, stuffy and runny nose, trouble breathing, ear infections, and sinus issues that antibiotics cannot cure, it is best to see a doctor. After reviewing the child's condition, the doctor will prescribe tests and may suggest adenoidectomy.
You should also consult a doctor if your child has rashes, chest pain, fatigue, and high fever.
Request an appointment at Apollo Spectra, Kanpur
Call1860-500-1066 to book an appointment
What is the preparation done for the procedure of adenoidectomy?
The doctor will guide you and explain how to prepare your child before adenoidectomy.
The doctor will advise against giving your child any blood-thinning medicines like ibuprofen or aspirin for a week before the surgery.
A night before adenoidectomy, do not give your child anything to eat or drink. They should have an empty stomach and refrain from drinking water.
On the day of surgery, the surgeon will guide you and tell you what medicine your child should have before the surgery starts.
How is Adenoidectomy Performed?
At Apollo Spectra, Kanpur, the surgeon will give the child general anesthesia. Then, the surgeon will put a small tool in the child's mouth to keep it wide open.
Then, they will remove the adenoid gland using a curette or a tool that will help to cut the soft tissue.
Some surgeons use electro-cautery while performing adenoidectomy, wherein they will heat the tissue first and then remove it to avoid bleeding.
The surgeon can also perform coblation. Coblation uses radiofrequency energy (RF) for adenoidectomy. It has a similar functioning to electro-cautery. Usually, the surgeon will use a debrider as the cutting tool for adenoidectomy while performing this method.
The surgeon will use an absorbent such as packing material to reduce the bleeding.
The hospital staff will take the child to a resting room after the surgery and keep them under observation. Once the child can eat, swallow, and drink, they will be discharged from the hospital.
What are the Benefits of Adenoidectomy?
Snoring, which happens at night (sleep apnea) due to infected adenoids, gets cured.
Reduction of recurring ear infections drastically.
One will benefit from adenoidectomy if he suffers from nasal drainage, noisy breathing, a stuffy and runny nose.
Which candidates should undergo adenoidectomy?
Surgeons do this surgery only in children with enlarged, inflamed, and infected adenoids.
Doctors can diagnose children facing nasal drainage, recurring ear infection and sinus problems, or sleep apnea with infected adenoids and immediately suggest adenoidectomy.
What are the side effects of undergoing adenoidectomy?
The side effects of adenoidectomy include:
Fever
Nausea
Trouble in swallowing
Bad breath
Pain in the ears
What are the complications that can occur while performing adenoidectomy?
The doctor may fail to resolve the underlying ear infection, sinus problem, nasal drainage, and breathing.
Bleeding from the sight of surgery.
There can be permanent alteration in the vocal quality.
Complications associated with general anesthesia.
There can be infections due to the surgery.
CONCLUSION:
Adenoidectomy is a safe surgical procedure, and the child gets better in a week or so. As doctors don't make any incision during adenoidectomy, the child will recover fast. The doctor can give painkillers if the child faces excessive discomfort in the throat. If the child faces unnatural pain or trouble after the surgery, report to the hospital immediately.
1.What to expect after adenoidectomy surgery?
The child might feel tired, have bad breath, and have a stuffy nose for a week at maximum. There can be throat pain for some days with a change in the voice too. After proper care, the child will be able to go back to school.
2.Is coughing alright after undergoing adenoidectomy?
Congestion and cough are natural for the first two weeks after adenoidectomy. Doctors often prescribe cough suppressants. If the cough persists beyond two weeks, then check-up with your doctor immediately.
3.What can I eat after undergoing adenoidectomy?
Make your child eat mostly liquid and soft foods that will not hurt the throat like pudding, smoothies, soups, and juices. Try avoiding foods that the child will need to chew harder to swallow.
Our Doctors
DR. SANJEEV KUMAR
MBBS,MS...
| | | |
| --- | --- | --- |
| Experience | : | 34 Yeras Experience |
| Speciality | : | ENT, Head and Neck S... |
| Timings | : | Mon - Sat : 10:00 AM... |
DR A P SINGH
MBBS,DLO...
| | | |
| --- | --- | --- |
| Experience | : | 14 Yeras Experience |
| Speciality | : | ENT, Head and Neck S... |
| Timings | : | Mon - Sat : 1:30 PM ... |
DR. ANKUR GUPTA
MBBS, MS...
| | | |
| --- | --- | --- |
| Experience | : | 18 Yeras Experience |
| Speciality | : | Spine Management... |
| Timings | : | Mon - Sat : 10:00 A... |

Book Appointment