Physiotherapy Treatment & Diagnostics in Chunni Ganj, Kanpur
Physiotherapy
Physiotherapy is the treatment to restore the mobility and the movement in physical actions of a person. You can lose the physical mobility of your body parts due to an accident, during an injury, or due to any disease.
Physiotherapy treatment can be done through massage, providing heat waves, and by medicines. Many people go for physiotherapy to avoid drugs and surgeries.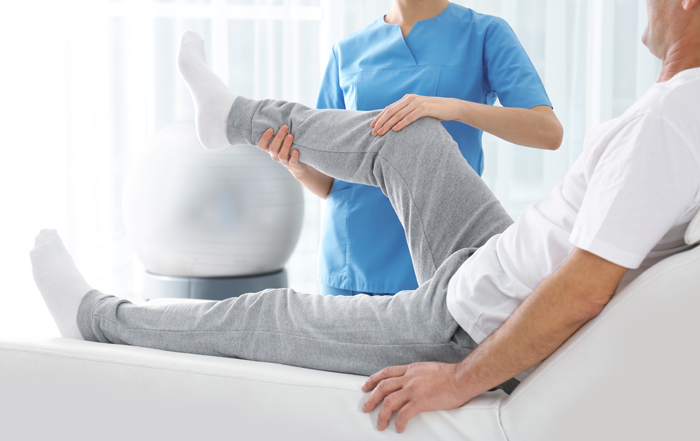 What are the types of Physiotherapy?
There are different types of physiotherapy treatments according to the body parts that need the therapy. These types include: -
Neurological Physiotherapy- This type of physiotherapy is done when you lose balance and control over your body parts. If your muscles get weak, or there is a decrease in nerve sensations, you can go for neurological physiotherapy. Your nervous system gets affected and can cause stroke, brain injury, spinal cord injury, etc. neurological physiotherapy is done to increase the mobility of your body parts or to treat functional disorders.
Orthopedic Physiotherapy- This type of physiotherapy treats musculoskeletal disorders. It corrects issues related to your muscles, bones, joints, and ligaments. By this physiotherapy treatment, you can rectify the skeletal issues, reduce pain in joints, and increase the mobility of your body parts.
Cardiopulmonary Physiotherapy- This type of therapy is done to rectify any cardiopulmonary disease or disorder you may have gone through. In this therapy, you are educated about the movements and exercises you need to practice to reduce defects and pain.
Pediatric Physiotherapy- This type of therapy is done to correct any kind of acute injuries in your skeletal system from birth because of genetic disorders or due to lack of physical growth with age. Certain exercises are performed in this kind of therapy to strengthen the body parts having disorders and to increase the mobility and movement of your body parts.
Geriatric Physiotherapy- disorders like Osteoporosis and arthritis are age-related issues you can face in your life. You are advised not to perform certain movements to avoid pain in your body. Moreover, you are advised to perform and practice postures that can heal your pain.
What is the need for Physiotherapy in Kanpur?
Many people prefer their doctors for physiotherapy sessions having problems that include: -
Injuries while playing any sport
Facing chronic pain in body parts for a long period
During pregnancy and after postpartum
During a major surgery and recovery period
To avoid chest complications
To avoid the problem of thrombosis
To avoid pressure sores at joints
To increase the mobility of body parts
What kind of issues are treated by a Physiotherapy treatment?
Several diseases and disorders are treated successfully by physiotherapy sessions. These issues include: -
Cardio Pulmonary Conditions like CPOD and Cystic fibrosis
Hand therapies like Carpal Tunnel Syndrome (CTS)
Tissue tear in the rotator cuff causing lower or upper back pain
Injuries occurred to your spinal cord, brain stroke, and sclerosis
Injuries occurred while playing sports like the Tennis elbow
Development disorders in children
How the procedure of physiotherapy is done in Kanpur?
The treatment of physiotherapy is done in steps to ensure proper treatment of your body parts. These steps are as follows: -
Manual Movement- Moving of soft tissues, tendons and joints are done to inculcate the movement in body parts that need to be worked on during therapy.
Electric stimulation of your nerves- Passing electric currents of low voltage through your nerves helps to contain signals related to pain. It helps to induce sensations within your nerves.
Acupuncture sessions- Acupuncture helps your Central Nervous System (CNS) to respond actively while reducing pain in joints and muscles.
Demonstrating postures- Guiding postures and exercises that need to be practiced by you is very important to treat the affected parts of your body.
Functional testing of treated body parts- Analyzing the parts of your body where the treatment is done is very important to monitor the next stage of the treatment.
Request an appointment at Apollo Spectra Hospitals, Kanpur
Call 1860-500-2244 to book an appointment
Conclusion
Physiotherapy is done to increase movement in your body parts and to stimulate and enhance the sensations in your nerves. It is seen to be an ideal treatment for many disorders while correcting skeletal disorders by birth.
You are advised to consult your doctor. He or she will examine the body part which needs to be treated and suggests to you the best therapy you can go for treating and correcting the issues.
1. How long does a physiotherapy session last?
The physiotherapy session lasts for around a range of 30 minutes to 1 hour in most cases. Though the exact time differs according to the type of therapy you are going through and the body part it focuses on.
2. How long do the results last for physiotherapy treatment?
The results are not guaranteed. It depends upon the issue you have in your body parts and the kind of your body reacts to the therapy treatment. If your body reacts and works according to the therapy, you can see life-long results in living a better life.

Book Appointment