Cystoscopy Surgery in Koramangala, Bangalore
A cystoscopy is basically a procedure that allows a doctor to examine the internal lining of your urinary bladder and the tube that carries urine out of the bladder. A hollow tube, which is known as a cystoscope, is usually required along with a lens.
What do you need to know about cystoscopy?
A cystoscopy is usually performed in a testing room or an outpatient department. A patient can be sedated or local anesthesia can be administered. The type of cystoscopy conducted for an individual depends on the reason for which it is performed.
To find more details about the procedure, you can search online for urology hospitals near me or urology doctors near me.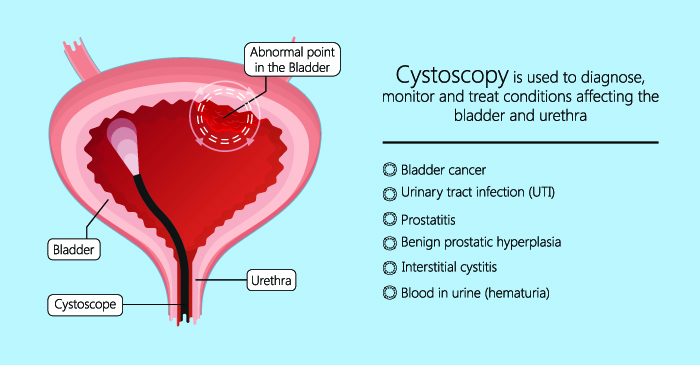 Why is a cystoscopy usually performed?
Cystoscopy is usually done to diagnose or treat the conditions affecting the urinary bladder such as bladder inflammation or cystitis. It is also done to diagnose an enlarged prostate in case of benign prostatic hyperplasia.
Sometimes your health care provider conducts a second procedure called a ureteroscopy at the same time as your cystoscopy. This is done to examine the tubes that carry urine from the kidney to the urinary bladder.
When do you need to see a doctor?
If you face any bladder problems, immediately contact a urologist.
You can request an appointment at Apollo Spectra Hospitals, Koramangala, Bangalore.
Call 1860 500 2244 to book an appointment.
What are the risks associated with cystoscopy?
It is usually considered a very safe procedure. However, there are some risks like:
Infection - a cystoscope can introduce germs inside the urinary tract.
Bleeding - sometimes this procedure may cause bleeding during urination. Heavy bleeding occurs very rarely after this procedure.
Pain - some patients experience abdominal pain and a burning sensation during urination. However, these symptoms are generally mild and go away with time.
What can you expect during the procedure?
Patients are usually asked to take antibiotics that are prescribed by the doctor one night before the procedure. The doctor might also order a urine test just before the procedure. You may also be required to wait until you empty your bladder for the procedure to be performed.
The duration of the procedure ranges from 5 to 15 minutes. When it is performed under sedation or general anesthesia, it can take up to 30 minutes.
Your doctor will insert the cystoscope.
Your doctor will examine your urethra and bladder.
Your bladder will be filled with a sterile solution.
Tissue samples are taken for further studies or lab procedures.
Conclusion
Your doctor usually discusses the results immediately after the procedure. Sometimes you may also be required to wait for a follow-up. If tissue samples were collected, they would be sent for a biopsy. When tests are complete, the doctor will let you know the results.
What happens if the procedure is performed under general anesthesia?
You may be allowed to resume your daily activities and duty soon after the procedure. If you were sedated or administered general anesthesia, you might be asked to remain in a recovery area or recovery room to allow the side effects of the medications to wear off before you leave the hospital.
How can you relieve the discomfort after the procedure?
Drink a lot of water to flush the irritants out of your bladder. You can also take an over-the-counter pain reliever. Consult your doctor first.
What are the complications?
You should call your healthcare provider and visit the emergency room at the earliest if you experience the following conditions:
Inability to urinate after the procedure
Bright red blood in urine
Abdominal pain and nausea
Chills
Fever
Shivering
Excess pain or burning sensation that lasts for more than 2 days.

Book Appointment