Podiatric Services in Koramangala, Bangalore
Podiatrists are known as foot doctors. They are highly trained medical practitioners who specialize in treating any injuries or disorders in the lower limbs such as feet and ankles. Surgeons who specialize in foot surgeries are called podiatric surgeons.
The DPM (Doctor of Podiatric Medicine) abbreviation is seen after the name of a podiatrist.
To find out more about this, you can visit any of the orthopedic hospitals in Bangalore.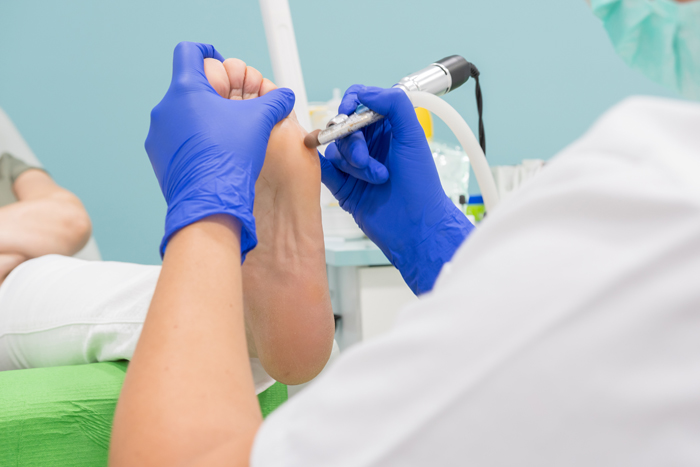 What kind of problems does a podiatrist treat?
Nail infection (fungal infection caused due to an ingrown nail at the corner of the original nail)
A bunion (a bump is visible at the base of the toe; it occurs when the bone or joint of the toe gets bigger and then it shifts out of its original place)
Corn or calluses (they are the hard and thick layers of skin found around the feet and toes)
Thick, discolored or ingrown toenails (when the nails start growing inside the skin, it causes infection and results in the discoloration of nails)
Warts (a fleshy bump is visible on the foot and its nearby areas, along with that a thick layer of skin is also seen near it)
Heel pain (due to overpronation or heel spurs)
Prosthetic foot (which mimics human foot activity)
Amputation (it's a surgical measure for the removal of a limb)
Hammer toe (the middle joint of the toe bends)
Foot infection
Foot pain or injuries
Strain, fractures or broken bones
Scaling of soles
Cracks or cuts in the skin
Which conditions can trigger podiatric issues in your body?
Diabetes: It could be the most significant cause of foot-related problems. Insulin helps you to digest sugar; therefore it can lead to damage in the nerves of your legs or feet and due to this, you may not be able to get enough blood flow to your lower limbs.

Arthritis: Here inflammation or swelling can be seen near the joints which can cause great pain to you. In most cases, age plays a great role, as time passes the pain and stiffness start worsening. It can affect movement of the feet. Great pain can be felt in the joints of the feet or ankle and a podiatrist can help you deal with these.

Morton's Neuroma: It is a nerve problem that occurs between the third bone of a foot and the fourth bone of a foot. This results in foot pain and foot burning. Tight shoes and overpronation can worsen the situation. Here, a podiatrist can provide some therapy, and if needed, surgery can also be recommended.

Flat feet: Because of flat feet you may feel great pain.
When do you need to see a podiatrist?
Each foot comprises 26 bones, 30 joints and more than 100 muscles, which means there is a complex system of joints, muscles, etc. The more complex they are, the greater is the possibility of having problems in this system. These include redness, warmth, soreness, numbness, swelling, infection or severe pain; these are the warning signals that tell you that you should visit a podiatrist.
You can request an appointment at Apollo Spectra Hospitals, Koramangala, Bangalore.
Call 1860 500 2244 to book an appointment.
What are the benefits of visiting a podiatrist?
A podiatrist can help you to identify your problems and provide you with the best treatment plan; also, a podiatrist can help you to select the right footwear for your feet.
Conclusion
Most people tend to neglect foot issues. That is not acceptable. The fact of the matter is podiatric services are necessary for a healthy lifestyle. Regular foot check-ups are as important as frequent whole body check-ups.
1. Can podiatrists help their patients to cut toenails?
Yes, podiatrists may have patients for whom cutting toenails is quite difficult due to certain conditions. Therefore, they assist such patients regularly with toenail care.
2. Can a podiatrist fix pincer nails?
Yes, a podiatrist helps you to fix pincer nails. If you are facing a severe problem, surgery to remove the nail can be recommended.
3. Can we take a certain pair of footwear to a podiatrist for his or her advice?
Yes, you can go to a podiatrist with a certain pair of footwear for his or her advice.

Book Appointment