ENDOSCOPIC SINUS Treatment in Koramangala, Bangalore
Endoscopic sinus surgery is used to remove sinus blockages. Sinus blockages can cause chronic sinusitis where the sinus mucous membranes swell and become blocked, causing pain, infection, drainage and impaired breathing.
WHAT EXACTLY IS ENT- ENDOSCOPIC SINUS?
Also known as functional endoscopic, sinus surgery is generally for patients with chronic rhinosinusitis (inflammation of the mucosal tissues of the nose and sinuses) that persists despite aggressive medical treatment (antibiotics, oral steroids, NSAIDS, topical nasal sprays, mucus-thinning drugs, anti-allergy treatments). This surgery does not require external incisions on the face. Using an endoscope and precision instruments, the surgeon works directly in the nose, removing any abnormal or obstructive tissue found in the sinus cavity.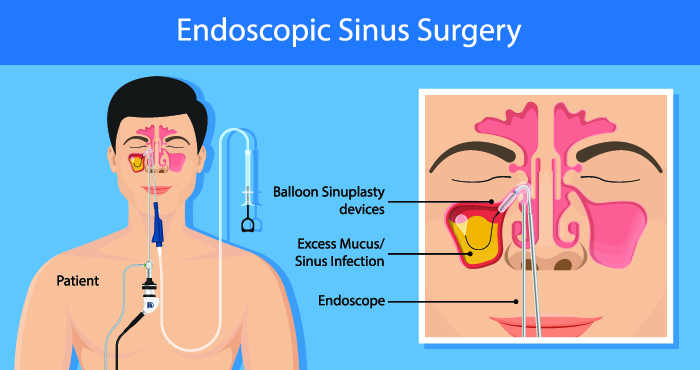 WHAT ARE THE SYMPTOMS ONE SHOULD LOOK FOR?
Breathing problems
Stuffiness
Pain in face, sinuses, eyes, back of the forehead
Irritation in throat
Recurrent throat infections
Post nasal discharge
Snoring
Difficulty sleeping
Fever, fatigue
Runny nose, loss of smell, continuous sneezing
WHAT ARE THE CAUSES THAT LEAD TO ENDOSCOPIC SINUS?
Allergies
Infections
Nasal polyps
Deviated nasal septum
Compromised immune system
Other problems that may block or otherwise interfere with the sinuses
WHEN SHOULD YOU SEE A DOCTOR?
If you experience the symptoms mentioned above, immediately seek medical help.
Most patients with chronic sinus infections do not need surgery. A change in lifestyle and proper medical treatment can control the condition. Still, if the situation remains severe, surgery is the only option. You and your doctor will together decide if sinus surgery is the best choice for you. Whether you are an adult or a child, special considerations need to be taken. It is necessary to talk with your doctor to get the treatment that suits you the best.
Request an appointment at Apollo Hospitals.
Call 1860 500 2244 to book an appointment.
WHAT ARE THE RISK FACTORS ASSOCIATED WITH THIS SURGERY?
Bleeding: Although the risk of bleeding reduces with this type of sinus surgery, if significant bleeding occurs, it may call for the termination of the procedure in some cases. Bleeding following surgery could require placement of nasal packing and hospital admission.
Blood Transfusion: A blood transfusion is required as there is a risk of infection and adverse reactions in rare cases.
Visual Problems: There are extremely rare chances of visual loss after sinus surgery. Usually, one side of the vision is lost. But if it happens, the chances of recovery are slim. Temporary or prolonged double vision has also been reported after sinus surgery.
Cerebral Spinal Fluid (CSF) Leak: CSF is the fluid that surrounds the brain. Any operations performed on the ethmoid, sphenoid, and frontal sinuses carry a small chance of cerebrospinal fluid (CSF) leak. If the barrier that separates the sinuses from the brain space is disrupted due to disease or surgical manipulation, CSF may leak into the nose, causing infection in the nose, sinuses, and even the brain.
Decreased Sense of Smell: Permanent loss or decrease in the sense of smell can occur following nasal and sinus surgery.
Anesthesia Risks: General anesthesia brings occasional but possibly serious risks.
Septoplasty Risks: Septoplasty is a surgical correction of a deviated septum. It can cause numbness of the front teeth, bleeding, infection, and/or septal perforation.
Other Risks: Tearing of the eye can sometimes result from sinus surgery or sinus inflammation and may be persistent. Swelling, bruising, or temporary numbness of the lip, swelling or bruising around the eye, subtle changes in the sound of your voice, etc., are some of the other risks involved.
HOW TO PREPARE FOR THE SURGERY?
Patients must carry a recent CT scan report. Routine preoperative testing should be done, depending upon your overall condition. This may include blood work, EKG, and CXR.
In some cases, your physician will prescribe medications for you to take before surgery.
If you have asthma, please continue to take all your asthma medications, even if your asthma is under control.
Do not take aspirin or salicylate-containing analgesics for at least 10-14 days before the surgery. Do not take non-steroidal anti-inflammatory drugs for at least five days before the surgery.
Stop vitamin E supplements as it increases the risk of bleeding.
Do not smoke for at least three weeks before the surgery. Smoking may lead to the failure of sinus surgery.
Do not eat or drink anything after midnight before the surgery.
BENEFITS OF ENT - ENDOSCOPIC SINUS SURGERY
It will reduce the severity as well as the frequency of sinus infections.
It will improve your sense of smell.
Airflow through the nose will improve.
There will be a reduction as well as improvement in associated symptoms.
WHAT ARE THE EVALUATIONS YOU SHOULD LOOK FOR?
Whether you should consider undergoing endoscopic sinus surgery is a complex decision that requires careful examination of many factors. This process begins with a careful initial evaluation that includes a detailed history, physical examination, and nasal endoscopy. Previous CT scans are also helpful, and previous treatment records are also reviewed. Before surgery, medical treatment is given. If medical treatment fails, it is appropriate to consider sinus surgery.
CONCLUSION
Endoscopic sinus surgery is considered a success if most of the symptoms, including nasal obstruction, sleep quality, olfaction, and facial pain, are resolved after a 1-2 month postoperative healing period. The reviews of endoscopic sinus surgery as a method to treat chronic rhinosinusitis have shown that most patients report increased quality of life after undergoing surgery. The success rate of this surgery in treating adults with CRS has been reported as 80-90%, and the success rate in treating children with CRS has been reported as 86-97% in the postoperative healing period.
REFERENCES
https://www.ent-phys.com/ent-services/nose/endoscopic-sinus-surgery/
https://www.hopkinsmedicine.org/otolaryngology/specialty_areas/sinus_center/procedures/endoscopic_sinus_surgery.html#:~:text=Endoscopic%20sinus%20surgery%20is%20a,pain%2C%20drainage%20and%20impaired%20breathing.
https://med.uth.edu/orl/texas-sinus-institute/services/functional-endoscopic-sinus-surgery/
https://global.medtronic.com/xg-en/patients/treatments-therapies/sinus-surgery/functional-endoscopic-sinus-surgery/frequently-asked-questions.html
WHAT HAPPENS DURING AN ENDOSCOPIC SINUS SURGERY?
Endoscopic sinus surgery is used to treat chronic sinus. The surgeon uses a magnifying endoscope to see and remove affected tissue and bone. It is a precise surgical procedure that involves a less invasive way to open the sinuses and help restore you to better health.
HOW MUCH TIME DOES IT TAKE TO RECOVER AFTER THIS SURGERY FULLY?
The recovery rate fully depends upon the overall health of the patient. Usually, you should avoid work for several days after your surgery. Be in touch with your doctor regularly and follow all the instructions given by him or her to recover faster.
HOW MUCH PAIN DOES ONE FACE AFTER THE SURGERY?
Pain tolerance also depends on the patient. Generally, oral pills are given to reduce the intensity of the pain. You might face breathing difficulties for up to 2 weeks post-surgery. The inside of your nose will be swollen and sore for a while. It can be painful when your doctor removes the nasal packing from your nose.

Book Appointment