Physiotherapy & Rehabilitation in Koramangala, Bangalore
Getting back on your feet after a big accident, sports injury, or surgery is not a simple process. Attempting to achieve your original strength, getting rid of functional disability, or dealing with lifestyle restrictions involves going through physiotherapy and rehabilitation.
Physiotherapy and rehabilitation are not only beneficial in cases of physical injuries; there are therapies and rehab routines to help you restore functions after a stroke, a long-term illness, or a reconstruction surgery.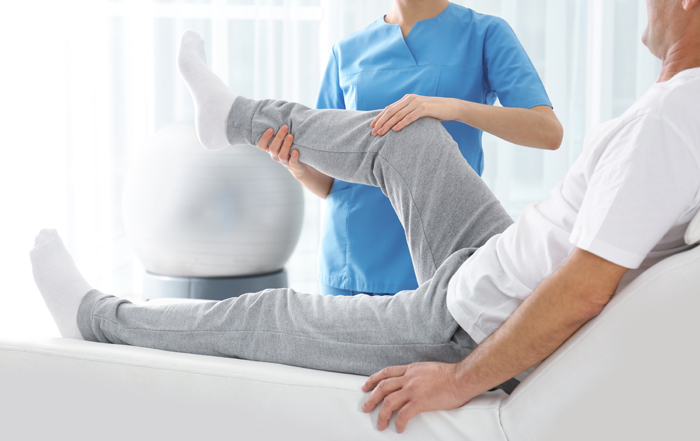 What is Physiotherapy & Rehabilitation?
Physiotherapy restores the movement of body organs and their strength through various physical moves and treatments. Rehabilitation is a broader term concerning the process of returning the patient to a condition of good health with all bodily functions intact.
The process of rehabilitation may or may not include physiotherapy. Depending on the illness or injury, you need to go through rehabilitation and physiotherapy stages to relearn day-to-day activities, regain speech skills, and restore strength.
After recovering from an illness or getting surgical treatment on any injury, you don't regain mobility, function, and strength right away. The physiotherapy and rehab treatment helps you to restore and maintain your health. It also helps in preventing further injuries or recurrence of the illness.
Types of Physiotherapy & Rehabilitation
The approach and the treatment components under physiotherapy and rehabilitation vary depending on many factors, including the underlying illness or injury, patient's age, gender, and fitness. Here are some common types of physiotherapy and rehabilitation procedures.
Musculoskeletal: For recovery from injury to muscle, bones, ligaments, or tendons
Geriatric: For movement needs of elderly
Children's: For infants and toddlers
Women's health: For reproductive system, prenatal and postnatal care, and childbirth
Sports physiotherapy: For management of athletic injuries
Pain management: For chronic pain
Cardiorespiratory: For prevention and rehabilitation from illness or injury to the heart or respiratory system
Neurological: For disorders affecting the brain and nervous system
Symptoms that Say You Need Physiotherapy or Rehabilitation
From simple back pain to complex neurological disorders, physiotherapy and rehabilitation treatment can be helpful in many ways. Here is a list of some common symptoms that say you should visit a physiotherapy and rehab center:
Sports or work-related injury
Muscle sprains and strains
Post cardiac stroke
Post-surgical inability to carry out day-to-day tasks
Joint pain or mobility issues
Pre or post-partum pain
Poor cardio endurance
Chronic tiredness
Orthopedic issues
When to Visit a Doctor for Physiotherapy & Rehabilitation?
Physiotherapy and rehabilitation help relieve pain, restore function, and accelerate the healing process. If you just got treated for an accidental, work-related, or sports injury, you should visit a rehabilitation center.
Other than that, if you consult a general physician for bodily pain or swelling that isn't healing after 2-3 days, they may suggest you visit a physiotherapist. One can also consult a physiotherapist to help them manage long-term conditions like Parkinson's.
Request An Appointment At Apollo Hospitals
Call 1860 500 2244 To Book An Appointment
Physiotherapy & Rehabilitation Treatment Stages
Though the process of physiotherapy and rehabilitation treatment varies depending on the illness, injury, and patient's condition, the overall treatment stages remain similar. You go through the following stages during your rehabilitation process.
Offloading and protection: Rest the affected limb and protect it from further damage
Protected recovery of motion: Carefully imitate the motion the affected organ is supposed to carry but at a slower speed and with lighter or no external load
Recovery of strength: Identification of loss of muscle strength and endurance. Exercising with a proper technique to restore the strength
Recovering the whole function: Restoring the coordination and balance
Injury prevention: Identifying and managing the risk factors
Conclusion
Like all other medical treatments, physiotherapy and rehabilitation are not one formula that fits all types of treatments. You need a proper diagnosis and the best-suited treatment plan to help you restore your function, strength, mobility, and the quality of life you were used to enjoying before the illness or injury.
References
https://www.csp.org.uk/publications/physiotherapy-works-rehabilitation
https://morleyphysio.com.au/uncategorized/the-4-stages-of-complete-rehabilitation/
How quickly does physiotherapy work?
Depending on the issue, it might take anywhere between 2-3 sessions to more than two months. A minor sprain may take just 2 sessions, but chronic conditions may need 2 months or more treatment duration.
Is there any risk in physiotherapy & rehabilitation?
There are no risks involved if you get it done by a qualified physiotherapist or rehab specialist.
How long a physiotherapy session lasts?
A session lasts about an hour. The duration of the session may vary depending on the injuries and your progress.

Book Appointment