Urological Endoscopy Surgery in Koramangala, Bangalore
Urology is a branch of medicine that focuses on studying surgical and medical diseases related to the female and male urinary tract system and the male reproductive organs. Urology is a surgical specialty that constitutes a wide range of diagnostic procedures, including pediatric urology, urologic oncology, renal transplant, female urology, neurology, etc.
What Is Minimally Invasive Urological Surgery?
Minimally invasive urological surgery involves surgery that helps correct the urological issues that require less trauma or pain to the patients.
If a patient experiences issues in their urinary tract path, they can contact their medical service provider and go for urological surgery, which involves less pain, lesser days of admission at the hospital, and very few complications post-surgery.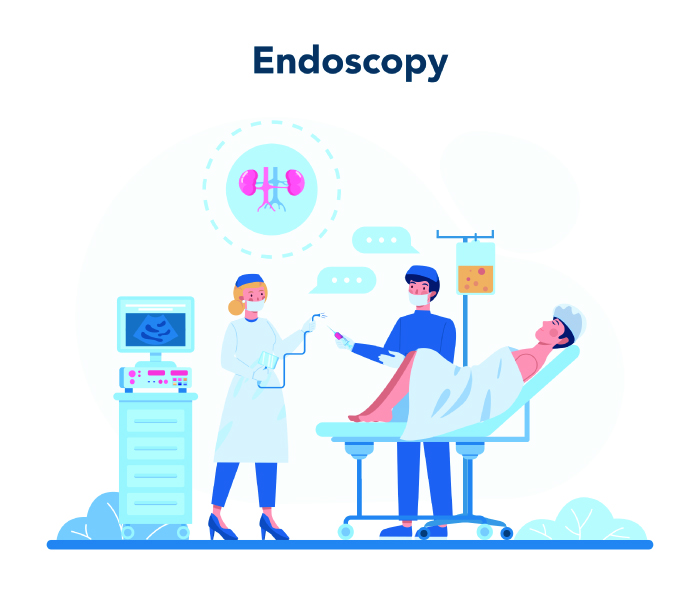 Types of Minimally Invasive Surgery
Minimal invasive technology is used to treat many other health problems. Surgeons perform many invasive surgeries like:
Colectomy – to remove parts of the dead colon
Rectal surgery
Ear, nose, and throat surgery
Endovascular surgery
Heart surgery
Kidney transplant
Orthopedic surgery
Urologic surgery
Two Further Types of Urological Endoscopy
Cystoscopy: In this procedure, the doctor uses a camera to inspect the urethra through a long tube.
Ureteroscopy: In this procedure, the doctor uses a longer tube to inspect your kidneys and your uterus.
Symptoms to Check Before Undergoing Urological Endoscopy
Before you go for a urological endoscopy, look for these signs and consult your doctor:
Blood in urine
Experiencing recurrent urinary tract infections
Urinary incontinence
Pain while urinating
Inability to empty your bladder
Request an appointment at Apollo Spectra Hospitals, Koramangala, Bangalore
Call 1860 500 2244 to book an appointment
Common Causes for Urinary Disorders
Urinary disorders can occur due to many underlying health conditions in the body. Sexually transmitted infections like gonorrhea are also a common cause of urinary disorders. If a person's muscles around the pelvis are weak, that can become a cause for the same.
Common causes of urinary disorders include:
Dehydration
Benign tumors and cancer
Infection in the urinary tract system
Enlarged prostate (Benign prostatic hyperplasia)
Post-vasectomy syndrome
Sexually transmitted diseases
Kidney stone
Diseases of the kidney
What Are the Risk Factors Causing Urinary Disorder?
There are plenty of risk factors involved that can cause a urinary disorder. That said, not every individual is prone to urinary infections. Some of the risk factors for urinary disorders include:
Congenital deformities
Genital piercing
Smoking cigarettes
Consuming inadequate amounts of fluid throughout the day
Diabetes
Sexual contact with a person suffering from STDs (sexually transmitted diseases)
A family history of urological disorders
Chemical or irritant exposure
Unsafe sexual practices
What Are the Potential Complications Involved in the Test?
Complications from urinary disorders can sometimes prove to be fatal if left unnoticed and untreated. You can follow the treatment plan given to you by your doctor. Some of the complications that may arise include:
Decreased bladder capacity
Infertility
Impotence
Spread of STDs
Pain during sexual intercourse
Chronic pain
Urethral scarring
Urethral narrowing
What Are the Treatment Plans for Urinary Disorder?
Treatment for a urinary disorder begins with taking the help of regular medical care throughout life. This will allow your doctor to take a routine medical exam to track your progress, if any. This also provides your doctor to check for symptoms and risk factors that can be resolved at an early stage.
Typical treatment plans include:
Cystoscopy
Ureteroscopy
Antibiotics to treat infection
Devices to support the bladder
Medications to let the bladder relax
Pain relievers
Physical therapy to remove the spasm
Conclusion
If your doctor inserts a stent during ureteroscopy, then you'll have to undergo a second surgery to remove the stent.
Even after your cystoscopy or ureteroscopy, you might feel discomfort while urinating or spot blood in the urine. You may still feel the need to urinate more often, but you can always stay in touch with your doctor, who'll help you out at every step.
References:
https://www.mayoclinic.org/tests-procedures/minimally-invasive-surgery/about/pac-20384771
https://my.clevelandclinic.org/health/treatments/17236-minimally-invasive-urological-surgery
https://www.sutterhealth.org/services/urology/urologic-endoscopy#:~:text=If%20you're%20having%20problems,at%20the%20urethra%20and%20bladder
https://www.healthgrades.com/right-care/kidneys-and-the-urinary-system/urinary-disorders
How painful is a cystoscopy?
You can experience slight discomfort during the procedure, but it's not that painful. You can tell your doctor/nurse if you experience any pain. You might feel an urge to urinate during the procedure, but that urge won't last long.
Why would a urologist advise cystoscopy?
During cystoscopy, your urologist will diagnose your urinary tract to check for any significant symptoms which can lead to severe complications later on.
What can go wrong with cystoscopy?
Some serious medical problems found during cystoscopy include bladder cancer or growth of tumors, overgrowth of normal tissue, bleeding, and blockage in the urinary tract.

Book Appointment