Orthopedics - Arthroscopy
Arthroscopy is an advanced procedure to diagnose and treat different joint issues. It is a minimally invasive procedure that is performed by qualified medical professionals. It allows them to look inside the joints before deciding on the process or procedure for treatment.
Arthroscopy can be used to deal with issues related to the knees, shoulders, elbows, ankles, hips, wrists, and so on. It is one of the most trusted and widely used procedures that not only diagnose joint conditions but also help treat minor issues related to ligaments, cartilages, etc.
To know more, you can consult an orthopedic specialist near you or visit an orthopedic hospital in Pune.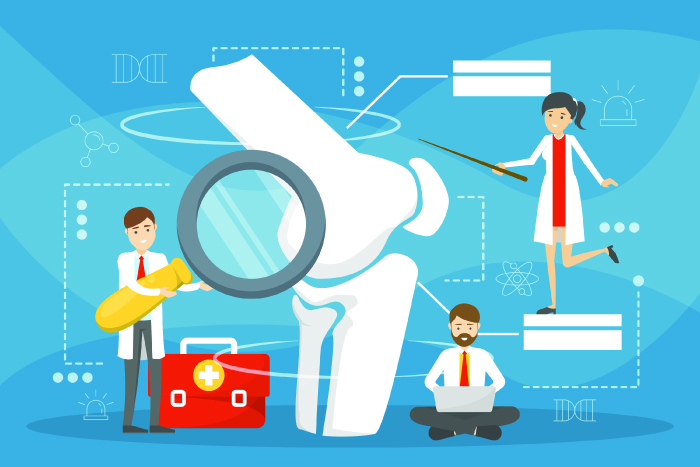 Who qualifies for arthroscopy?
It is performed in cases when other imaging techniques like X-ray fail to diagnose joint issues. People who take blood thinners may need to stop taking such medicines before arthroscopy.
Further, a patient may need to fast a few hours before the procedure to prevent any anesthesia complications. Doctors may recommend that you go for a detailed pre-anesthesia check.
If a patient has a medical history, it should be shown to the orthopedic specialist before going for the procedure. It reduces the chances of complications in arthroscopy.
Request an appointment at Apollo Spectra Hospitals, Pune.
Call 18605002244 to book an appointment.
Why is arthroscopy conducted?
Arthroscopy is done to get a clear view of the inside of a joint. This procedure helps treat damaged or torn cartilages, torn ligaments, loose bone fragments, inflamed joint linings and scarring within joints.
A tourniquet is used to decrease blood loss and increase the visibility of the joint. A narrow tube is inserted through the incision that has a fiber-optic video camera at the end and the device sends images to a high-definition video monitor.
Sterile fluid may also be injected into the joint to expand the area around it. A small incision is made around the joint for inserting the viewing device. A few other incisions are made that allow insertion of different instruments in the joint.
These tools are used to cut, grind, gras, or suck the affected joint parts according to specific requirements.
What are the different types of arthroscopy?
Depending on the issues in the joints, arthroscopy can be divided into two categories:
The first type is the one in which only images are taken to decide on the best treatment procedures for different joint-related issues. It may be termed diagnostic arthroscopy.
The second type involves minor corrective procedures like treating different ligament issues, cartilages, joint inflammation, joint scarring, etc.
What are the benefits of arthroscopy?
It can be used to treat minor joint issues.
It is minimally invasive.
What are the risks or complications?
There are no major risks or complications from arthroscopy.
Will I feel pain during arthroscopy?
You will be administered anesthesia and hence, will not feel any pain during the procedure.
How many stitches are required?
It is a minimally invasive procedure.
How much time does arthroscopy take?
The whole procedure may take a little over an hour.
Our Doctors
DR. RAMESH M KERING
MBBS, MS Ortho...
| | | |
| --- | --- | --- |
| Experience | : | 42 Yeras Experience |
| Speciality | : | Orthopaedics and Tra... |
| Timings | : | Mon - Sat : 11:00 A... |
DR. VISHWAJEET RAJENDRA CHAVAN
MBBS, MS, Fellowship...
| | | |
| --- | --- | --- |
| Experience | : | 10 Yeras Experience |
| Speciality | : | Orthopaedics and Tra... |
| Timings | : | Mon to Fri : 11:00 A... |
DR. NACHIKET KULKARNI
DNB, fellow in clini...
| | | |
| --- | --- | --- |
| Experience | : | 4 Yeras Experience |
| Speciality | : | Orthopaedics and Tra... |
| Timings | : | Mon : 07:00 PM to 8:... |

Book Appointment