Wrist Replacement Surgery in Sadashiv Peth, Pune
Wrist replacement surgery is a procedure wherein the damaged wrist joint is removed and replaced with an artificial joint. Also known as wrist arthroplasty, this procedure is performed to find relief from pain and restore mobility and function in the wrist.
What is Wrist Replacement?
Wrist replacement surgery is performed when other treatment options to relieve pain and restore strength in the wrist don't work. By fitting a prosthesis in place of the damaged wrist joint, movement and pain relief are obtained.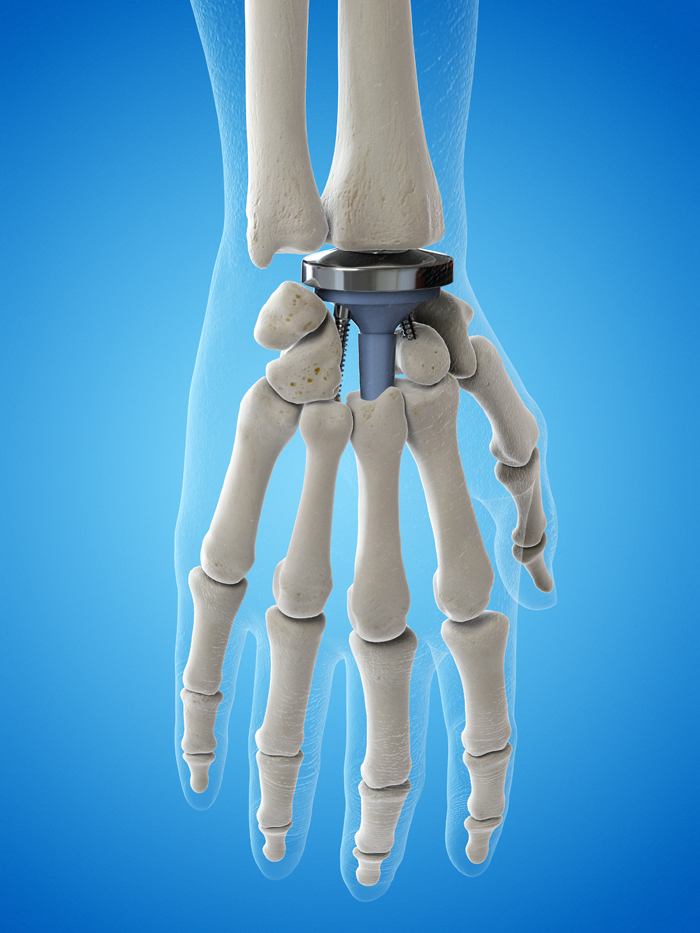 Why is Wrist Replacement Done?
Various conditions can cause pain and disability in the wrist, which leads to the requirement of wrist replacement surgery, including –
Rheumatoid arthritis – A type of inflammatory arthritis, rheumatoid arthritis is an autoimmune condition wherein the body's immune system starts to attack the body's tissues mistakenly. This can cause damage to the cartilage, resulting in swelling, pain, and stiffness in the wrist joint.
Osteoarthritis – Osteoarthritis is the most common type of arthritis that occurs in people of the age of 50 or above. As people grow old, the cartilage wears away and bones start rubbing together. This leads to pain and inflammation in the wrist joint.
Posttraumatic arthritis – Another form of arthritis is posttraumatic arthritis, which occurs after a severe injury or trauma to the wrist.
Usually, candidates for wrist replacement surgery have a severe form of arthritis in their wrist joints. It is less common as compared to knee and shoulder replacement surgeries and is only recommended when other non-invasive and non-surgical treatments fail to work.
How is Wrist Replacement Done in Pune?
During wrist replacement surgery, you will first be put under general or regional anesthesia. Then, the surgeon will make an incision in the back of the wrist. The damaged bones will be removed through this incision and the remaining bones will be shaped and prepared so that the new joint can be held in position. Then, an artificial joint called prostheses will be placed. Your surgeon will test the new joint and secure it in place permanently.
What Happens After Wrist Replacement Procedure?
After wrist replacement surgery, you will be brought into the recovery room and kept under observation. Once your vital signs are stable and you are alert, you can go home on the same day or the next day of your surgery. Most patients can recover within 3 to 6 months of their wrist replacement surgery. You might have to wear a cast for a few weeks after your surgery. You may also have to wear a splint for up to 8 weeks after this. You will have to perform rehabilitation exercises and physical therapy to restore strength and mobility in your wrist. You should avoid lifting any heavy objects and making repetitive wrist movements for a few weeks after surgery.
What are the Complications Associated with Wrist Replacement Procedure?
There are various complications associated with wrist replacement surgery, as with any surgery, including –
Reaction to anesthesia
Bleeding
Blood clots
Infections
Fracture or breakage of new joint
Muscle, nerve, or blood vessel damage
Wear and tear or loosening of new joint, requiring revision surgery
Persistent pain and stiffness
When to See a Doctor?
You should consult a doctor about wrist replacement surgery if –
You have severe pain and inflammation in your wrist joint, that hasn't subsided despite using medication and other non-invasive and non-surgical treatments
You have weakness and poor grip strength in your wrist
Your wrist pain is interfering with your daily life and is also disturbing your sleep
Request an appointment at Apollo Spectra, Pune
Call 1860-500-2244 to book an appointment
Conclusion
In most cases, wrist function improves after wrist replacement surgery and wrist pain also reduces. With this surgery, the quality of life in individuals improves significantly and they can return to most activities such as painting or playing the piano.
1. What are the types of implants?
Various types of implants are used in wrist replacement surgery. Most implants consist of two components for each side of the joint and are made of metal. Between the two metal parts, a spacer made of polyethylene is used. One component of the implant is inserted in the radius whereas the other component is fit into the hand bone.
2. How to prepare for wrist replacement surgery?
To prepare for your wrist replacement surgery, your doctor will conduct a complete physical examination, a few weeks before the procedure. You will also be asked to stop taking certain medications such as blood thinners and non-steroidal anti-inflammatory drugs as these can increase the risk of bleeding. You should also stop smoking a few weeks before your surgery, as this can delay your recovery. Your doctor will advise you regarding when to eat or drink before your surgery.
3. How to minimize the risk of complications post wrist replacement surgery?
The risk of complications after wrist replacement surgery can be reduced by the following steps –
Following guidelines and restrictions related to your diet, lifestyle, and activity, as recommended by your doctor.
You should inform your doctor immediately if you experience any symptoms such as pain, bleeding, or fever.
Take your medications regularly as directed by your doctor.
Inform your doctor about any allergies that you have.
Inform your doctor if you are breastfeeding or pregnant.

Book Appointment