Podiatric Services Treatment & Diagnostics in Sadashiv Peth, Pune
Podiatric Services
Not to be confused by a pediatric, a podiatrist is a foot doctor or doctor of podiatric medicine with the initials DPM attached to their name. These doctors treat foot, ankles, and other connecting parts of the legs. Previously, they were referred to as chiropodists.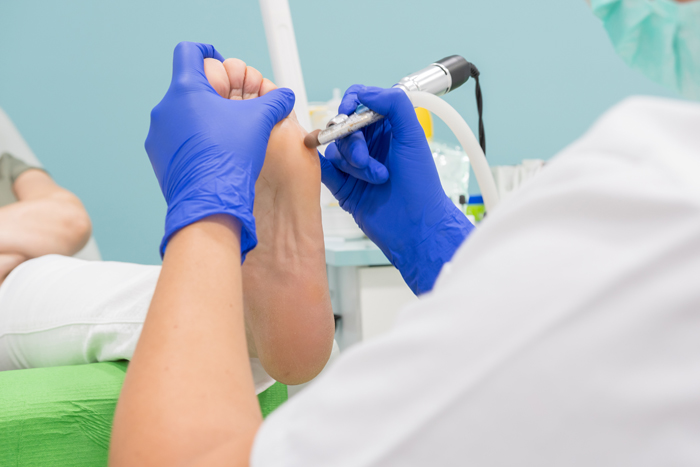 What Do Podiatrists Do?
DPMs treat any problems associated with the patient's foot or the lower leg. From fractures to writing prescriptions or performing when surgery is required, they may also assist other doctors in taking care of the patient's health. Apart from this, DPMs also;
Diagnose foot issues including the skin and nails issue
They can also identify tumors, deformities, and ulcers in the foot
They treat conditions like corns and heel spurs, including bone disorders, shortened tendons, and more
They are also in charge of making flexible casts to hold ankles and fractures
They can help with preventive foot care
Generally, DPMs develop their skills in a specific subset of medicine, such as;
Sports Medicine: DPMs who are in sports medicine help players who injure themselves while playing sports or other physical activities.
Pediatrics: Paediatric Podiatrist is someone who treats young patients. They help treat some of the issues, such as;
Ingrown toenails
Plantar warts
Athlete's foot
Crossover toes
Bunions
Flat feet
Turned-in toes
Growth plate injuries in foot or leg
Radiology: Radiologists specialize in the diagnosis of an injury or an ailment with the help of imaging tests and other equipment, such as X-rays, ultrasounds, CT scans, MRI exams, and nuclear medicine.
Diabetic foot care: Diabetes tends to affect the foot where in some cases amputation becomes necessary, but diabetic foot care doctors help provide preventive measures to keep your foot healthy.
What are Some of the Common Foot Problems?
foot prosthetics
amputations
flexible casts
corrective orthotics
walking patterns
Artery disease
ulcers
wound care
skin or nail diseases
tumors
fractures or broken bones
Removing bunion
foot ligament or muscle pain
foot injuries
arthritis
sprains
neuromas
hammer toes
flat feet
dry or cracked heel skin
heel spurs
bunions
calluses
corns
warts
blisters
If you are experiencing pain in your heel
If you have smelly feet
Infection of the foot
Infection of the nails
ingrown toenails
When to See a Doctor?
If you are experiencing problems with your foot, don't neglect it or try any home remedies without a doctor's okay. It is important to visit a DPM for a proper diagnosis. The foot consists of 26 bones with your joints, tendons, ligaments, and muscles. Now, your foot is supposed to carry your weight and help you accomplish all the functions it is supposed to do, such as walk, run, and jump.
When there are problems with your foot, the movements can become restricted and can also be accompanied by pain. In fact, there are some health conditions that can cause damage to the foot if not treated on time. So, if you think you have problems with your foot or are suffering from a foot injury, visit your doctor immediately.
Request an appointment at Apollo Hospitals
Call 1860-500-2244 to book an appointment
What are the Risk Factors of Foot Problems?
If you are someone suffering from the below-mentioned conditions, you are at risk of foot problems.
obesity
diabetes
arthritis
high cholesterol
poor blood circulation
heart disease and stroke
As a diabetic, if you are experiencing the below-mentioned symptoms, again, you must visit a DPM immediately.
If your skin is dry or cracked
If you have calluses or hard skin
If you have cracked or dry toenails
If you notice discolored toenails
If your foot lets out a bad odor
sharp or burning pain in your foot
Tenderness in your foot
numbness or tingling in your foot
sore or ulcer in the foot
If you experience pain in your lower leg when walking
Even if you think you have healthy feet, just get your foot checked by your DPM to avoid any complications in the future.
Reference:
https://www.webmd.com/diabetes/podiatrist-facts
https://www.webmd.com/a-to-z-guides/what-is-a-podiatrist
https://www.healthline.com/health/what-is-a-podiatrist#takeaway
How to treat nail infection?
It generally gets rectified with antifungal medicine.
Is there a way to rectify flat feet?

Book Appointment