Physiotherapy Treatment & Diagnostics in Sadashiv Peth, Pune
Physiotherapy
Physiotherapy or physical therapy is a field of medicine and healthcare that specifically caters to movement-related problems and limitations. A physiotherapist works closely with the patient, identifies the root cause, and provides appropriate rehabilitation and treatment.
What is physiotherapy?
Physiotherapy is a branch of healthcare that deals with the patient's mobility. When there is a condition that impairs movement or affecting everyday tasks, a physiotherapist is usually recommended to help in recovery. Physiotherapy also deals with post-surgical rehabilitation, injury prevention, and even general fitness and health.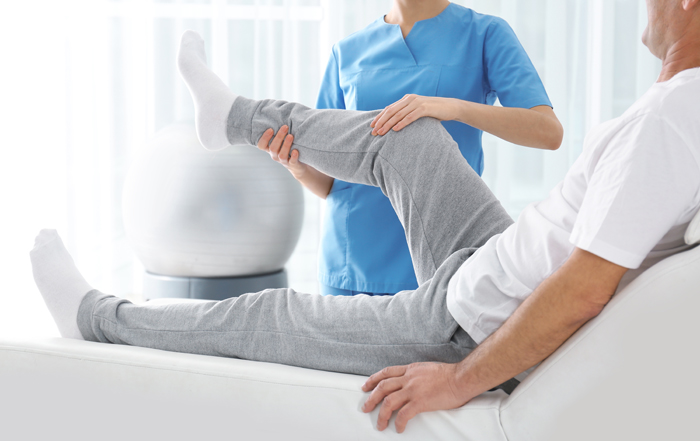 When should one visit a physiotherapist?
Simply put, if you have a pain that has been around forever, or if there are some movements that feel restricted or painful, you may require the help of a physiotherapist to get you back on your feet.
Some of the common conditions where a physiotherapist is required are:
Chronic pain or illness: in conditions where a certain body part has been paining for a very long time, for example, lower back pain, physiotherapists may be able to relieve it.
After surgery: usually after surgeries, the body is weak, and it is difficult to move. But this is where movement is most required. Without movement, the surgically treated part would take much longer to regain its function.
Injuries and accidents: physical injuries with a lot of pain make the person immobile. Here, a physiotherapist's assistance is required.
General physical performance: physiotherapy is not just for those who are ill, it can also be useful for those who want to improve their fitness. Even athletes use physiotherapy to use their bodies to the best possible capacity.
Aging: aging reduces the general mobility of individuals. Also, movement helps to stay mentally active as well. Physiotherapy would be of great benefit to such individuals.
What problems do physiotherapists treat?
A common belief is that a physiotherapist only deals with treatment when a person is in pain. They also help in the prevention of future injuries and conditions. Some problems that a physiotherapist can treat are:
Musculoskeletal conditions: conditions like back pain, arthritis, aftereffects of amputation, joint pain, and pain of muscles and bones. This also involves pelvic conditions, especially after childbirth.
Neurological conditions: when a patient suffers from conditions like stroke, Parkinson's, multiple sclerosis, or loss of mobility due to spinal or brain injury, a physiotherapist helps in rehabilitation.
Cardiovascular conditions: in conditions like chronic heart conditions, and for rehabilitation after a heart attack, a physiotherapist may be recommended.
Respiratory conditions: a physiotherapist also helps deal with bronchial asthma, cystic fibrosis, and chronic obstructive pulmonary disease.
If you suffer from any of these conditions, make an appointment with a physiotherapist to discuss possible treatment options.
Request an appointment at Apollo Spectra Hospitals, Pune
Call 1860-500-2244 to book an appointment
What to expect from an appointment with the physiotherapist at Apollo Spectra, Pune?
In many ways, an appointment with a physiotherapist is very similar to an appointment with any other healthcare professional. Some aspects may vary. Here is how a general appointment might go:
On the first appointment, the physiotherapist might ask you to wear comfortable clothes and shoes that allow movement.
The first thing that would happen is a detailed analysis of your medical history, including reports, x-rays, scans, and other tests. The physiotherapist would ask questions about your lifestyle, diet, history of illness, or accidents.
After this, the physiotherapist would ask you to perform simple physical tasks to assess your level of fitness. This will help in gauging the problem areas much better.
In the subsequent appointments, you will be taught exercises and movements to improve mobility of the problem areas and deal with the condition requiring attention. Keep in mind that these movements taught are specially designed to suit your body's needs and requirements and will vary from person to person.
Conclusion:
A physiotherapist is well-trained in the healthcare field to help prevent and treat a wide range of conditions. Physiotherapy may be recommended along with other treatment options or alone. One must patiently work with the therapist for a period of time to see improvements.
Reference:
https://www.csp.org.uk/careers-jobs/what-physiotherapy
https://www.webmd.com/a-to-z-guides/what-is-a-physiotherapist
What all does a physiotherapist use for treatment?
A physiotherapist may instruct the person to perform some exercises, gently massage muscles during a session, use devices to relax or stimulate muscles, or even manipulate joints into their correct positions.
Do physiotherapists offer home visits?
In some cases where the patient may be immobile or have limited mobility, the physiotherapist may offer treatments at home.
How often should a patient come for physiotherapy?
Each patient and case is different and will require varying amounts and frequencies of sessions. After the medical examination and physical test, the physiotherapist will be able to recommend the required number of sessions and their duration.

Book Appointment