Bariatrics
Bariatrics is the branch of medicine that involves a multi-dimensional approach to reduce food absorption and achieve weight reduction. Obesity is the leading cause of several lifestyle diseases and is directly linked to the rise in the incidence of diabetes and cardiac disorders. Reputed bariatric surgery hospitals in Mumbai offer a variety of treatment options to help obese patients reduce weight.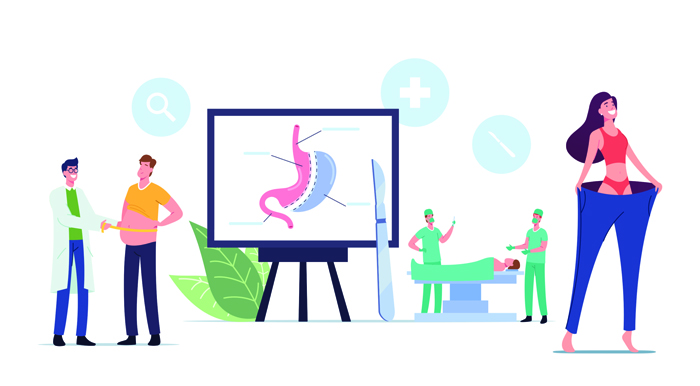 What is bariatrics?
Bariatrics aims at reducing the Body Mass Index of the patient for reversing the progress of chronic or lifestyle diseases. Bariatric surgery, including sleeve gastrectomy in Mumbai, is a proven option to reduce weight if other weight reduction measures such as diet and exercise fail. Obesity is a serious health concern as obese patients are more likely to suffer from many chronic conditions, including:
Type 2 diabetes (NIDDM)
Fatty liver disease
Coronary heart diseases
Infertility
Sleep disorders
Osteoporosis,
Types of bariatric surgeries
Bariatric surgery aims at reducing the body weight of patients subject to fulfillment of certain conditions, including critical health parameters of the patients.
Endoscopic sleeve gastroplasty – This is the most advanced bariatric surgery with less scope for complications. It involves the reduction of the stomach's size by leveraging the latest endoscopic technique for minimum incision.
Sleeve gastrectomy – This bariatric surgery removes almost eighty percent of the stomach. The surgery of sleeve gastrectomy in Mumbai also facilitates the suppression of an appetite regulator hormone.
Gastric bypass surgery – Gastric bypass surgery alters the flow of food passage to reduce the stomach's ability to hold the food and to minimize absorption of calories.
Symptoms that may require bariatric surgery
If the patient has tried all available methods of weight reduction with no success, then bariatric surgery may be necessary. Uncontrolled weight gain leading to obesity justifies bariatric surgery. Bariatric surgery is also an important solution if the patient is having an increased risk of serious lifestyle disorders that can be reversed by surgery for weight loss.
Causes of obesity that may need a bariatric surgery
Prolonged accumulation of calories because of excessive food intake and a sedentary lifestyle may lead to obesity. It can be a grave concern if the patient is also suffering from other lifestyle diseases, including diabetes. Severe obesity is also because of genetic factors in some individuals. Strenuous exercises and a reduced calorie intake can help reverse obesity.
When should you consult a doctor for bariatric surgery?
If you are facing a grave threat to your health because of risk factors associated with obesity, then bariatric surgery may be recommended by an expert gastric bypass specialist in Mumbai. Patients with higher BMIs and having other health concerns such as hypertension, Type 2 diabetes, and other obesity-related conditions can benefit from bariatric surgeries if other weight reduction methods are of no use. Since bariatric surgery may not be suitable for every obese individual, consult an expert bariatric surgeon in Tardeo to know your options.
Request an appointment at Apollo Hospitals
Call 1860 500 2244 to book an appointment
Treatment – choosing the right type of bariatric surgery
After screening the patient for bariatric surgery in Koramangala, a surgeon has to select the right type of bariatric surgery that will be suitable and beneficial for the patient. Gastric bypass surgery is ideal for diabetic patients with higher BMIs with a history of severe reflux disorder. Surgery of sleeve gastrectomy in Mumbai has suggested if the patient has a history of past abdominal surgeries. Severely obese patients are suitable for duodenal switch surgery.
Advantages of bariatric surgery
In obese patients, bariatric surgeries reduce the risk of many disorders and diseases. Patients can get relief from acid reflux disorders, joint pains, and sleep disorders following these surgeries. Bariatric surgeries can effectively reverse a variety of factors that contribute to metabolic syndrome. These include a large waistline, hypertension, and diabetes.
Conclusion
Obesity is a primary cause of Type 2 diabetes and other lifestyle diseases. Bariatric surgeries focus on reducing food absorption and reversing several chronic conditions in obese patients. These surgeries are recommended if standard weight reduction methods have failed. Visit a doctor from any one of the top bariatric surgery hospitals in Mumbai to know how bariatrics can help you overcome obesity.
Request an appointment at Apollo Hospitals
Call 1860 500 2244 to book an appointment
Body Mass Index is the most accepted norm to measure obesity. BMI is a person's weight divided by height. If the BMI is over 30, then we consider the person as obese
What are food restrictions following bariatric surgery?
Dietary restrictions for patients after bariatric surgery aim at reducing calorie intake without affecting nutrition. Bakery products, junk food items, beverages, vegetables containing high fiber, and alcohol are some foods to be avoided.
How to prevent weight gain after bariatric surgery?
After bariatric surgery in Tardeo, a patient must follow dietary restrictions besides several behavioral and lifestyle changes to maintain a healthy weight.

Book Appointment