Scar Revision Treatment & Diagnostics in Tardeo, Mumbai
Scar Revision
A scar is a visible remnant of a healed wound after a trauma or an incident. Scarring depends upon the size, shape and area of the injury. Scar shrinks and disappears with age. Surgery can cover scars and restore skin function and appearance. If you feel uncomfortable with a scar and need surgery, the best choice is to wait until the scar lightens.
You can visit any of the plastic and cosmetics surgery clinics in Mumbai for treatment. You can also search online for a plastic and cosmetics surgeon near me.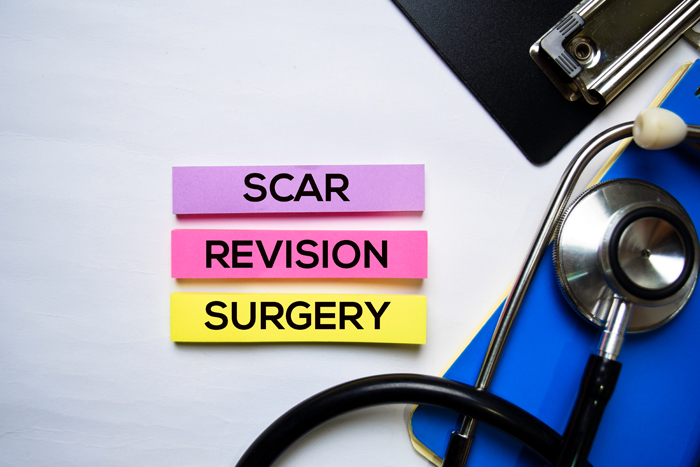 What is scar revision?
Scar revision is a surgery to make scars less conspicuous or to make them blend with the skin tone. The surgery can remove or minimize any scar caused by an injury or poor healing of previous surgery. The treatment options that include both surgical and nonsurgical techniques differ based on the level of scarring.
How do you assess the condition? When do you need to see a doctor?
Surgeons assess a scar before treating it. To classify facial lacerations, they perform the MCFONTZL classification and Vancouver scar assessment for burns. Apart from them, other tests include:
Ultrasound: The high-frequency ultrasound waves can gauge the tissue stiffness and thickness.
Laser Doppler flowmeter: It is another ultrasound technique that can map the vascularity of a scar.
Optical Profilometer: It is used to get the contour and surface topography of a scar.
You can request an appointment at Apollo Spectra Hospitals, Tardeo, Mumbai.
Call 1860 500 2244 to book an appointment.
What are different scar revision techniques?
Surgeons use several scar revision techniques to minimize a scar. Based on the level of scarring, a surgeon recommends a single or combination of scar revision techniques for better results. Techniques include:
Topical treatments: Doctors suggest topical applications like gels, tapes or external compression that help in healing the wound, protect from abnormal pigmentation and treat existing scars and discoloration.
Injectable treatments: Dermal fillers are used to treat concave scars. This treatment is effective based on the injectable solution and condition of your scar. Another type of therapy includes injecting steroids to stop collagen growth.
Surface treatments: This type of treatment reduces pigmentation and surface irregularities. Treatment options include:
Dermabrasion involves polishing the skin with a wire brush.
Laser therapy is used to soften the skin surface and stimulate healthy growth of skin.
Silicone strips are used for scar massage.
Chemical peeling agents and skin-bleaching agents are used to lighten the skin.
Surgical treatments: Advanced surgical incision techniques include:
Fusiform Elliptical Excision: They use this technique to repair a scar that has spread to the surrounding areas. The procedure involves removing the scar tissue and tapering of both the ends.
Z-Plasty: In this technique, surgeons make a Z-shaped incision on the scar site and switch the upper and lower triangle flaps to contrary positions. So the scar becomes thin, less visible, and eventually tightens the skin.
Geometric Broken-Line Closure: This is a very complex technique used for facial scars.
V-Y and Y-V Enhancement: These two procedures treat small or contracted scars, especially around the eyes and the mouth.
Flaps and Grafts: When the skin scar is because of an injury or burns, surgeons use flap and grafting techniques. This technique involves the transfer of healthy skin to the injured site. Tissue expansion is another substitute for grafting.
What are the risks of scar revision surgery?
Risks of scar revision include:
Poor healing of incisions
Risk of bleeding and infection
Wound separation
Scar recurrence
Deep vein thrombosis
Skin loss and discoloration
Possibility of surgery
What is the recovery process for scar revision surgery?
The initial healing phase takes one or two weeks and common symptoms include discoloration, swelling and discomfort. You should follow instructions to avoid any wound infections and separation. In the next proliferative phase, collagen makes the soft tissues grow. During this phase, surgeons administer certain medications and supplements for tissue repair and prescribe hydrogel and collagen dressings for skin hydration. It usually takes 12 to 18 months for complete healing.
Conclusion
A scar is a natural consequence of wound healing from either injury or surgical intervention. Scar revision does not erase a scar but helps to make it less noticeable and more acceptable. For revising a scar, doctors use both surgical and nonsurgical techniques. Proper planning and experience can minimize the occurrence of postoperative complications.
What are the complications of scar revision?
Some complications of scar revision are scar widening and hypertrophy, hematoma formation, which results from inadequate hemostasis, hyperpigmentation and keloid formations.
How do I prepare before a scar revision surgery?
Explain to the surgeon your previous medical history, allergies and stop smoking as it delays wound healing. As directed by your physician, take certain medications, follow specific diets and go for preoperative tests like X-ray, ECG and blood tests.
You cannot always prevent injuries that cause scarring but you can reduce the risk to avoid surgery. If you have any wounds, use antibiotics, stitches and bandages. And to prevent the wound from getting moist, apply petroleum jelly and protect the scar from the sun.

Book Appointment