Podiatric Services Treatment & Diagnostics in Tardeo, Mumbai
Podiatric Services
Podiatry deals with the study, diagnosis and treatment of problems that affect your feet and lower extremities. Podiatrists are also called foot doctors or doctors of podiatric medicine. They can reset broken bones, prescribe drugs to treat conditions affecting your foot and often work with other specialists. Podiatrists who specialize in foot surgery are called podiatric surgeons.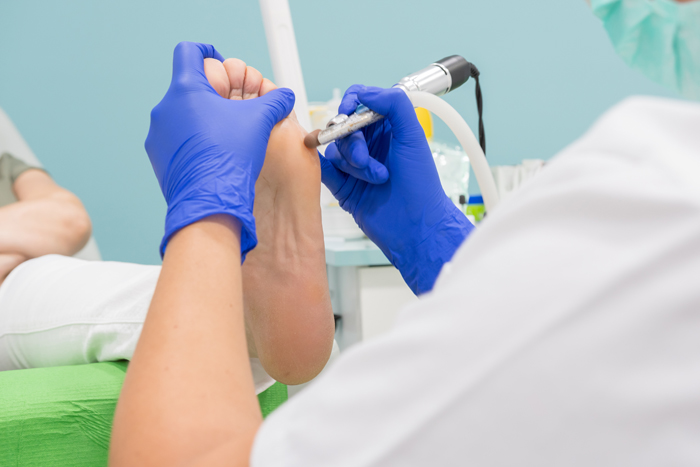 What are podiatric services?
The key difference between orthopaedic and podiatry service is that the area of treatment is limited to foot and ankle in the case of podiatric services.
Our feet are a complex anatomical structure that is integral to our overall health and well-being. A DPM or doctor of podiatric medicine is a specially trained healthcare professional who can take care of our feet.
To know more, you can visit an orthopedic hospital near you. Or you may consult a podiatry doctor near you.
When should I see a podiatrist?
Imagine the amount of work your feet do for your body, and with time and age it's possible to have suffered a degree of wear and tear. This is why foot care is an essential part of your healthcare. If you experience any of the following issues, it will be best to reach out to the nearest podiatric clinic.
Foot pain
Warts/growths on your feet
Cracks or cuts
Thick or discolored toenails
Scaling or peeling of your soles
Foot injury
Arthritis
Sprain
Bunions
Nail infections
Additionally, if the following symptoms last for over two days after injury or foot pain, it's best to seek medical help.
Swelling
Severe pain
Open wound
Numbness
Redness, warmth and tenderness around the injury
You can request an appointment at Apollo Spectra Hospitals, Tardeo, Mumbai.
Call 1860 500 2244 to book an appointment.
What are the benefits of podiatric services?
As specialist DPMs have greater knowledge of foot and lower leg, they can effectively diagnose and develop proactive treatment plans to cure your foot problems. Podiatrists can treat a range of problems that are related to bones and joints, muscular, neurological and circulatory issues.
General benefits of podiatric services are:
Prevention of foot-related problems
Tailored foot care plans
Specialized approaches and treatment plans as compared to general physicians
Self-care advice and information on foot and lower legs
Footwear recommendation
Care plan for long-term conditions
Other benefits include treatment of:
Heel pain
Foot/leg injury
Bone fractures
Blisters, warts and calluses
Children's foot issues
Ingrown nails
Athlete's foot
Conclusion
We often take our feet and foot health for granted, treating and caring for them only when issues arise. Irrespective of how active you are, your feet need regular care and maintenance. Most of us tend to stick to home remedies to resolve issues related to feet and seek medical help only when it's too late. For good foot health and prevention of foot, toe and nail problems, consult a podiatrist near you.

What are the common podiatric services offered at clinics?
Orthopaedic hospitals in Mumbai offer most of the podiatric services, few of them are:
Foot assessments and scans
Thermo-care therapy
Doppler studies
Hot, cold and pain analysis
Vibration perception test
Diabetic foot surgery and management
Clinical pedicure and reflexology
Advanced wound dressing
What can you expect at the podiatrist clinic?
As with any other doctor, a podiatrist will ask you about your medical history, medications, surgeries and general health conditions. They will assess your standing and walking posture, range of motion in your joints and the foot issues.
While some cases might be treated at the clinic, the DPM will recommend physical therapy, pain medication or other means to treat other conditions.
What are the risk factors that could lead to foot issues?
Long-term diabetic patients should regularly monitor their feet as risks of foot issues are high due to the high blood sugar level. Common health conditions that can trigger foot issues are:
Obesity
Arthritis
High cholesterol
Diabetes
Heart diseases

Book Appointment