Best Ankle Joint Replacement Treatment & Diagnostics in Tardeo, Mumbai
While walking, running or other physical pursuits ankle joints are at a higher risk of getting damaged or developing an injury. This damage or injury can cause permanent impairment of the joint making the regular movement of an individual extremely difficult and painful. Once compromised, the ankle joint doesn't recuperate completely and is unable to maintain the regular range of motion. orthopaedic doctors advise ankle joint replacement surgery in such cases. To know more about the procedure, symptoms, and risk factors, get in touch with ortho doctors near me or visit orthopaedic hospitals near me.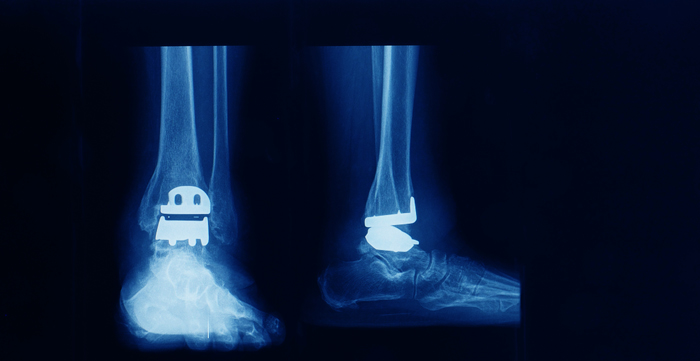 What is Ankle Joint Replacement?
Given the susceptible positioning of the joint, even during a minor sprain, patients are advised complete bed rest for a few days to allow recovery. Continued stress to an injured ankle joint can lead to fracture or other serious orthopaedic conditions. While the ankle joint experiences some level of wear and tear over the course of life, people in their old age are more susceptible to developing issues related to the bones and joints. Patients have to undergo this surgical procedure to replace the malfunctioning joint(s) with an artificial implant. Post recovery, you can enjoy improved and pain-free mobility.
What are the symptoms that may indicate the need for ankle replacement?
Ortho doctors suggest ankle arthroplasty or total ankle replacement to patients having
ankle arthritis, fracture or other severe injury,.
What are the Causes that lead to Ankle Damage?
Some of the most common causes of ankle damage are:
Physical exertion: Certain fractures or localized injuries in the region can cause displacement of the ankle joint, associated tissues and bones which can further impact the normal functioning of the joint.
Osteoarthritis: Over the years, the general wear and tear of bones leads to inflammation and internal injuries causing ankle malfunctioning.
Rheumatoid arthritis: A chronic inflammatory disorder in which the body's immune system attacks the body tissues leading to severe damages to affected parts.
What are the Types of Ankle Surgeries?
Subject to the damage and problems associated with the ankle joint, your doctor may suggest two options:
Arthrodesis or artificial ankylosis is a procedure in which a doctor surgically adjusts the ankle joint and rearranges the attached bones. The surgery helps relieve the patient from unrelenting pain caused due to traumatic injury or arthritis.
Arthroplasty or total ankle replacement is used for patients that have severely damaged ankles to the extent where minor adjustments in the joint won't be effective.
When Should you see a doctor?
In case you notice localized swelling associated with high-degree pain, you must book an appointment with the doctor and get necessary scans – X-ray or MRI done to get a clear picture of the underlying cause. Further, patients who develop advanced arthritis are at higher risk of damaging their joints. It is advisable to consider ankle replacement surgery as an option in their case.
Request an appointment at:
Apollo Spectra Hospitals, Tardeo, Mumbai or Call 1860 500 2244 to book an appointment
What are the risks associated with this Surgery?
Depending on the age and other medical conditions, total ankle replacement surgery has some risks associated with it, such as:
Superficial wound infections
Excessive bleeding
Damage to adjacent nerves
Inappropriate alignment of associated bones
In addition, there are chances that over time, the artificial component loses its strength or some of the parts wear out. In which case, patients have to undergo a follow up surgery to replace the component.
Complications
It is advised to consult a licensed and experienced practitioner to avoid any complications. You must avoid home remedies or hearsay treatments at any cost as it can worsen the situation further. In addition, please consult your healthcare provider in case you continue to experience pain days after the surgery as well.
Conclusion
Individuals experiencing unwavering pain and discomfort in performing activities due to injury or advanced arthritis are suggested to undergo surgical procedures. Owing to the low risks involved vis-à-vis the benefits of the surgery, it is considered a valuable proposition overall.
References
https://www.orthobullets.com/foot-and-ankle/12133/total-ankle-arthroplasty
https://www.bone-joint.com/signs-you-may-need-an-ankle-replacement/
https://www.hopkinsmedicine.org/health/treatment-tests-and-therapies/ankle-replacement-surgery
Is the surgery expensive?
As compared to other countries, the procedure is affordable and low cost in India. With advanced technology, availability of good quality components and experienced doctors, this surgery has high success rates.
Will the ankle replacement last forever?
Depending on the level of stress exerted on the joints, ankle replacement lasts anywhere between 10 to 20 years for an average individual.
Is there an alternative to this procedure?
Total ankle replacement surgery is suggested in cases where intake of medication and drugs fails and goes ineffective. It helps in regaining the normal and pain-free functioning of the joint. However, it is advised to take complete rest before resuming back to normal movement.

Book Appointment