Failed Back Surgery Syndrome Treatment & Diagnostics in Tardeo, Mumbai
Failed Back Surgery Syndrome (FBSS)
Failed Back Surgery Syndrome (FBSS) is a term embracing a collection of symptoms for recurrent lower back pain following spinal surgery.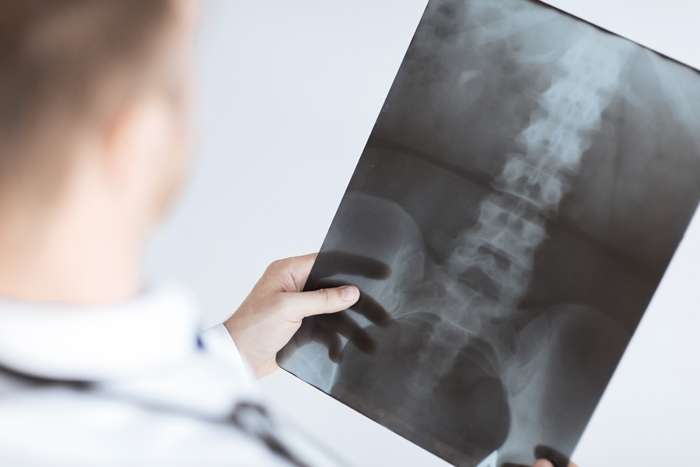 What do we need to know about FBSS?
It can either present with only lower back pain or radiating pain symptoms down one or both limbs.
Diagnosis of FBSS involves a systematic approach. Your doctor will take a detailed history and examine the various functions of your spine. These functions include your functional disability and your mechanical baselines such as movements, muscle strength and flexibility, sensory testing and reflexes.
You may also require radiological procedures such as X-ray, MRI scans or a CT scan. Your doctors will be able to assess for any mal-alignment, degeneration or instability in your spine through these tests.
Diagnostic anesthetic injections into the facet joints or the SI joints can help differentiate between nerve irritation and inflammatory pain.
To seek treatment, you can search online for pain management near me or pain management doctors near me.
What are the causes of FBSS?
Surgical failures are the prime causes of FBSS. Other causes include:
Implant failure
Intraoperative factors like poor surgical technique, incorrect level of surgery
Epidural hematoma
Recurrent disc herniation
Infection of the disc around the operative site
Epidural scar
Meningocele
Instability of the spinal segments around the surgical site
Many causes other than the surgery-related ones can also contribute to this syndrome:
Disc herniation and prolapse at a non-surgical site
Facet arthritis
Canal stenosis
Spinal segmental instability at levels above or below the surgical site
Myofascial pain
Referred pain
A crucial aspect of chronic lower back pain is its effect on a patient's psyche. Chronic pain can notoriously give rise to psychological issues like anxiety, depression and more.
When do you need to see a doctor?
If there is recurrent lower back pain, consult a doctor.
You can request an appointment at Apollo Spectra Hospitals, Tardeo, Mumbai.
Call 1860 500 2244 to book an appointment.
What are the treatment options for FBSS?
There are two approaches to manage this syndrome - conservative and non-conservative.
Conservative treatment approach
Painkillers are prescribed to relieve the pain symptoms and ensure recovery of functions. They include nonsteroidal anti-inflammatory drugs, muscle relaxants, gabapentinoids and opioids. Due to the side effects and the need for prolonged use, the efficacy of these medications is often debatable.
Following spinal surgeries, people develop weakness in their spinal musculature and are unable to maintain spinal stability. Lack of muscular stability can increase forces acting on the joints and discs, resulting in symptoms and disability. Physical therapy includes exercises to
Reduce pain
Improve postural control
Stabilize spinal segments
Improve fitness
Decrease mechanical stress on spinal structures
You will also learn active coping strategies to self-manage your symptoms.
Cognitive-behavioral therapy (CBT)
Due to psychological involvement, CBT is a widely recognized component of therapy for managing FBSS. CBT includes the following elements:
Relaxation skills and maintenance
Goal setting
Pacing strategies
Interventional approaches such as visual imagery and desensitization
Self-management strategies to cope with pain and disability
Non-conservative treatment approach
These include invasive procedures to manage the pain. They include:
Nerve blocks for reducing the neuropathic nerve pain and irritation
Epidural injections for short-term pain relief
Percutaneous epidural adhesiolysis for reducing the epidural scarring and improving symptoms
Surgical interventions to correct any mal-alignments, instabilities or relapses at the spinal levels
Your doctors will only prescribe a repeat surgery if necessary. The indications for a repeat surgery involves
Loss of control over your bladder and bowel movement
Progressive muscle weakness or sensory loss
Established spinal instability requiring further action
Removal of the screws impinging on the underlying structures and correcting the implant loosening can often relieve the symptoms of localized spinal pain.
Conclusion
Back pain can have an adverse impact on your lifestyle and quality of life. FBSS has a high prevalence rate. Communication about your condition and expectations prior to any surgical intervention for back pain is vital to prevent the surgery from failing to yield positive results.
After the surgery, follow your doctor's advice and exercise regularly. Many people skip adequate rehabilitation programmes after the surgery and end up with a relapse.
How common is Failed Back Surgery Syndrome?
According to experts, the incidence of FBSS lies between 20-40%.
What are the symptoms of failed back surgery?
Apart from chronic back pain, the symptoms of failed back surgery include:
Tingling, numbness
Radicular pain (pain down the limbs)
Weakness
Can failed back syndrome be a disability?
It varies according to person, if the back pain is debilitating and prevents you from performing your daily activities, it can become a disability.

Book Appointment