Rhinoplasty Treatment & Diagnostics in Tardeo, Mumbai
Rhinoplasty
Plastic surgery has improved the lives of many individuals. It is especially beneficial for people looking to correct congenital deformities, which make everyday activities challenging. For example, a person with a misshapen nose suffering from breathing issues can easily resort to plastic surgery if they wish to.
If you think you need plastic surgery, you can get yourself treated in the best cosmetic hospital in Tardeo. Make sure you look for one that specializes in nose treatments.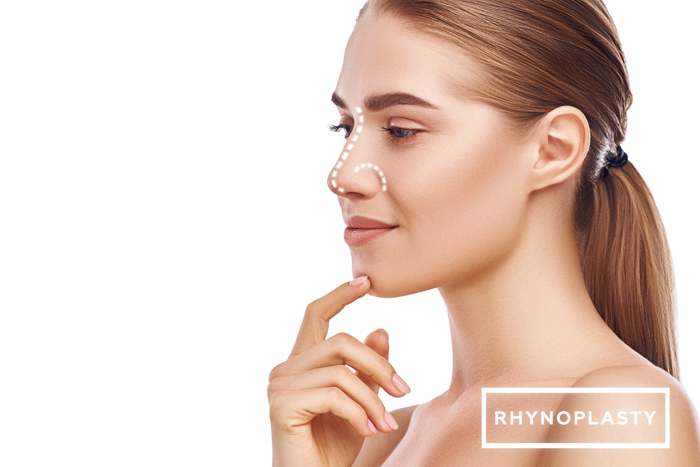 what is nose surgery or rhinoplasty all about?
About Rhinoplasty
Rhinoplasty is a surgical procedure used to change the shape of the nose by altering the bone structure or cartilage. You may also modify the nose skin through rhinoplasty. Some rhinoplasty surgeries are intended to change all three, i.e., bone, cartilage, and skin.
The main reasons for rhinoplasty include repairs for nose deformities. It can help relieve breathing difficulties by altering the bone and cartilage forming the nose. People suffering from congenital damages can also go for rhinoplasty surgery in Tardeo.
Types of Rhinoplasty
There are some general types of rhinoplasty surgeries like:
Closed Rhinoplasty
All incisions are hidden inside the nose, and there are no external scars. It takes less time to complete closed rhinoplasty and has a short recovery period. It is ideal for minor dorsal corrections.
Open Rhinoplasty
It requires a small incision in the skin between the nostrils. This incision is called columella and extends to the inside of the nostrils on both sides. It is an ideal procedure for nose jobs that require a lot of work. All surgical techniques like spreader flap technique, nose tip modification, and septal cartilage harvesting technique are feasible in open rhinoplasty.
Secondary or Revision Rhinoplasty
It is the second procedure for rhinoplasty. It can be considered as an ideal "touch up" for minor rhinoplasty. It is a revisional surgery that further enhances the effects of the first surgery.
Liquid Rhinoplasty or Non-Surgical Rhinoplasty
It is a non-surgical rhinoplasty technique and is perfect for minor imperfections. Hyaluronic acid fillers like Juvederm replace the incisions. It is a quick process that may require additional follow-ups.
When to See a Doctor?
The quicker you reach out to a doctor, the greater your chances of getting yourself checked and verified for a rhinoplasty. Apollo Hospitals is home to some of the best cosmetology doctors in Tardeo, who can help you decide the mode of rhinoplasty that's right for you.
Request an appointment at Apollo Spectra Hospitals, Tardeo, Mumbai.
Call 1860 500 2244 to book an appointment.
Risk Factors Associated With Rhinoplasty
Breathing difficulties caused by incisions in and around the nose
A bleeding nose that may arise as a complication of the surgery
A numb nose as a result of prolonged anesthesia
External scars left behind by incisions on the nose
An asymmetrical nose that requires immediate medical attention
Infections and allergic reactions to the anesthesia
Preparing for Rhinoplasty
Rhinoplasty is a surgical procedure that requires strict supervision of an experienced medical professional. It is strictly advised to follow the suggestions of the best cosmetologist in Bangalore who'd recommend rhinoplasty only after thoroughly going through your medical records only.
The preparation for rhinoplasty starts with:
A physical examination of the skin inside and outside the nose
All necessary blood tests and lab tests required for rhinoplasty
Taking pictures of the nose from different angles to evaluate the feasibility of the rhinoplasty
Prohibiting the ibuprofen or aspirin for at least two weeks before and after the surgery
Quit smoking as nicotine restricts the oxygen and blood to the healing tissues.
Aftercare
If you get a rhinoplasty surgery done in Tardeo, make sure the hospital provides the best treatment and after-care for all such procedures. For this, Apollo Hospitals, Tardeo may be your best best. Apollo's team of expert doctors carry out all the necessary pre-surgery checks and ensure smooth post-surgery recovery.
Wrapping Up
Rhinoplasty surgery can solve multiple external and internal nose issues. It is all about your fitment for the surgery and the guidelines of your cosmetic surgeon. If you're looking for rhinoplasty surgery, it is advised to get in touch with the best cosmetology doctor in Tardeo at Apollo Hospitals.

Why do I need to go for rhinoplasty?
Rhinoplasty is an effective surgery for treating medical conditions related to the skin, bone, and nose cartilage.
Should I stop taking painkillers before a scheduled rhinoplasty?
It is advised to stop taking the medicines that can slow the blood clotting process before a scheduled rhinoplasty.
How to select the best cosmetic hospital near me?
You must go to the cosmetic hospitals with expertise in conducting rhinoplasty and offer the same at the best affordable prices, such as Apollo Hospitals, Tardeo, Mumbai.

Book Appointment