Gastric Banding Treatment & Diagnostics in Tardeo, Mumbai
Gastric Banding
Gastric banding is a type of bariatric surgery that is used for weight loss. It involves placing a band of silicone around the upper region of the stomach. This serves two purposes - it decreases the size of the stomach and then reduces the food intake.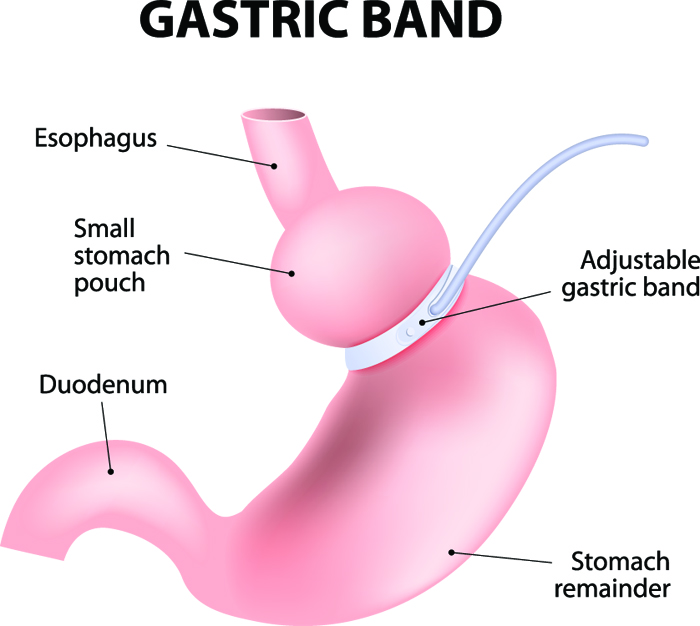 What is gastric banding surgery?
Gastric banding is an advantageous bariatric procedure because the digestion of food is expected in the body without any kind of malabsorption.
During gastric banding surgery, a surgeon puts the band around the upper region of the stomach. A tube, attached to the band, is accessible to the surgeons through a port. This port is usually present below the abdomen region.
Surgeons use saline solution to inflate the band. The stomach is constricted by this method. They can control the degree of constriction of the stomach.
It automatically results in a smaller stomach pouch, which makes a person feel satiated by consuming a small amount of food.
To avail of the surgery, consult a bariatric surgeon near you or visit a bariatric hospital near you.
Why is gastric banding recommended?
Gastric banding is only recommended to individuals who have a BMI of 30+. Many obesity-related issues like diabetes and hypertension can become comorbid, so they can undergo the surgical procedure.
When do you need to see a doctor?
If you have a BMI of over 30 and you suffer from obesity-related health problems, consult a doctor.
You can request an appointment at Apollo Spectra Hospitals, Tardeo, Mumbai.
Call 1860 500 2244 to book an appointment.
What are the benefits of gastric banding surgery?
Long term weight loss
Rapid recovery
Improved quality of life
Low risk of diabetes
Low risk of hypertension
Low risk of urinary incontinence
Low risk of hernia after surgery
Low risk of wound infections
What are some of the risks associated with surgery?
Adverse reactions to anesthesia may include breathing problems and clotting of blood Interior cases may also result in a heart attack or stroke during or post surgery
Slow weight loss
Mechanical problems of the gastric band
Injury to the region of the stomach
Hernia
Inflammation
Wound infection
Poor nutrition because of reduced food intake
Conclusion
Gastric banding is a type of bariatric surgery. It is not recommended to all individuals who suffer from obesity. You should consult your healthcare provider and discuss other options like a gastric bypass, sleeve gastrectomy and duodenal switch surgery.
When should you resume normal activities after the surgery?
Most people who undergo gastric banding surgery get back to everyday activities in a couple of days.
How long does a gastric banding surgery usually take?
Gastric banding surgery is a minimally invasive procedure, and it is performed through tiny and minor incisions. The surgery usually takes around 30 to 60 minutes.
What is the non-surgical option for individuals with a BMI of 30 +?
The non-surgical options are dietary changes, physical activity and taking medications.
What is the diet intake recommended after the surgery?
The intake of food is supposed to be very restricted. The diet is restricted to watery fluids and soups for around two weeks.
By the fourth weekend, you can consume pureed vegetables and yogurt.
By the end of six weeks, foods that are soft can be introduced into the diet.

Book Appointment