Orthopedic - Joint Replacement
Joint replacement surgery is a technique used to remove a damaged joint and replace it with artificial implants. Wear and tear in the joints may occur due to various reasons, but this surgical treatment is recommended when other therapies and medications have failed to improve joint mobility. There are different joint replacement surgeries based on symptoms and the joints affected.
For diagnosis and treatment, you can visit any of the orthopedic surgery hospitals in Mumbai. Alternatively, you can search online for an orthopedic surgeon near me.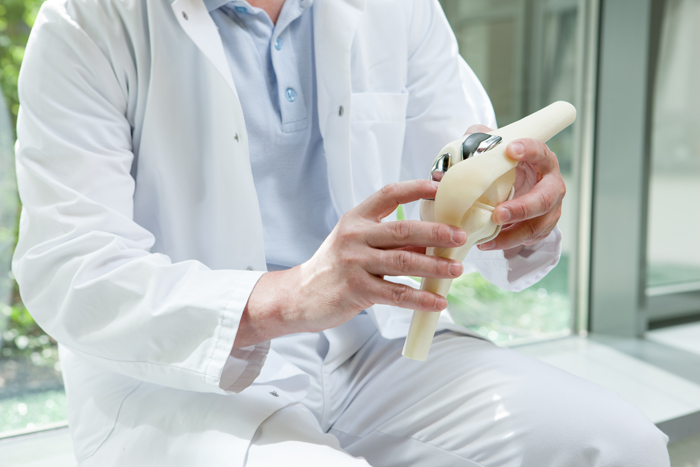 What is joint replacement surgery?
Joint replacement surgery involves replacing impaired joints with hardware to allow the limbs to move with no discomfort. The artificial implant is known as a prosthesis that mimics a natural joint's action. These prostheses comprise plastic, metal or ceramic components or a combination of these materials.
Joint replacement surgery is an option when non-surgical interventions have failed to lessen the pain and improve mobility of the joints. Doctors prefer the surgery based on factors such as:
The severity of pain
Limited functionality of the joint
Any twist, malfunction or disintegration of the joint
What types of conditions are treated with joint replacement surgery?
Joint replacement surgery is performed to treat the following conditions:
Avascular necrosis: It is a condition that occurs when the blood supply to the bones is decreased, leading to a breakdown of a bone and a joint.
Bone disorders: There will be an impact on the function of the bones when benign or malignant (cancerous) disorders occur in the bones.
Arthritis: It is said to be inflammation in the joints. Sometimes, arthritis may destroy cartilage.
When do you need to consult a doctor?
When you are suffering from any joint disorders or experience pain even after using medications, walking aids and exercises, your doctor may advise joint replacement surgery.
You can request an appointment at Apollo Spectra Hospitals, Chembur, Mumbai.
Call 1860 500 2244 to book an appointment.
What are the different types of joint replacement surgery?
Most joint replacements are performed to treat arthritis of the knee and hips. Others may include shoulders, fingers, ankles and elbows:
Hip replacement surgery: The hip joint is a simple ball (femoral head) and socket joint. It may be a total hip replacement or partial hip replacement. A total hip involves removing both the socket and the femoral head while a partial hip surgery includes removing the femoral head.
Knee replacement surgery: The knee joint comprises the lower end of the femur, the upper part of the tibia and the patellofemoral compartments. It can be performed as a partial or a total knee replacement. In this surgery, surgeons remove the damaged tissues and joints and implant prostheses into the affected areas.
Shoulder joint replacement surgery: The shoulder joint is also a ball-and-socket system like the hip joint. Reverse shoulder replacement surgery is a type of shoulder surgery where the positions of the ball and the socket are altered and replaced with new substitutes.
How is joint replacement surgery performed?
Joint replacement surgery uses a minimally invasive technique. In this type of surgery, surgeons slowly replace the damaged joints or cartilage without disrupting the muscles, ligaments and tendons under the skin. The procedure starts by administering regional anesthesia around the joint, which is painless. As it is minimally invasive, surgeons make small incisions (3-4 inches) instead of large incisions. Then they replace the joints with prostheses.
What are the benefits of the surgery?
Some benefits of joint replacement surgery include:
Restoring movement and activity
Reducing the risk of chronic conditions
Less pain
Improved quality of life
What are the risks of the surgery?
Your surgeon will explain the risks or complications associated with the surgery. Watch out for:
Reaction to anesthesia
Blood clot
Wound infection
Nerve injury
Breakage or dislocation of the prosthesis
Conclusion
Joint replacement surgery is a safe and effective treatment option for improved mobility of the joint. The surgery implants the prosthesis by removing the damaged joints and tissues. Consult an orthopedic surgeon near you to know whether you are a suitable candidate for joint replacement surgery. Surgeons help you with every step in joint replacement surgery, from preoperative education to postoperative care.
What kind of postoperative care is necessary after the surgery?
Once the surgery is completed, it takes a few weeks to return to your normal activities. During this period, use crutches or a walker for a few days. Apart from that, go for a physical and occupational therapy program to ensure that the joint is completely healed.
How long does an artificial implant last?
After a joint replacement surgery, the standard implant usually lasts for a long time, about 15-20 years. It depends on the individual. If they wear out and loosen, you may need another joint replacement surgery.
What are the things to avoid after surgery?
Although the surgery can improve your mobility, it is an artificial implant. So, avoid certain things like lifting heavier weights, sitting for prolonged periods, running, jumping, and sports like football, basketball and hockey.

Book Appointment