Best Back Pain Treatment & Diagnostics in Chembur, Mumbai
Back pain is a common condition. More than 50% of the people in the world experience back problems in their lifetime. Despite this, our back pain specialists in Chembur, Mumbai, advise you to seek medical assistance if any symptoms appear.
In 90 percent of the cases, the pain gets better with medication. However, a few underlying medical problems may require you to opt for surgery. Talk to our back pain specialists in Chembur, Mumbai, if you are experiencing back pain.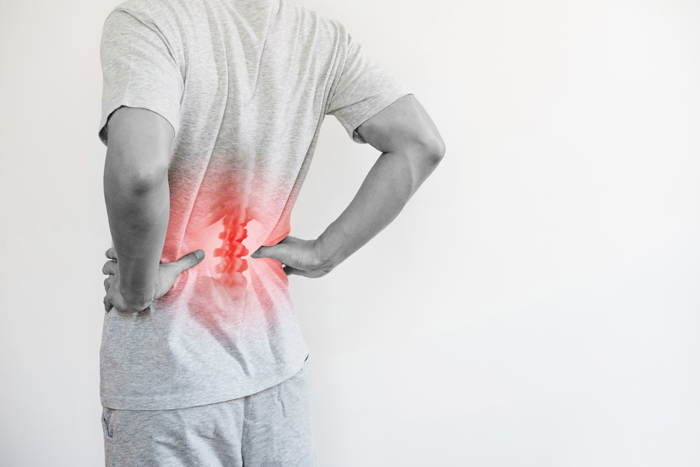 What Are the Symptoms of Back Pain?
Back pain can have many symptoms that include -
An aching sensation in the lower back
A stabbing pain that radiates down your leg to the foot
Inability to stand up straight without pain
Decreased ability to flex the back
When to See a Doctor?
Back pain symptoms are short-lived and often go away without treatment. However, you may require medical help if you experience the following symptoms -
Loss of control over bladder and bowel movements
Numbness around genitals, anus, buttocks
Numbness in one or both legs
Pain that reaches below the knees
Fever
Weight loss
Inflammation on the back
Pain that gets worse at night
These symptoms indicate serious medical problems and require medical assistance. We advise you to visit our back pain specialists in Chembur, Mumbai.
You can request an appointment at Apollo Spectra Hospitals, Chembur, Mumbai.
Call1860 500 2244 to book an appointment.
What Are the Causes of Back Pain?
Frequent causes of back pain are -
Strained muscles
A muscle spasm
Injuries or fractures
Damaged disks
Arthritis
Scoliosis (it causes the spine to curve in an unusual way to one side)Kidney stone or kidney infection
Poor posture
Over-stretching
Lifting heavyweights
Sleeping on a mattress that doesn't keep the spine straight
Some other medical conditions that can lead to back pain include -
Cancer of the spine
Infection of the spine
Sleep disorders
Shingles (It is an infection that affects the nerves.)
Risk Factors Linked to Developing Back Pain
Risk factors that cause back pain may include -
older age
obesity
smoking
pregnancy
strenuous physical exercise
a sedentary lifestyle
How Is Back Pain Diagnosed?
The doctor examines your back and assesses your ability to sit, stand, walk, and lift your legs. The diagnosis helps in determining the cause of back pain.
Our back pain specialists in Chembur, Mumbai, usually order the following tests -
X-rays to determine broken bones or signs of arthritis
MRI or CT scans to reveal any damage in the nerves, muscles, spinal cord
Bone scans to assess bone tumors
Electromyography (EMG) measures the electrical impulses produced by the nerves. This test confirms nerve compression caused by herniated disks.
Treatment of Back Pain
Back pain usually resolves within a month of home treatment, but sometimes medical treatment is necessary.
It gets better with home remedies; for others, the pain may be severe and require medication.
Our doctors offer different back pain treatments in Chembur, Mumbai, depending on the type of back pain you have.
The doctors may recommend certain anti-inflammatory drugs such as ibuprofen, muscle relaxants, topical sprays, narcotics, or anti-depressants.
If any of these treatments don't work, the last resort is surgery. However, we strongly recommend consulting a doctor before you opt for surgery.
Request an appointment at Apollo Spectra Hospitals, Chembur, Mumbai
Call1860 500 1066 to book an appointment.
How to Prevent Back Pain?
Take regular walks
Workout to build muscle and strength flexibility
Maintain a healthy weight
Improve your posture
Conclusion
Back pain is a complex condition that affects people of different ages. Though back problems can be easily treated at home, severe cases may require surgery. Before taking any medications, we advise medical assistance.
Reference links:
https://www.mayoclinic.org/diseases-conditions/back-pain/symptoms-causes/syc-20369906
https://www.medicalnewstoday.com/articles/172943#signs_and_symptoms
When should surgery be considered?
If your back pain is severe and extends into the leg, you must immediately see a doctor. The doctor will let you know if surgery is required or not.
Why should you seek treatment for back pain?
There are many causes of back pain - muscle strain, arthritis, fractures, herniated disks. It is necessary to diagnose the cause of back pain if you want relief from the continuous ache.
What type of injuries can cause back pain?
Auto accident injuries, sports injuries, or workplace injuries may cause back pain. These injuries might tear the muscles in your back or dislodge the vertebral discs.
Can you reduce the risks for back pain?
Yes. All you need to do is eat a healthy diet, exercise regularly, and practice a good posture.

Book Appointment