Physiotherapy Treatment & Diagnostics in Chembur, Mumbai
Physiotherapy
Physiotherapy seeks to restore a patient's mobility after, say, an injury, illness or surgery. It includes exercising and other health and fitness procedures to improve the mobility and well-being of a patient.
Physiotherapy also helps sports persons go through a physical rehabilitation process and prevents them from suffering future injuries.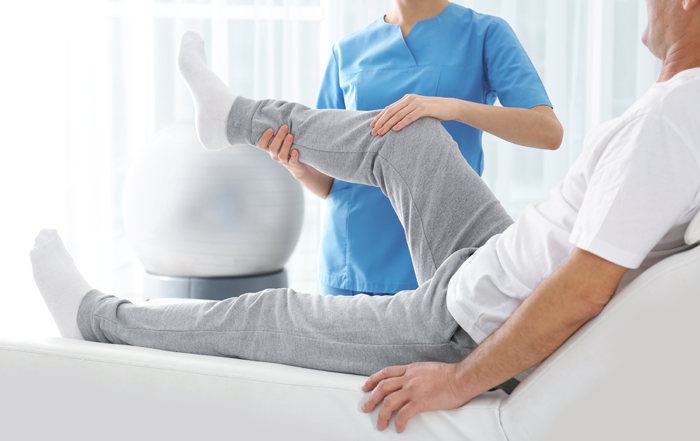 Why is physiotherapy needed?
Physiotherapy, done by a physiotherapist who has the required professional knowledge and degree, can be recommended in the following cases:
Problems in ligaments, joints, bones and muscles or arthritis issues
Difficulties in neck and body movement due to pain in muscles and bones
Need for rehabilitation after surgery
Issues in the pelvic part, like in the bladder and the bowel or due to problems from childbirth.
Problems in mobility because of trauma and other brain and spine injuries
Loss of strength in muscles, stiffness, pain, swelling and fatigue (e.g. during cancer treatment and palliative care)
To know more, consult an orthopedic specialist near you or visit an orthopedic hospital near you.
When do you need to see a physiotherapist?
For eliminating, reducing and preventing the pain, some specialized exercises are combined with therapeutic techniques. Consult a doctor before going for physiotherapy.
Request an appointment at Apollo Spectra Hospitals, Chembur, Mumbai.
Call 1860 500 2244 to book an appointment.
What are the benefits of physiotherapy?
Enhances mobility and functioning
Physiotherapy helps patients who are facing difficulties in body movement and functioning.
Physical therapy can help patients improve their joint movement, muscle quality, strength and stability.
Improvement in heart and lungs rehab
After a heart attack or cardiac surgery, physiotherapy plays a crucial role in improving the condition of patients. It helps in heart rehabilitation and curing of pulmonary problems. There are some specific exercises in physiotherapy which involve breathing and stretching, these will improve the respiration process as well.
Conclusion
There are myriad benefits of physiotherapy. Consult a doctor to know if you need physiotherapy.
What procedures do physiotherapists follow?
Physiotherapy plays an important role in providing treatment, rehabilitation and prevention from some conditions of acute and chronic pain. There are various types of methods that physiotherapists apply to treat their patients. Some Include acupuncture, therapeutic exercise, manual therapy and hydrotherapy.
Is it a short term process?
Physiotherapy is a long-term process in which you will have to attend sessions to assess the progress of recovery. Do not stop your exercises without getting permission from your therapist.
Is it a lifelong process?
It depends on a patient's condition. If he/she is suffering from a stroke or brain injury that needs to be taken care of within a short period of time, the patient will have to visit a therapist regularly as per the suggestions of a doctor. But if a patient is not suffering from a serious issue, two or three visits to a physiotherapist will work.

Book Appointment