Podiatric Services Treatment & Diagnostics in Chembur, Mumbai
Podiatric Services
Podiatrists are medical specialists in diabetic feet. Podiatrists have perfect knowledge of the diagnosis, treatment, and prevention of foot disorders.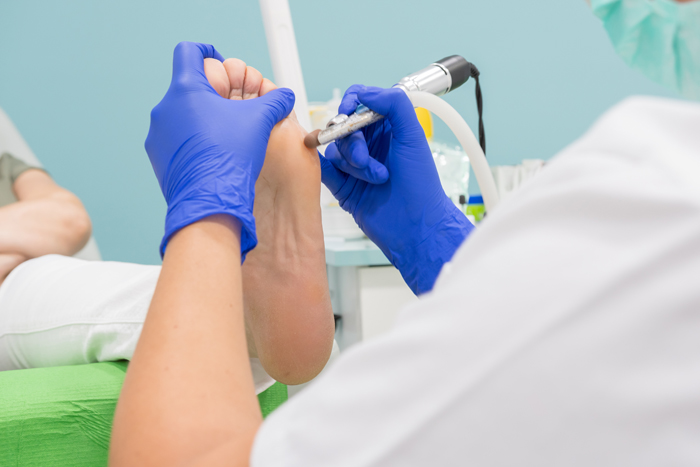 We tend to ignore our feet while maintaining our health. However, healthy feet are a vital component of our total well-being. Foot issues can have a significant influence on your quality of life. If they arise, podiatrists can help as they are experts in the care of the feet, ankles, and lower limbs. They can help in the prevention, diagnosis, and treatment of a wide range of diseases, including:
An ingrown toenail
Plantar fasciitis, a degenerative condition of the plantar fascia and a common cause of heel pain
Skin conditions affecting your feet
Sprains occur when ligaments get torn.
They can also help with foot problems caused by underlying medical issues like diabetes and arthritis.
What are the most common foot issues treated by podiatric services?
An ingrown toenail
Blisters from a fungal infection in the toes
Warts or hard, granular growths on the heels or balls of the foot.
Corn and hardened layers of skin that form because of friction and pressure
Calluses or hard patches of skin
A bunion, a bony lump that develops at the bottom of the big toe's joint.
Nail fungus
Foot infections where cellulitis is often the first sign of a soft-tissue infection
Smelly feet
Heel pain
Heel spurs due to calcium deposition on the inside of the heel bone
Flat foot
Neuroma, a painful condition, benign growth of nerve tissue
Arthritis, especially osteoarthritis
Foot injuries
What are the treatment options offered by podiatric services?
Corrective orthotics (foot braces and insoles)
Flexible casting and orthopedic casting systems for immobilizing and supporting fractured body parts
Amputations
Foot prosthetics
A bunionectomy surgery
Wound treatment
You can request an appointment at Apollo Spectra Hospitals, Chembur, Mumbai.
Call 1860 500 2244 to book an appointment.
Conclusion
Bunions, heel pain, spurs, hammertoes, neuromas, ingrown toenails, warts, corn, calluses, sprains, fractures, infections, and trauma are all common foot problems treated by podiatrists.
Is it possible for a podiatrist to help with toenail problems?
Yes, in most circumstances, they assist patients with toenail care regularly. While clipping toenails may appear to be a simple matter of grooming, many patients have toenails or foot disorders that prevent them from cutting them without expert help. A podiatrist can cure thicker nails, fungal nails, and ingrown nails.
When should you seek the services of a podiatrist?
If you have problems with your foot or ankle, a sports injury, arthritis/joint discomfort, or skin concerns, visit a podiatrist.
What are the crucial parts of our feet?
The foot is a complex part of the body, with 26 bones, 33 joints, 107 ligaments, and 19 muscles.

Book Appointment