Sleeve Gastrectomy Treatment & Diagnostics in Chembur, Mumbai
Sleeve Gastrectomy
Bariatric surgery is one of the several treatment options available for weight loss for patients with extreme obesity. Vertical sleeve gastrectomy, also known as gastric sleeve surgery, is a bariatric surgery technique that involves removing 70-80% of the stomach. This surgery technique restricts the amount of food you take and helps you to lose weight. This sleeve gastrectomy has become more popular because of its technical simplicity and fewer complications.
For treatment, you can visit any of the bariatric surgery hospitals in Mumbai. Or you can search online for a bariatric surgeon near me.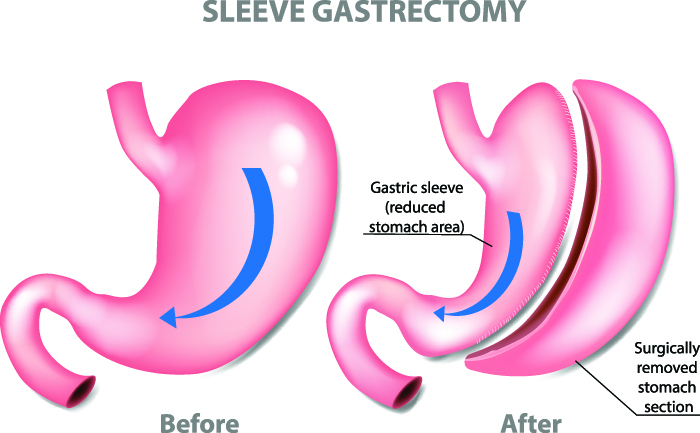 What is sleeve gastrectomy?
Gastric sleeve surgery is a laparoscopic surgery performed by injecting small tube-like instruments to divide the stomach into two parts. The larger part is removed to make it look like a sleeve. This type of weight-loss surgery is done to reduce the stomach volume and decrease hunger pangs (because a ghrelin hormone associated with hunger is removed). It also increases stomach motility, which allows food to pass through the stomach and intestine more quickly.
Why is sleeve gastrectomy surgery conducted?
Sleeve gastrectomy or any other type of bariatric surgery is preferred only after you have tried losing weight by diet and physical exercises for at least six months or more. Doctors recommend the treatment to people with a body mass index of 40 or above. Or if you have other weight-related conditions like diabetes, sleep apnea, high blood pressure and heart diseases.
How is sleeve gastrectomy performed?
Surgeons perform the sleeve gastrectomy surgery by administering general anesthesia. They make small incisions on the abdominal wall for inserting a bougie tube, a straight, semi-rigid device with a bent tip. After inserting the tube, surgeons remove the bigger portion of the stomach with the help of a stapler. The remaining, new-fashioned stomach has about 20-25% volume of the initial stomach. It takes an hour or two to complete the procedure.
What are the benefits of sleeve gastrectomy?
Some benefits of vertical sleeve gastrectomy surgery include:
Elimination of dumping syndrome
Minimal chances of ulcers
70% extra weight loss
Improved medical conditions associated with obesity
Fewer chances of intestinal obstruction, osteoporosis, anemia
What type of post-operative care is necessary after sleeve gastrectomy surgery?
After the surgery, you might feel a little pain at the incision site, which is manageable with medications. The recovery period is shorter, and you can go back to work after 2-4 weeks. The surgeons will discharge you within two days after monitoring your health and recommending a diet plan.
Your diet starts from the first day with unsweetened liquids for the first two weeks, when you can include protein shakes, yogurt, milk and juice in your diet plan. It is followed by a soft food diet for the next 2-3 weeks and regular foods after the 5th week of surgery. A bariatric surgeon will instruct you to take multivitamins, calcium and vitamin B12 injections.
What are the risks associated with the surgery?
Hemorrhage
Leakage from the staple line
Deep vein thrombosis
Heartburn
Nutrient or vitamin deficiency
Slight weight regain after 1 or 2 years
Excess skin
Gastrointestinal obstruction
Hypoglycemia
When do you need to consult a bariatric surgeon?
You may encounter specific body changes in the first six months because of rapid weight loss and changes to your diet. Alternatively, you might feel fatigued, have body pain within the first two weeks, and other modifications include dry skin and hair thinning. So you may require regular checkups in the first few months after the surgery.
You can request an appointment at Apollo Spectra Hospitals, Chembur, Mumbai.
Call 1860 500 2244 to book an appointment.
Conclusion
Gastric sleeve surgery is a laparoscopic technique that offers several benefits compared to other types of bariatric surgery. It is one of the proven corrective techniques for weight loss and other obesity-related comorbidities. Proper diet and exercises help you regulate your weight after the surgery. Consult a bariatric surgeon near you to know if you qualify for the procedure.
References:
http://surgery.ucla.edu/bariatrics-gastric-sleeve
https://www.mayoclinic.org/tests-procedures/sleeve-gastrectomy/about/pac-20385183
https://www.webmd.com/diet/obesity/what-is-gastric-sleeve-weight-loss-surgery#1
How is gastric sleeve surgery different from gastric bypass?
Gastric bypass, a bariatric surgery, involves creating a small pouch-like structure after bypassing a larger part of the stomach and the intestine. In sleeve gastrectomy surgery, surgeons remove 80% of the stomach. Sleeve gastrectomy has more advantages and is free of long-term complications. In addition, sleeve surgery has a low chance of malabsorption.
How much weight will I lose after a sleeve gastrectomy?
Patients who undergo the surgery may expect to lose 60-80% of the extra weight within 12-24 months. It depends on how they regulate their weight with a proper diet and exercise.
What should I do if the surgery does not work?
Although the success rate of sleeve gastrectomy is 80-90%, there are slight chances of you not losing weight or regaining some weight post-surgery. Here, you can schedule an appointment with your bariatric surgeon to monitor your changes and any complications.

Book Appointment