Gastric Banding Treatment & Diagnostics in Chembur, Mumbai
Gastric Banding
As the weight of a person increases beyond healthy BMI levels, they could face multiple health complications. High blood pressure (hypertension), high blood sugar (hyperglycemia), and type-2 diabetes (t2dm) are some of the common health issues associated with obesity. Thus, a significant field of medical science is dedicated to reducing obesity and preventing these comorbidities.
The branch of medicine that involves the treatment and prevention of obesity is called Bariatrics. Bariatric doctors advocate weight-loss regimes for their patients through diet, exercise, and behavioral therapy. Bariatric surgery (metabolic) is recommended for patients suffering from severe/chronic obesity, to treat the serious health risks caused by their weight.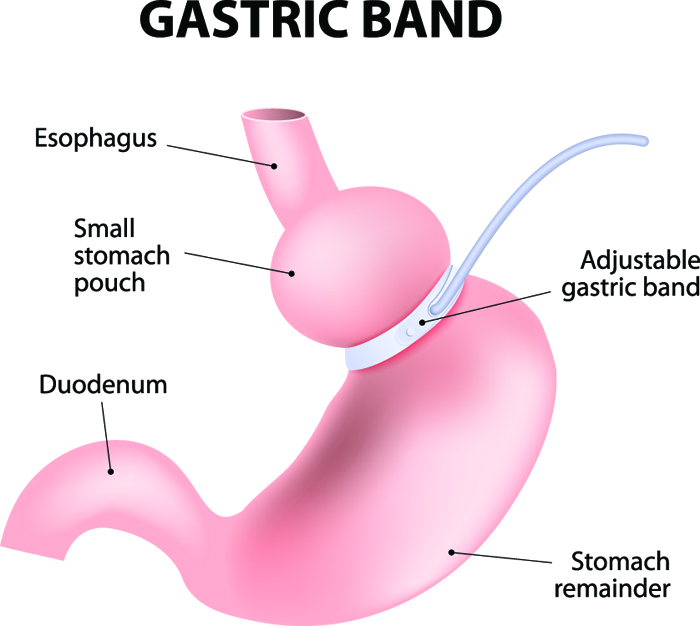 Gastric Banding
Gastric banding is a bariatric surgery that is carried out by placing an inflatable band around the stomach of a patient. A laparoscope is used to look at the abdominal organs, as the surgeon places the inflatable band at the top of the stomach. The band tightens to create a smaller pouch at the upper region of the stomach.
The smaller pouch reduces the total capacity of the stomach to hold food at a given time. Thus, the gastric band helps to make the patient feel full and sated with a smaller meal. An under-the-skin access port is connected to the band, to adjust the tightness by injecting saline solutions in it.
Who qualifies for gastric banding?
The medical guidelines dictate that people with a Body Mass Index (BMI) of 35 or above qualify for gastric banding surgery. People with 30-35 BMI who suffer from weight-related issues such as obesity, hypertension, sleep apnea, etc. are also advised to undergo gastric banding. If obesity-related complications are observed in a patient, or other non-surgical alternatives did not produce considerable improvement, gastric banding is suggested. It is better to consult an experienced surgeon to check if you qualify for gastric banding surgery.
You can request an appointment at Apollo Spectra Hospitals, Chembur, Mumbai.
Call 1860 500 2244 to book an appointment.
Doctors and surgeons will recommend gastric banding depending on a patient's health conditions and the severity of the contributing factors. Doctors will advise against a gastric bypass if the patient has a drug/alcohol abuse disorder, psychological disorder, or other digestive/health complications.
Why is gastric banding conducted?
Overweight and obese people often suffer from eating disorders, or the inability to feel sated even after having a full meal. In such a case, your caloric intake is higher than your capacity to digest and process food. Hence, it will be difficult to restrict the food intake and get the weight under control.
The gastric banding places a silicone adjustable band that divides the stomach and creates a smaller pouch. Postsurgery, even a small portion of a meal will make you feel full. The food in the upper pouch will slowly move to the remaining part of the stomach.
Benefits of gastric banding The primary benefit of gastric banding surgery is to help the patient lose weight effectively. Though the weight loss takes place gradually and involves major lifestyle changes, the long term benefits of the surgery offer improvement from disorders like:
Asthma
GERD
Sleep Apnea
Type 2 diabetes
Hypertension
High cholesterol
An overall reduction in your weight improves your mobility and physical conditions. This enables you to exercise, and also promotes stress reduction and improved mental health. If you wish to treat your obesity and prevent these disorders, consult a bariatric surgeon near you.
Request an appointment at Apollo Spectra Hospitals, Chembur, Mumbai.
Call 1860 500 2244 to book an appointment.
Risks or complications of gastric banding
Being a surgical procedure, gastric banding has a few risks associated with it. Though these risks are not universal, patients should be well aware of them before undergoing this weight loss surgery.
The gastric band could slip from its position.
The band could erode the outer skin of the stomach.
Gastritis, ulcers, erosion of the inner lining, scarring.
Infection at the site, or the access port.
Access port flips or goes out of reach.
Ruptured tubing.
Injury, blood loss, or blood clots.
Heart attack or stroke.
Malabsorption

Conclusion
After undergoing gastric banding surgery, the patient may be discharged on the same day. The surgery takes around 2 hours to complete, and the patient has to follow a liquid diet for at least 6 weeks. They can later shift to soft foods, as they get accustomed to the smaller pouch of their stomach.
Thus, gastric banding surgery has its own set of complications. Nevertheless, it is one of the best bariatric surgery that has displayed promising results in weight loss among obese patients. The comorbidities caused by obesity were reduced among patients that have undergone gastric banding.
How much food can I eat after gastric banding?
With a gastric band, a stomach can hold up to 250 ml, or 1 cup of chewed food. This is ¼ of the total capacity of an adult's stomach.
Gastric banding is a safer bariatric surgery as the complications are very few, and the risk of death is the least in it.
How much weight loss is observed after gastric banding?
A person loses almost half of their excess weight with the help of a gastric band. But such weight loss is slow as they lose almost 1 kg per week.

Book Appointment