Best Ankle Joint Replacement Treatment & Diagnostics in Chembur, Mumbai
It is a surgical procedure that is performed to replace a non-functional or painful ankle joint with an ankle prosthesis. It is a complex procedure and is considered only when the patient does not respond to other treatments. For guidance and hassle-free treatment, it is better to consult the best orthopedic surgeon in Mumbai.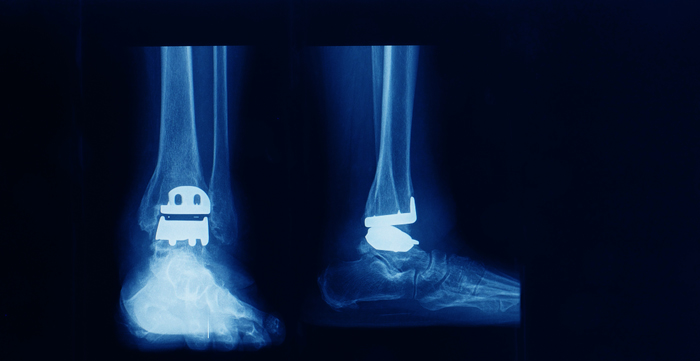 What is ankle joint replacement surgery?
An ankle joint replacement surgery is the removal and replacement of the damaged or injured joint in the ankle with a plastic or metal implant.
The procedure is most commonly performed in patients suffering from severe arthritis. Arthritis can affect the ankle joint and over time cause the smooth cartilage on the bones to damage and wear away. Wearing off may lead to pain, inflammation, and swelling in the ankle joints.
Through ankle joint replacement surgery, the doctor may be able to eliminate the pain or inflammation and restore full mobility in your ankles.
Who qualifies for the procedure?
Generally, people with severe arthritis may show the following symptoms:
Severe pain in the ankle
Inflammation and swelling
Stiffness
Inability to walk
If you have any of the above symptoms, visit the best ankle arthroscopy doctor in Chembur, Mumbai.
Other illnesses that may require this surgery are:
Rheumatoid Arthritis: It is an auto-immune disease that affects the joints in different parts of the body.
Osteoarthritis: This condition usually occurs in people over the age of 60. It causes the 'wear and tear' of the bones and leads to pain in the bones.
If you suffer from mild or moderate arthritis, your doctor may first prescribe pain medicines, physical therapy, or corticosteroid injections. If none of the treatments work, then your doctor may ask you to undergo an ankle joint replacement surgery.
For more information about the procedure,
You can request an appointment at Apollo Spectra Hospitals, Chembur, Mumbai.
Call 1860 500 2244 to book an appointment.
Why the procedure is conducted?
Several reasons may require a patient to undergo ankle joint replacement surgery. They are:
Chronic Ankle Pain: A chronic pain in the ankle due to an injury or trauma may require the ankle to be replaced.
Disability: Limited mobility in the ankle or loss of motion in the ankle may also necessitate its urgent replacement.
Weakness in the ankle: If the bones in the ankle are wearing off due to a decrease in calcium or osteoporosis, you may suffer from a weakened ankle and lose mobility. Through ankle replacement procedure, the mobility in the ankle can be restored and prevented from further deterioration.
Fracture: Severe ankle injuries and fractures may lead to a loss of mobility in the ankle. Having a total ankle replacement may be required in such cases to restore function.
What are the benefits of ankle joint replacement surgery?
The benefits of ankle joint replacement surgery are as follows:
Restores complete mobility in the ankle
Relieves sharp pain and aching in the joint
Allows you to resume your daily activities without any complications
What are the risks or complications of the surgery?
Ankle joint replacement surgery has a high success rate, but it does carry some risks. They are:
Infection in the joint
Damage to the nearby nerves during surgery
Bleeding or clots
Misalignment of the bones
Development of arthritis in nearby joints
Loosening of the plastic or metal components that may require another surgery
Consult the best orthopedic surgeon to ensure successful ankle arthroscopy surgery in Mumbai.
Conclusion
Ankle joint replacement surgery is one of the most commonly performed surgical procedures. It is the best surgical method to treat arthritis in the ankles. It is also safe and rarely leads to any complications. Consult your orthopedic surgeon if you have any doubts before the surgery and go for checkups regularly after surgery to ensure proper recovery.
References:
https://www.google.com/amp/s/www.hopkinsmedicine.org/health/treatment-tests-and-therapies/ankle-replacement-surgery%3famp=true
https://www.mayoclinic.org/tests-procedures/ankle-surgery/about/pac-20385132#:~:text=Ankle%20replacement,-For%20an%20ankle&text=In%20this%20procedure%2C%20the%20surgeon%20removes%20the%20ends%20of%20the,arthritis%20developing%20in%20nearby%20joints.
What is the recovery time for an ankle replacement?
The recovery time for ankle joint surgery may vary from person to person. The non-weight-bearing part of the ankle may take up to 4 to 6 weeks for recovery.
What happens when an ankle replacement wears out?
Most of the plastic or metal ankle replacements last up to 10 years after surgery. However, they may wear out over time and you may require another surgery to replace them. Visit the nearest ankle arthroscopy surgery hospital in Mumbai for a check-up.
How long after ankle replacement surgery can I walk?
It may take anywhere from 6 months to one year for the full restoration of movement in the ankle after surgery. This means you will be able to walk without any external help or crutches one year post-surgery.

Book Appointment