Wrist Arthroscopy Surgery in Chembur, Mumbai
Wrist arthroscopy is a procedure to diagnose and treat issues in the wrist joint. The arthroscopic approach is minimally invasive, which means you will recover faster with less pain. Persistent wrist pain, swelling and stiffness are symptoms of damage or injury to the wrist joint. Your doctor will opt for arthroscopy to find the cause of your pain.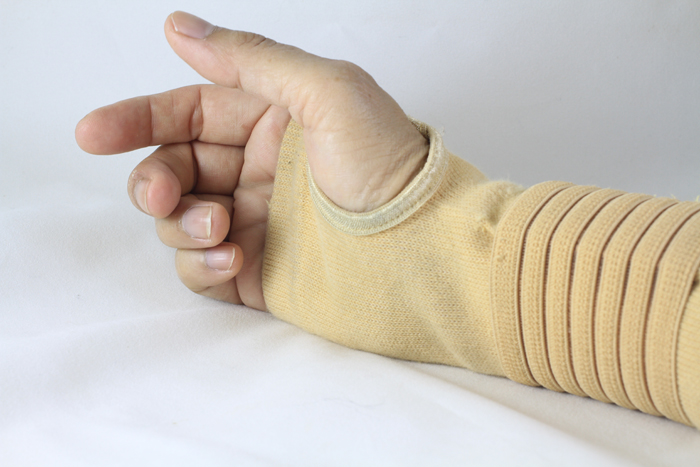 What do we need to know about wrist arthroscopy?
An arthroscope is a small fiber-optic camera inserted through an incision to allow your surgeon to see what's affecting your wrist joint.
The surgeon will see images from the camera on a monitor that helps him or her inspect all tissues in the wrist. The surgeon will then make the necessary fixes with a set of small surgical tools.
The duration of the procedure depends on the nature and severity of the problem. You will be administered regional anesthesia.
The patient will need to work with a physical therapist to restore full strength and motion of the joint following the surgery.
If your doctor detects severe damage through arthroscopy, he or she will recommend open surgery to resolve the problem.
To avail of the procedure, you can search for an orthopedic doctor near you or an ortho hospital near you.
What are the conditions that may lead to wrist arthroscopy?
Fracture - In case of wrist fracture, you will have to undergo wrist arthroscopy.
Wrist pain - Arthroscopy helps find the cause, manage extreme pain and treat loss of hand control.
Carpal Tunnel Syndrome - If you have carpal tunnel syndrome, you need to undergo wrist arthroscopy to take the pressure off the nerves.
Ligament or TFCC tear - To repair the tears, you need to undergo wrist arthroscopy.
Ganglion cyst - Fluid-filled cyst in the wrist can be treated with this procedure.
Why is the procedure conducted?
Your doctor will conduct a wrist arthroscopy:
To remove the loose bits and smoothen the cartilage damage causing chronic wrist pain
To realign and stabilize wrist fractures
To remove fragments of bones from distal radius fracture
To remove ganglion cysts from your wrist
To repair the ligament tears of your wrist
To eliminate infections from your wrist joint
To remove excess joint lining or inflammation due to rheumatoid arthritis
When do you need to see a doctor?
If you suffer from any of the conditions mentioned above, consult a doctor who may suggest arthroscopy.
You can request an appointment at Apollo Spectra Hospitals, Chembur, Mumbai.
Call 1860 500 2244 to book an appointment.
What are the benefits?
Easier to diagnose and treat various types of wrist injuries at the same time
Complete wrist injury treatment within one or two surgical procedures
Minimally invasive, which means smaller incisions
Minimal soft tissue trauma
Less postoperative pain
Faster healing time
Lower infection rate
What are the risks?
Weakness of the wrist
Failure to repair or heal the damage
Injury to tendon or a nerve
Bleeding or clotting
Infection
Excessive swelling or scarring
Joint stiffness
Conclusion
Wrist arthroscopy is by and large a safe procedure. Consult an orthopedic surgeon near you to know about the pros and cons of the procedure.
Is wrist arthroscopy painful?
You will be unconscious and unresponsive during your procedure because of general or regional anesthesia. Your arm will get numb for many hours if you get a regional anesthetic. You will also have no sensations during the operation. Following your arthroscopic treatment, you should expect some moderate discomfort and pain. Your orthopedic doctor will prescribe pain medication and suggest that you apply ice to your joint — this helps in reducing pain and edema. While the joint heals, make sure your bandages are clean and dry.
How soon will I recover from a wrist arthroscopy?
Arthroscopy is usually an outpatient procedure, and you will be able to leave the hospital the same day. Your wrist and hand will remain swollen and painful for up to 3 weeks after the surgery. Keep the wrist elevated for the first few days. You can use an ice pack for the swelling. In some cases, the doctor may ask you to wear a splint for a few days to keep the joint stiff. Most people undergoing wrist arthroscopy recover within a couple of weeks and get back to all normal activities. The wrist movement and strength will improve over time with exercise. Limit your activities until the pain and swelling subside entirely.
How do you prepare for the procedure?
Talk to your surgeon about all your regular medications, supplements and allergies. Your doctor will ask you to make adjustments or temporarily stop some medicines if required, especially blood thinners.
It's best to get health conditions like diabetes and high blood pressure under control before the surgery.
Stop smoking. It can help your wound heal faster.
Your doctor will ask you for a physical examination and blood test to check your overall health condition before the surgery.
Do not eat solid food or drink after midnight or eight hours before the surgery as instructed by your doctor.
Arrange help to drive you back home or help you out at home while you rest and heal.

Book Appointment