Urology is a branch of medical science concerned with diagnosing and treating problems related to male and female urinary tract systems and the male reproductive system. A urology specialist near you can treat urinary tract problems, along with male reproductive system abnormalities.
Any difficulty with urination, male infertility, prostate enlargement, and erectile dysfunction can be related to urological abnormalities. You can easily search for a urology hospital or urology doctor near you if you suspect sexual or urinary issues.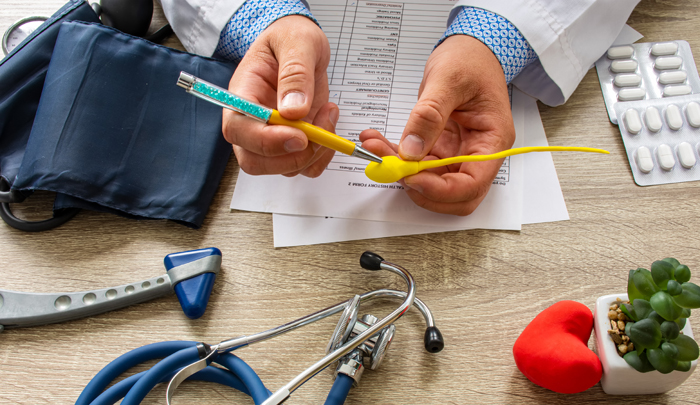 What are the Types of Urological Problems in Men?
Cancer
Kidney, bladder, and cancer-related.
Penile cancer.
Testicular cancer.
Prostate cancer.
Benign Prostatic Hypertrophy.
Prostatitis.
Infertility issues
Penile reconstruction surgeries.
Erectile dysfunction.
Treatment for an enlarged prostate gland.
Sexual dysfunction.
Other male reproductive and urinary tract health issues:
Incontinence or involuntary urination.
Testosterone deficiency.
Deformity of the penis.
Premature ejaculation.
A lack of sexual desire.
Mental health issues.
What are the Symptoms of Urological Problems?
Genital pain.
Lower back pain.
Fever and chills.
Breathing difficulties.
Pain or burning during urination.
Blood or other discharge through urine.
Loss of bladder control.
An enlarged prostate.
Trouble keeping an erection.
What are the Causes of Urology Problems?
Smoking causes a low sperm count.
Alcoholism and a few antidepressant drugs can cause urological issues.
High cholesterol.
High blood pressure.
Diabetes.
A low testosterone level or hormonal imbalance.
Obesity.
Depression/trauma.
Nervous system disorders like Parkinson's disease.
Stress.
Aging.
When to See a Doctor?
If you notice any of the following, contact a urology specialist near you immediately.
Blood in the urine.
An enlarged prostate gland.
Pain in the stomach, lower abdomen, back pain, etc.
A burning sensation during urination.
Difficulty keeping your penis erect.
You can request an appointment at Apollo Spectra Hospitals, Chembur, Mumbai.
Call 1860 500 2244 to book an appointment.
What are the Common Tests for Diagnostics and Treatments in Urology?
Diagnostics
Prostate biopsy- It is a diagnostic technique in which a prostate sample is taken for biopsy.
Cytology- It is a urine test that examines abnormal cells or tumors in urine.
Cystoscopy- It examines the inner lining of the urinary bladder and urethra with a cystoscope in cases of recurrent urinary tract infections, tumors, and blood-filled urine.
Intravenous pyelogram or urogram- It is an examination of the upper urinary tract with the help of a dye. The images obtained tell doctors about how the dye spread through the kidney and ureter.
Computerized tomography (CT) scan- It is used to examine the inside of the kidney for lesions or abnormal masses.
Urodynamics- It is used to examine the functioning of the lower urinary tract, bladder, and urethra.
Benign Prostatic Hypertrophy score- It is a scored questionnaire that evaluates the severity of the condition and not necessarily the size of the prostate.
Abdominal ultrasound- It is a test to examine the abdominal organs with the help of a gel and a handheld device that scans the organ and reports issues.
Vasectomy- It is a method to cut a part of the tube that carries sperms to reach the ovum and prevents conception.
Nephrectomy- It is a method of removing a kidney to treat cancer.
Treatment
Testosterone replacement therapy and other hormone replacement therapies can be used.
Penis deformity correction therapy includes using a device to correct deformity, a penis implant surgery, or surgery to correct the penile deformity.
Using a vacuum erection device to keep an erection.
It includes medications for erection problems - pills like Viagra, Levitra, and shots like Alprostadil.
Counseling for depression and stress regarding sexual problems is normal. You need not be ashamed of it.
For kidney-related issues, medications like antibiotics, surgery, and transplant for kidney impairment are suggested.
Conclusion
Urology deals with the diagnosis and treatment of the urinary system and abnormalities of the male reproductive system. Drugs, alcohol, smoking, obesity, aging, stress, etc., can cause urological issues in a patient. Surgery, implants, hormone replacement therapy, and medications are a few common andrology treatments suggested.
Which age group is more susceptible to prostate cancer?
Men over forty should regularly visit a urology hospital and consult a urology specialist near them to check for prostate cancer.
Is a vasectomy reversible?
Yes, it is reversible, but only for a few years. If you wish to reverse it, you should not wait for more than 20 years.
How to treat stress arising out of the inability to perform sexually?
Getting counseling is the best way to treat stress, depression, and anxiety arising from an inability to perform sexual activities or related issues.
How can I maintain good urological health?
You should maintain good overall health, exercise daily, maintain proper body weight, and avoid tobacco, alcohol, and diuretics. As soon as you reach 40, you should regularly visit a urology specialist and keep your health in check.
What increases the risk of incontinence in men?
Smoking, drinking alcohol, and consuming tobacco increase the risk of incontinence in men. But there can be many other reasons for incontinence. However, caffeinated drinks, obesity, family history, and lifestyle play a major role in increasing the risk of incontinence.

Book Appointment