Total Elbow Replacement Surgery in Chembur, Mumbai
Our elbow joints are vital to normal functioning in daily life and susceptible to some degree of wear and tear over time. The total elbow replacement procedure is comparatively less common than knee and hip replacement surgeries but just as effective in treating joint pain. If you are looking for treatment options for your joint pains, orthopedic doctors in Mumbai can help you consider your options and decide if a total elbow replacement will be the best for you.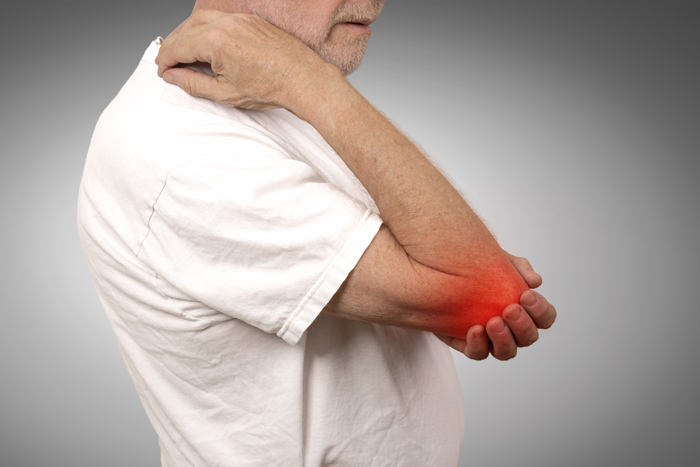 What is Total Elbow Replacement?
Our elbows can be damaged due to reasons ranging from arthritis to traumatic fractures and injuries. While surgical repairs are possible in some cases, extensive damage can be fixed only with total replacement surgery. Unmanageable pain often leads patients to explore this option.
The surgery involves replacing your elbow with artificial joints having two implants that connect to the bones in your arm.
The type of procedure depends on the severity of damage to your joint. In some cases, just a portion of the joint will need replacement, while others may need the entire joint to be replaced. There are also two types of prosthetics used for the surgery.
Linked - Acts as a loose hinge and all parts of the replacement joints are connected.
Unlinked - Two unconnected separate pieces, the surrounding ligaments help hold the joint together.
Should You Opt for Total Elbow Replacement?
If you have persistent pain or numbness in your elbow that is interfering with your daily functioning, then you should consult a doctor. A specialist like an orthopedic can recommend if the procedure is the best solution for you.
Why is the Procedure Conducted?
Total elbow replacement surgery is recommended for people with extensive damage to the elbow joint resulting in pain and restricted movement of the joint. Some of the conditions that cause elbow pain and disability are:
Rheumatoid Arthritis
Osteoarthritis
Severe fracture
Severe tissue damage or tear
Tumour in and around the elbow
If you have been experiencing joint pains, suffered a fracture at the elbow, or considering a replacement surgery due to any of the above reasons, reach out to the orthopedic specialists in Mumbai.
You can request an appointment at Apollo Spectra Hospitals, Chembur, Mumbai.
Call 1860 500 2244 to book an appointment.
Benefits of Total Elbow Replacement
Pain relief
Restore functional mechanics of the joint
Restores unrestricted motion
Stability
What are the Risks or Complications Involved?
Preparation for even the most simple and successful procedure includes being aware of possible complications. The common complications that can occur are:
Infection
Broken bone
Allergic reaction to implants
Injury to blood vessels and nerves
Stiffness of joints
Loosening of artificial parts
Pain
Bleeding or clots during the surgery
When discussing complications, it is also important to understand the limitations of the procedure. The main one being the permanent restriction of lifting heavy objects. There is also the possibility of wear and tear of the implants over time, especially in the case of young adults.
Conclusion
Total elbow replacement surgery will help relieve pain and disability caused due to degenerative joint issues. It is essential to undergo surgery to resolve symptoms and restore or improve elbow functions. Comprehensive physiotherapy is crucial for the complete success of the surgery and to prevent future problems.
References:
https://medlineplus.gov/ency/article/007258.htm
https://www.webmd.com/rheumatoid-arthritis/elbow-replacement-surgery
https://orthoinfo.aaos.org/en/treatment/total-elbow-replacement/
What is the post-operative care recommended after elbow replacement surgery?
Elbows to be elevated above shoulder overnight.
The compressive dressing will be removed the day after surgery and replaced with a light dressing.
An occupational therapist will explain how to go about the daily activities and also help you work with a collar and cuff.
Avoid elbow extension for about 3 months post-surgery.
Avoid strengthening exercise, avoid lifting anything heavier than 2.5 kg.
What is the recovery period for the total elbow replacement procedure?
The procedure usually takes about 2 hours and is performed under anesthesia. You will have to stay at the hospital for 4 days after the surgery. Your doctor will prescribe 1-2 weeks of pain medication when you get discharged.
Your elbow will be tender for 3-4 weeks. You will be in a soft splint for the first week after surgery and a hard splint after the incision dressing is removed. It is advisable to have someone to help you around for up to 6 weeks while you heal and recover at home.
It can take up to 12 weeks to start using your elbow completely and up to a year for full recovery and rehabilitation. Physiotherapy will play a major role in complete recovery.
How to prepare for a total elbow replacement surgery?
Your orthopedic surgeon will ask you to schedule a complete physical examination a week before the surgery to ensure you are healthy enough to go through the surgery and make a complete recovery. It is important to discuss all your medications and supplements with the surgeon. If required you will have to stop some medications temporarily for the surgery. Arrange for support, when you get back home after surgery for your recovery period.

Book Appointment