Fistula Treatment & Diagnosis in Sadashiv Peth, Pune
Fistula A fistula is a tunnel that connects two body parts, like an organ and blood vessel, and other body structures. An anal fistula runs from the inside of your anus to an opening in the skin around it. These are usually caused by an injury, like during surgery. It also results from infection or inflammation that does not heal the right way. Pain and swelling around the anus are the symptoms of an anal fistula.
What is an anal fistula?
An anal fistula is a small tunnel that connects an infected cavity in the anus to an opening in the skin around the anus. The anus is the opening through which the waste from your body is expelled. There are a number of small glands inside the anus that make mucus. These glands can get clogged and infected. This can lead to an abscess which may develop into a fistula.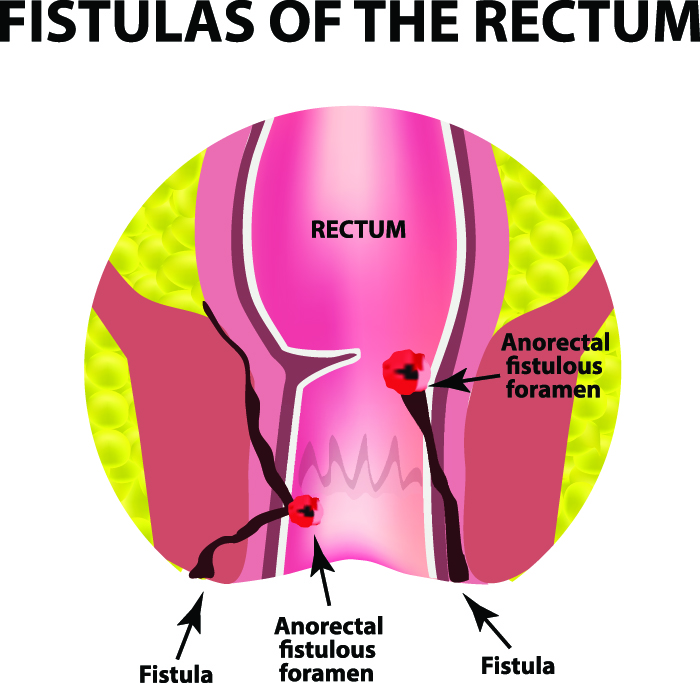 What causes an anal fistula?
The primary cause of anal fistula is blocked glands. It leads to infection with bacteria buildup that can lead to an abscess. The abscess grows into a fistula if not treated. It makes its way to the outside in the skin around your anus to drain the waste. The other less common causes of an anal fistula are as follows:
Tuberculosis
Ongoing illness that affects your bowel movements like Crohn's disease or ulcerative colitis
Radiation treatment for cancer
Diverticulitis
Sexually transmitted diseases
trauma
What are the symptoms of anal fistula?
The symptoms of an anal fistula are as follows:
Pain and swelling around your anus
Bleeding and discharge
Frequent anal abscesses
Bloody or pus-like discharge from an opening around the anus.
Bleeding
Pain during bowel movement
Fever, chills, and a general feeling of fatigue
When to see a doctor?
If you face the above symptoms, you must see a doctor.
Request an appointment at Apollo Spectra Hospitals, Pune
Call 1860-500-2244 to book an appointment
What are the treatments for an anal fistula?
There are no medications to treat an anal fistula and surgery is the only treatment method. The surgery is performed by a rectal or a colon surgeon. Your doctor ensures that the anal sphincter muscles are protected while getting rid of the fistula. In cases where no to little sphincter muscles are involved, your doctor will perform fistulotomy. In this procedure, the fistula is converted from a tunnel into an open groove. Your doctor will cut the skin and muscle surrounding your anus. A plug is used to close the fistula.
In the case of a more complex fistula, a tube called seton is put into the opening. This works as a drain and stays in place for at least six weeks. A second surgery is performed after this. This can be a fistulotomy, an advancement flap procedure, or a lift procedure.
In the advancement flap procedure, the fistula is covered with a flap. This flap is a tissue taken from your rectum. The fistula is tied off in the lift procedure.
Conclusion:
An anal fissure is a tunnel-like opening that connects your glands in the anus to the opening in your skin. Infection or inflammation in these glands leads to the formation of abscesses which further grows into a fistula. It can be only treated with surgery. There are no medications to treat an anal fistula but surgery is an effective treatment option. There might be changes in your bowel movements after the surgery.
How is anal fistula diagnosed?
Your doctor will examine the area around your anus to find any opening on the skin. He or She will then determine the depth and direction of the tract. Sometimes, the fistula is not visible on the surface of the skin. Then following additional tests might be performed:
Imaging tests like X-rays and CT scan
An anoscopy where the inside of your anus and rectum can be viewed
Your doctor might perform a colonoscopy during which a tube with a camera will be inserted inside your anus to look at the inside of your bowels
Is any follow-up treatment necessary for an anal fistula?
Your doctor will give you stool softeners and laxatives for a week after the surgery. You will be recommended to soak the affected area in warm water. You will be given medications to relieve the pain in the area. Usually, your doctor will inject you with a local anesthetic like lidocaine to decrease your pain.

Book Appointment