Arthroscopy
What is arthroscopy?
Arthroscopy is a surgical procedure that enables doctors to study, diagnose, and treat various disorders and diseases of joints without making large incisions.
What should you know about arthroscopy?
An orthopedic specialist in Karol Bagh inserts a thin fiber-optic tube through a tiny incision during an arthroscopy. It has a button-sized camera at one end that relays the images of joint structure to a video monitor. Surgeons can study the extent or nature of damage to the joints by using arthroscopy.
Arthroscopy also allows the use of special pencil-thin surgical instruments to repair the injuries. An orthopedic doctor in New Delhi makes additional incisions to introduce these instruments and perform the procedure while viewing the images on the monitor. Most arthroscopy procedures do not require a hospital stay.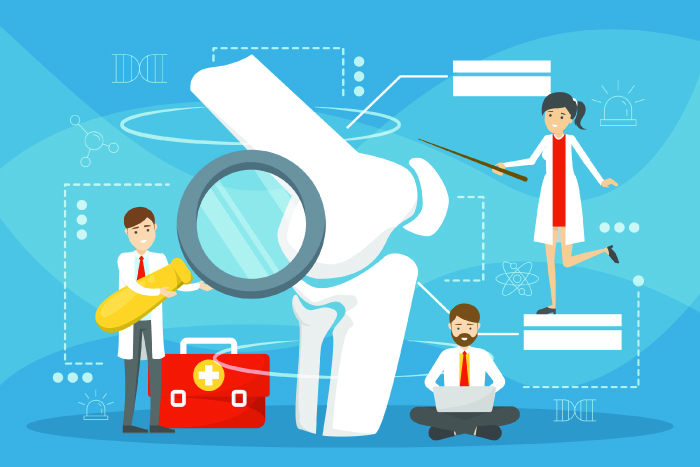 Who qualifies for arthroscopy?
You will require an arthroscopy if the doctor needs to verify the findings of X-ray and other imaging tests. Your doctor may recommend arthroscopy to diagnose conditions of the following joint structures:
Knee joints
Elbow joints
Shoulder joints
Wrist joints
Hip joints
Ankle joint
Besides, you may need arthroscopy for treatment of bone and joint conditions such as:
Ligament tear
Cartilage damage
Inflammation of joints
Presence of bone fragments in the joint
Why is arthroscopy performed?
Arthroscopy is a standard procedure in any reputable orthopedic hospital in New Delhi. Doctors may adopt arthroscopy or combine surgery and arthroscopy for the following treatments.
Repairing torn ligaments
Removing the connective tissue lining of joints
Rotator cuff repair
Releasing carpal tunnel
ACL reconstruction in the knee
Total replacement of knee joint
Removing loose fragments of cartilage or bones in the joints
What types of arthroscopy procedures are available?
Any reputed orthopedic hospital in Karol Bagh offers the following arthroscopy procedures:
Knee arthroscopy - Includes surgery for torn cartilage, microfracture, cartilage transfer, and knee-replacement
Wrist arthroscopy - An orthopedic surgeon performs arthroscopy to treat fractures or injuries to the wrist.
Shoulder arthroscopy - Arthroscopy is suitable for shoulder arthritis, repair of tendons, rotator cuff repair, and shoulder instability.
Ankle arthroscopy - The procedure is helpful to repair cartilage damage, remove bone spurs, and treat ankle pain
Hip arthroscopy - Arthroscopy is a standard procedure to repair a hip labral tear.
What are the benefits of arthroscopy?
Arthroscopy offers a wide range of applications for examination, diagnosis, and repair of joint structures. The following advantages of arthroscopy are worth considering:
Tiny incisions
Lower chance of bleeding
Less possibility of infections
Less pain after surgery
Faster recovery
Minimum damage to tissues and surrounding structures
Arthroscopy is a routine procedure in some of the best orthopedic hospitals in New Delhi. Patients need not stay in the hospital for arthroscopy.
Visit a doctor to find out how arthroscopy may be beneficial for you.
Request an appointment at Apollo Spectra Hospitals, Karol Bagh, New Delhi
Call 1860 500 2244 to book an appointment
What are the risks of arthroscopy?
Major complications following arthroscopy are rare though the procedure carries common risks of surgeries. Following risks may sometimes be possible:
Side effects of anesthesia
Infections
Blood clots
Breakage of instruments
Bleeding
Swelling
You should contact an orthopedic doctor in Karol Bagh if the following symptoms of infection are present:
Tingling sensations
Drainage of fluids from the incisions
Fever
Severe pain
Visit any of the best orthopedic hospitals in New Delhi for the assessment of your condition.
Request an appointment at Apollo Spectra Hospitals, Karol Bagh, New Delhi
Call 1860 500 2244 to book an appointment
Reference links:
https://orthoinfo.aaos.org/en/treatment/arthroscopy/
What are the standard tests to determine the need for arthroscopy?
Your orthopedic doctor in New Delhi may order the following tests before planning arthroscopy:
X-ray
CT scan
MRI scan
Ultrasound
In addition, the doctor may recommend blood tests such as WBC count, CRP, ESR, and Rheumatoid Factor.
How is the recovery process after arthroscopy?
The recovery process is faster after arthroscopy because the incisions are smaller with minimum damage to the tissues. You will also have lesser pain and swelling in comparison with open surgeries. You may require the RICE method to speed up your recovery. Your doctor will prescribe medication to prevent infections and reduce pain.
What are the most common arthroscopy procedures?
Knee and shoulder arthroscopies are the most common procedures in orthopedic hospitals in New Delhi.
The knee and shoulder joints offer larger spaces for easy navigation of surgical instruments.
What conditions may not be suitable for arthroscopy?
Arthroscopy may not be suitable if the individual suffers from advanced osteoarthritis because the bones are brittle. The procedure may cause more harm than good. An orthopedic doctor in Karol Bagh may also postpone arthroscopy if there is an infection of the joint.

Book Appointment