Urological Endoscopy Treatment & Diagnostics in Karol Bagh, Delhi
Urological Endoscopy
Urinary tract problems can not only be painful, but they can also affect the quality of your life. If you are suffering from any problem related to your urinary tract, urology doctors in New Delhi will suggest urological endoscopy to diagnose the root cause of your problem. Urology doctors in Karol Bagh perform two kinds of urological endoscopy:
Cystoscopy: In this procedure, your cystoscopy specialist in Karol Bagh will use a camera fitted to a long tube to view your urethra and bladder properly.
Ureteroscopy: in this procedure, your urologist will use a camera fitted to a comparatively longer tube to get a view of the kidneys and ureters. The ureters are the tubes that connect your kidneys to your bladders.
What is urological endoscopy?
Cystoscopy doctors in Karol Bagh perform cystoscopy under local anesthesia. A cystoscope is a flexible and thin tube that is used to get a clear view of your bladder and urethra. Cystoscopy gives a better view of the areas inside your bladder that don't show up in an X-ray examination. Your doctors might also insert tiny surgical instruments to perform biopsies, if required.
A cystoscopy specialist near you will perform the procedure to find the cause of blood in your urine and painful urination, to evaluate blockages or infections in the urinary tract, the cause of abnormal urothelial cells and the size of the prostate before a surgery.
In ureteroscopy, your doctor will insert a thin tube through the urethra to your ureter. Your urologist can remove stones as well as diagnose the causes of blockages and bleeding through ureteroscopy. Sometimes a urologist in Karol Bagh may insert a stent after ureteroscopy to drain urine from the kidney. The stent is removed later.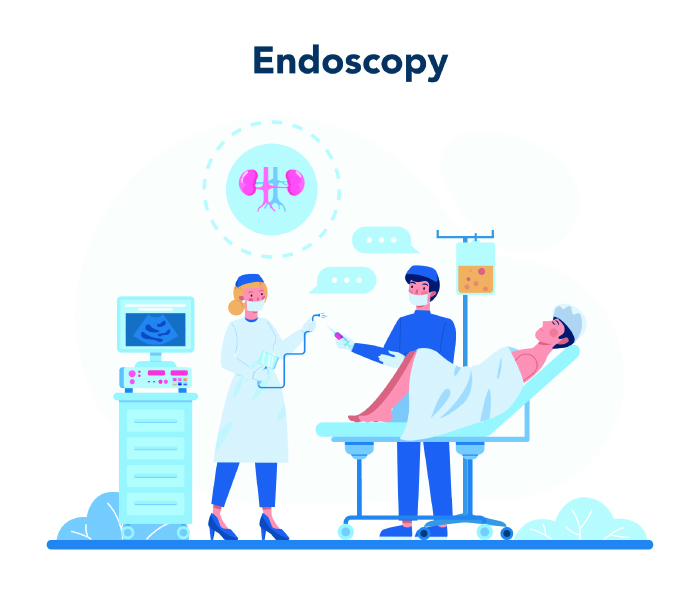 Who qualifies for urological endoscopy?
Patients with cancers or tumors
Patients with polyps
Patients with stones in their kidneys
Patients with a narrowed urethra
Patients with urinary tract inflammation
Request an appointment at Apollo Spectra Hospitals, Karol Bagh, New Delhi.
Call 1860 500 2244 to book an appointment.
Why is urological endoscopy conducted?
Urology doctors near you will perform urological endoscopy for the following reasons:
Frequent urinary tract infections
Blood in your urine
Urge to urinate more frequently
Not being able to empty your bladder fully
Urine leakage
Diagnosis of cancer
Removal of a stone from the urinary tract
Insertion of a stent
Taking tissue samples from the urinary tract for biopsy
Removal of polyps, tumors or abnormal growths
Treatment of the urinary tract
What are the benefits?
Painless procedure
Simpler procedure compared to surgery
Less risky and minimally invasive procedure
No cuts are made and therefore there are no scars
Quick recovery time after the procedure
Less time at the hospital, may be discharged on the same day or the next day
What are the risks?
Although urological endoscopy is safe, and your urology specialist in Karol Bagh will take all possible safety measures, there might be some risks involved, such as:
There might be perforation in an organ.
There might be excessive bleeding (haemorrhage).
There might be an infection after urological endoscopy.
You might have an allergic reaction to anesthesia.
After the procedure, you might experience abdominal pain. You might feel a burning sensation while urinating.
There can be a high fever, but that is rare.
You are unable to urinate after urological endoscopy.
Conclusion
Urological endoscopy is performed both to diagnose and treat a problem of the urinary tract. Since it is a minimally invasive urological procedure, it involves very little risk. You might be given antibiotics after the procedure, to avoid chances of an infection. Your doctor might also treat blockages in the urinary tract through urological endoscopy.
What are the side effects of urological endoscopy?
Urological endoscopy is generally safe, but it might have some side effects. You might develop an infection after the procedure. You might also bleed while urinating. You might experience abdominal pain and a burning sensation while urinating. You might also have fever and chills.
Can urological endoscopy damage your bladder?
Although it is a rare phenomenon, urological endoscopy might lead to bladder damage. Your doctors will take all the safety precautions and speak to you about all the contraindications before the procedure
Does urological endoscopy examine your kidneys?
Yes, urological endoscopy is used to check the ureters and kidneys. More specifically, ureteroscopy is used to evaluate the bladder, ureters and kidneys.

Book Appointment